Description
Please join us for a new office tour for both Wightman and Seven Generations Architecture & Engineering in Downtown Kalamazoo.
This will be a two part building tour beginning at the new office for Wightman located at 433 E. Ransom Street, Kalamazoo at 4:00 PM and will run until 4:45. At that time we will travel individually to Seven Generations Architecture & Engineering's new office space located at The Foundry (600 E. Michigan Ave, Suite B) where the tour will be held from 5:00 PM until 5:45.
After the office tour, you are invited to join the Chapter for socializing, networking, and a quick Chapter update. Appetizers and (2) beverages will be provided. The post-tour activities will begin at 5:45 and take place at 600 Bar located at The Foundry on East Michigan Ave in Downtown Kalamazoo. If you plan to join, please email Fred Grunert, AIA at fgrunert@tmp-architecture.com so we have a count for reservations.
ABOUT THE PROJECTS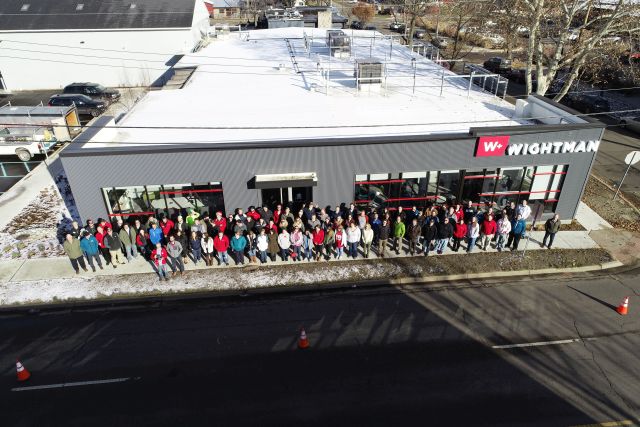 Wightman's new office is located at 433 E. Ransom Street in a redeveloping downtown neighborhood, close to the heart of Kalamazoo. The original building, built in 1937, was built by the Galloup Pipe Company and used as a wholesale warehouse for piping products. The building's original style, characterized by steel columns, heavy timber beams, exposed tongue and groove wood roof decking and structural glazed tile walls are exposed in many places, and were restored to enhance the new buildings style.
The mix of old and new systems creates a light-industrial, eclectic reuse of the building. Design features recalling the history of the building and its industrial surroundings as well as other recent neighborhood improvement projects helped to guide the architectural design decisions. The new exterior blends cohesively into its surroundings, utilizing corrugated metal and Corten steel rainscreens to enhance the character. Interior finishes such as exposed ductwork, electrical and data, corrugated metal panels, reclaimed barnwood and exposed steel structure mixed with vibrant accent wall coverings and paint, contemporary furniture and lighting accents contribute to the eclectic feel. The open office design promotes communication, sharing of institutional knowledge and promotes collaboration. Focus rooms and small collaboration rooms help maintain balance for employees by providing privacy for small meetings, and focused work functions. The mix of full-time, permanent workstations and non-dedicated drop-in work stations help support remote worker needs of employees from Wightman's other two locations, allowing for internal office flexibility and personal preference. The large breakroom allows employees to have a pleasant space for breaks, hold larger gatherings, and provides alternative individual workspaces for focused work away from their workstation.
All of the above, combine to help contribute to the contemporary workspace which supports flexibility and contributes to promoting the company values and culture at Wightman.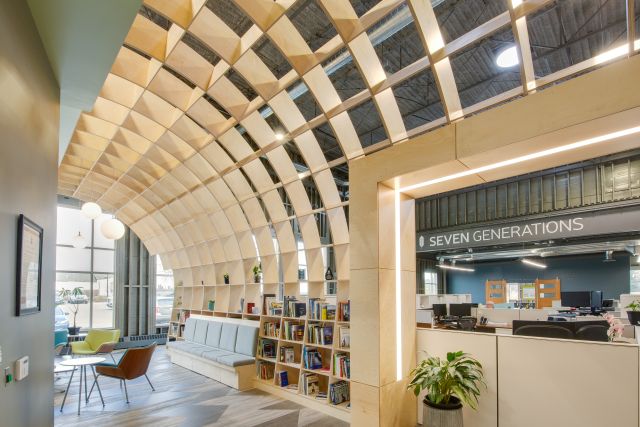 7GAE's new 5,000 square foot office space is designed for distinct workspaces. The focus rooms, collaboration area, video conference room and the interior design library are all available for daily use. The hive, a cylindrical structure built within the office space, is the crowning feature of the office. The hive is inspired by the 'superdesk' of Clive Wilkinson Architects, with implementations of 3D modeling and a 'kit' construction approach. The hive provides a more intimate area for group collaboration. Interior finish selections are inspired by 7GAE's branding, with individual pieces of the feather logo within the floor patterns, and color schemes following the traits of 7GAE's blues and greens. Custom features of the office include the Hive, wood trimmed bulkhead, pipe shelves, and digitally printed wall covering and window film.
Continuing Education Credits: There will be 1 HSW credit available to attendees for each of the two facility tours. (Pending approval by AIA CES)
Parking Requirements: Limited parking is available at WIghtman location with on-street parking along Walbridge Street. Additional parking can be located south of the site at the River Church as well. Parking for the 7GAE portion of the tour shall be available along the front, side and back of The Foundry.
We hope you can make it!
AIA Southwest Michigan