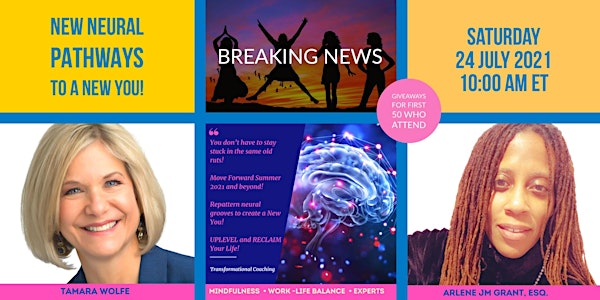 New Neural Pathways to a New You
You will learn tools for creating new neural pathways to support building the New You and your goals and dreams for 2021 and beyond.
About this event
Do you ever feel like you are hardwired and keep getting the same results over and over again?
Would you love to move towards your 2021 goals with renewed energy and calm, confidence?
Neural pathways are created in the brain based on our habits and behaviors. Most people are unaware that they have been wired in a certain way over time by outside influences which become embedded in the subconscious. With repetition these neural pathways get well grooved and even become ruts.
The good news is you don't have to stay stuck in the same old ruts! You can repattern the grooves to create new habits for a New You!!
Join Arlene and I for this Free Webinar on Saturday, July 24 at 10:00 am.
At this webinar, you will:
> Gain greater clarity on your Vision for 2021 and beyond.
> Learn tools to repattern limiting beliefs.
> Learn 3 Mindset Vitamins to create a Vibrant New You.
> Learn self-care techniques to enhance being your Best You.
Register Now and bring a friend along as well.
About the Presenters:
Tamara Wolfe is a certified International Life Coach, Inspirational Speaker, Author and Teacher. Tamara recently published a bestselling book, Short Sweet & Sacred. For over 30 years, Tamara has been studying and and teaching personal development and success principles in her various roles as a therapist, life coach, mentor and leader in sales company. She has been helping professionals and entrepreneurs to build their dreams, accelerate their results, and create richer, fuller lives. Tamara's laser coaching in combination with her customized programs help clients up-level their thinking to reach their highest potential in personal and professional life by navigating the gap where most people are derailed by fear, doubt, and circumstances. In addition to her coaching, Tamara offers inspiring presentations, webinars, workshops, and keynote speeches. Tamara's greatest passion is to help her clients design their lives, create accelerated results and live with amplified aliveness!
Arlene JM Grant, Esq. is an artist, humanitarian, public speaker, educator and coach. Arlene created ArlieSpeaks Media, LLC in 2018 with a focus upon art, communication and education to help others. In 2019, after visiting New Zealand, it was clear helping people included helping the environment. Arlene increased her environmental advocacy. In 2020, as the World pivoted, Arlene realized the importance of self-care. Through volunteering full-time, Arlene observed that she and her fellow artists, activists and advocates helped others without investing in themselves. Arlene created Cleanse Your Cache™, a division of ArlieSpeaks Media, LLC, to help her friends. Cleanse Your Cache™ quickly evolved into an international wellness brand empowering resilience. Cleanse Your Cache™ helps people show up and reclaim their lives. Cleanse Your Cache™, based upon Arlene's life experiences, research and neuroscience passion, is a unique system of multisensory techniques helping people across the United States, Canada, Mexico, Japan, Israel, Germany, England, Scotland, South Africa, Slovenia, and Nigeria.