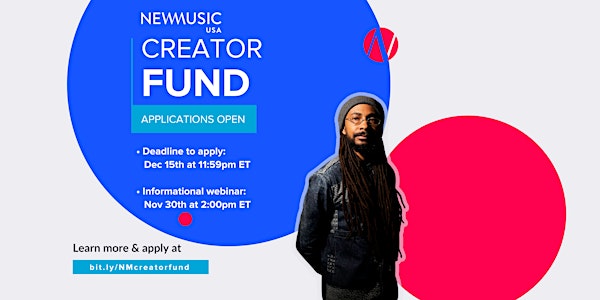 New Music USA Creator Fund - Free Webinar + Q&A
This event is free and open to all. ASL and Closed Captioning services will be provided.
About this event
Learn more and ask questions about New Music USA's New Music Creator Fund, which offers grants to individual music creators who need support to advance or get to the next stage of their creative practice.
The deadline to apply is December 15, 2022 at 11:59PM ET.
The program will support costs which relate to collaboration with other artists and practitioners. Individual performers may also apply as long as their collaborator is a music creator. Our aim is to enable music creators to take the lead in the development of new and existing ideas and projects. We are also striving to stimulate creativity and collaboration between music creators and other artists from any discipline or background and to build community in response to the restrictions we have all been facing.
We aim to support and represent a broad range of individuals across the country and musical spectrum. We expect the applicant pool to be very diverse in terms of genres, styles, and aesthetic and we will be particularly interested in applicants that display originality of sound, music, and artistry, shaping the future of music creation and sound.
Projects should be in progress or be developed in roughly the next year. Our commitment to an equitable ecosystem for new music means that we are particularly interested in receiving proposals from BIPOC and other under-represented artists.
Click here to learn more about the program and access the application.
For those who cannot attend, the event will be recorded and posted publicly online.
Questions are also welcome in advance, please email them to grants@newmusicusa.org and indicate that it is a question for the webinar.