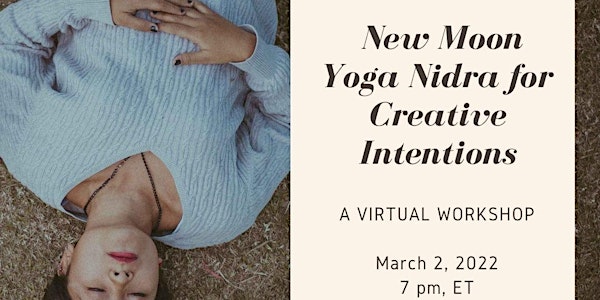 New Moon Yoga Nidra for Creative Intentions (March)
A guided Yoga Nidra practice for artists and creatives energized by the March New Moon to set creative intentions for the next 30 days.
About this event
"Yoga nidra, or yogic sleep as it is commonly known, is an immensely powerful meditation technique, and one of the easiest yoga practices to develop and maintain. While the practitioner rests comfortably in savasana, this systematic meditation takes you through the pancha maya kosha (five layers of self), leaving you with a sense of wholeness. " -Yoga Internationa
Join us for an inspiring evening of creative alignment and connection fueled by the New Moon energy.
The new moon is a wonderful time to set intentions and launch new creative projects. New moons happen once a month and signify the beginning of a new cycle, which many think as "a cosmic reset." Connecting to these lunar energies can provide grounding and a sense of direction.
Our agenda includes a brief discusson about New Moon energy and how it allows us to move forward with our creative intentions. We will then focus on self-reflecting questions to help us determine what habits, blocks, or other barriers to our creativity that we will leave behind. You will set intentions for your creative practice and create affirmations that you can use for the next 30 days. The session will end with a guided yoga nidra practice to seal our intentions.
In addition to a host of wellness benefits, there is strong evidence suggesting Yoga Nidra is incredibly powerful at unlocking creativity.
To ensure a successful event, please consider having the following ready prior to our session:
1. Find a quiet, sacred space to participate where you won't be disturbed.
2. Pen and paper/journal on hand.
3. Intentions that you want to set for your creative practice for the next 30 days.
2. A nourishing beverage ( non alcoholic) (optional)
3. Candle (optional)
4. Your favorite uplifting scent via essential oils or incense (optional)
5. An object that may represents your current creative project or intention (a book, a piece of art, a manuscript, photograph, etc.). You may also decide to select a crystal or another sacred object.
6. Good positive vibes .
7. Blankets, yoga mat, pillows or other props for the yoga nidra practice (you will be lying down for this practice).
NOTE: Participants will not be allowed in the session 5 minutes after the start time to ensure that we maintain the integrity of the space for everyone participating.
This sacred time is a gift for you to help you move forward with your creative goals and ready to create.
Yoga Nidra Guide/Workshop Faciliator:
Sharon Burton is a visual artist, poet, Certified Creativity Coach and founder of Spark Your Creative Coaching . She completed her training as a Divine Sleep Yoga Nidra guide in 2021. Sharon is also a Level II, Reiki Certified practitioner and received her and received her Breathwork + Meditation Teacher Certification from the Faith Hunter Wellness Academy, of Embrace Om based in Washington, DC. Sharon infuses her creativity coaching with wellness practices to help her clients break through the blocks that prevent them from fully engaging in their creative potential. Learn more about her and Spark Your Creativity Coaching at http://sparkyourcreative.com