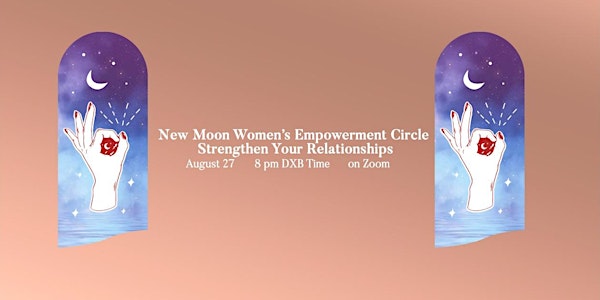 New Moon Women's Empowerment Circle: Strengthen Your Relationships
How do you speak to yourself and those you love?
About this event
The healing journey
This new moon in virgo is a wonderful time to bring in healthy communication in all your relationships. Are you blaming or criticising others? The virgo is a perfectionist so although you might have good intentions, notice how your words and actions can be hurtful to others. It's about effectively and kindly creating a conversation that will deepen your relationships. The trick under this new moon is not to allow any unhealthy emotions be the basis of your communication, and instead develop a healthier mindset and set of emotions to bring ease, peace and love in all your relationships.
This 8th new moon of the year is the most perfectionist one where so many judgments can surface. The key question to ask yourself is: What is the benefit of judging myself or others?
Also, let this new moon be a fresh start to learn something new about yourself and your loved one. This will bring in so much more clarify on why you do the things you do.
The throat and heart chakra will be the key focal points to work on during this period.
Crystals to use this new moon: turquoise, blue agate, aquamarine, rose quartz, clear quartz (choose the one you feel drawn to)
The Process
In this guided healing meditation you will be connecting to the Akashic Records through the technique of Life Scripting working with your true self/your higher self and your spirit team.
The session will include:
guided intuitive group message
affirmations and reflective questions
guided energy healing meditation in the Akashic Records
What you need
pen and paper
your crystal
comfortable space to lie down
tea light candle
a piece of jewellery you wish to wear and energise with intention
sage/palo santo (optional)
Want to Subscribe?
Join the ever growing community of women every new moon and subscribe for 3 months for only $90 Click here
About Maria
Maria Leonard is a Spiritual Growth Coach, Breathwork Facilitator, an Intuitive Speaker and the founder of Life Scripting; a Holistic Healing and Manifestation Modality. She is passionate about bridging spirituality and science and teaching others self-mastery. During her one-to-one sessions and workshops, she combines the art of Breathwork, Energy Activations, Intuitive Guidance from the Akashic Records and coaching and meditation training. By using her intuitive gift, healing abilities and vast knowledge she helps you see what's holding you back in life and gives you the tools to rescript your life's blueprint in order to manifest your heart's desires and accomplish your soul's purpose.