Description
You are cordially invited to the 2nd Annual Winter Holiday party for the social change community. #newmoonsparkle
New Moon Sparkle Party: A Holiday Soiree for Changemakers
When: Friday, Dec 11th (9pm-late)
Where: 326 W5th Ave, The Beaumont Studios, Unceded Coast Salish Territory
Theme: Fancy, Shiny, Bright, Lunar, Starry.
Music: DJ T-Spoon (Delhi 2 Dublin), Buzy B (Peoples Prom), MattyFromLife (The Rattle/The Field Festival)
Plus: Food! Homemade Veggie Pot Pies, Bumpin' Dancefloor, Proper Cheese Plates and exquisite Bar-tending.
By Request: A Chillout Tea & Conversation Bar (2nd floor).
Transformation Projects is hosting the hottest, shiniest Winter Dance Party for the community-minded folks we adore. And that's you. Celebrating the work you do is what we love to do! Game-changers, solution-seekers, change-makers, truth-speakers, art-makers and justice-keepers: save the date! This is an opportunity to support the work of your extended community, network, schmooze, cheers and DANCE!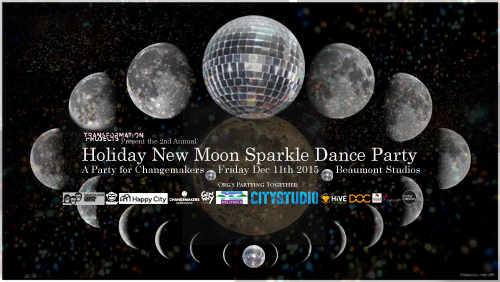 Tickets: $23 General Admittance
$19 w/ Your Organization's Discount Code
$15 for Elders & Students
Organizations Partying together:

CityStudio Vancouver
Changemakers Vancouver
Social Venture Institute (SVI) Hollyhock
Groundswell: Grassroots Economic Alternatives
Documentary Organization of Canada
Vancouver Design Nerds
Gen Why Media
Happy City Lab
SFU RADIUS: Social Innovation Lab
HiVE: Sweet Social Impact
Creative Coworkers
Junxion
Wize Monkey
Textbook Magazine
SHIFT Urban Delivery
Arbutus Medical
Board of Change
PEDAL Foundation
Vancouver Public Spaces Network
Join Us! If you and your organization wants to join in the fun,
email us for info on the discounted ticket blocks. adrian@transformationprojects.ca.
Each organization attending pledges to buy a sell a block of tickets at $19 ea. by distributing their promo code to their community. Each organization gets a unique promo code to send out their list.
Beverage Sponsors:
Wize Monkey
Guayaki Yerba Matte
Accessibility Information:
The washrooms are on the ground floor in an adjoining hallway to the dancefloor. The washroom is designed to be wheelchair accessible. For more info on accessibility, do not hesitate to contact adrian@transformationprojects.ca.
Transit: The Beaumont Studio is 2 blocks from the Olympic Village SkyTrain Station (stop 980).
Contact: Adrian Sinclair adrian@transformationprojects.ca // 778.837.8889