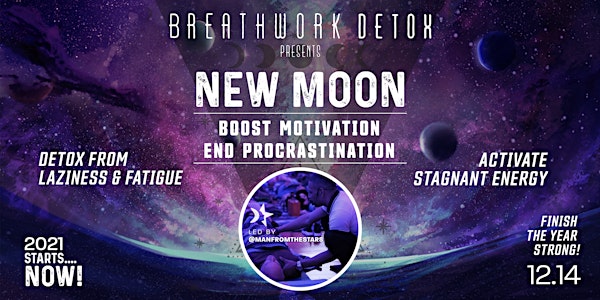 NEW Moon Solar Eclipse BREATHWORK w/ Man From The Stars
Breathwork is like 20 years of therapy in 1-day without saying a word. The level of CLARITY, CREATIVITY & HEALING that occurs is astounding!
Refund Policy
Refunds up to 1 day before event
Eventbrite's fee is nonrefundable.
About this event
SPECIAL EVENT: Join us for the Solar Eclipse NEW MOON BREATHWORK Event with Man From The Stars. This Solar Eclipse will be a powerful day of Breathwork and BREAKTHROUGHS!
A portion of proceeds will be donated to families who have been affected by COVID-19.
THE BREATHWORK INTRO YOU SHOULDN'T SKIP
The popularity of breathwork is exploding and you either just started hearing about breathwork or you had the pleasure of discovering it on your own. If you haven't heard of Breathwork or experienced it yet then you're in for a real treat!
WHAT IS BREATHWORK?
"Breathwork is like 20 years of therapy in 1 night without saying a word."
BREATHWORK is a highly effective and powerful tool for directly accessing the subconscious mind and releasing any stored negative memories, emotions, stagnant energy, and trauma that might be trapped in the body.
These energetic blockages hinder our spiritual growth, drain our energy, give us brain fog, and affect our physical and mental well-being, which can eventually evolve from fatigue into dis-ease or illness.
IT'S TIME TO CLEAR THAT STUFF OUT! 
By oxygenating the entire body using a very specific breathwork technique, we are able to tap into the unconscious parts of the body where these blockages reside in the form of stagnant energy. 
WHAT TO EXPECT...
Breathwork is done lying down on your back on a yoga mat in a comfortable position. Music is played for motivation and relaxation purposes in order to help release stuck emotions by tapping into the energy and emotion of those particular songs.
Kurtis Lee Thomas, is going to guide us through this entire process using powerful motivational messages and NLP techniques to help break up old neuropathways of the brain that are responsible for the unhealthy/unconscious habits we wish to get rid of.
Here's a list of everything people have been experiencing in my breathwork classes:
A massive release of stress

A new sense of clarity and knowing

Awakening to their higher purpose and mission

Ability to Manifest faster and more efficiently

Deep relaxation and inner peace

Overwhelming feelings of joy and bliss

A deeper connection to their higher-self and Source

New insights, revelations, and epiphanies (sometimes very mystical)

Expansion of Consciousness and awareness (ability to see the bigger picture)

Feeling of Oneness with the Universe and humanity

Ability to quiet the monkey mind a.k.a "The Critic"

Feeling of deep love for self and others never felt before

The release of toxins and negativity from their energy field

Profound healing from old wounds, trauma, and grief

The release of old emotions and negative patterns

Transcendence of self (feeling reborn)
I know, I know, sounds too good to be true, Right?
Trying to explain the feeling you have after a breathwork session is like trying to explain a kaleidoscope to a blind person…virtually impossible! The effects of breathwork are immediate and undeniable! The only true way of knowing the power of breathwork is to come and see for yourself. It cannot be described, only experienced!
But don't take my word for it. Here's what others are saying...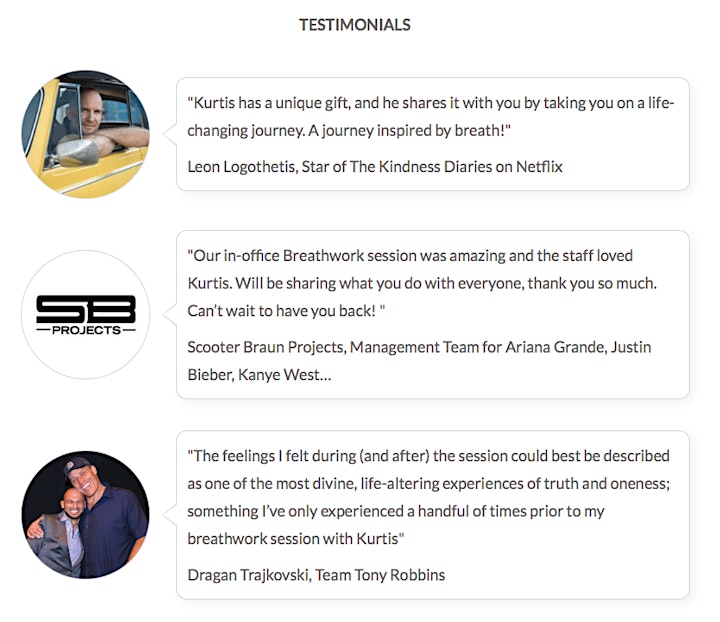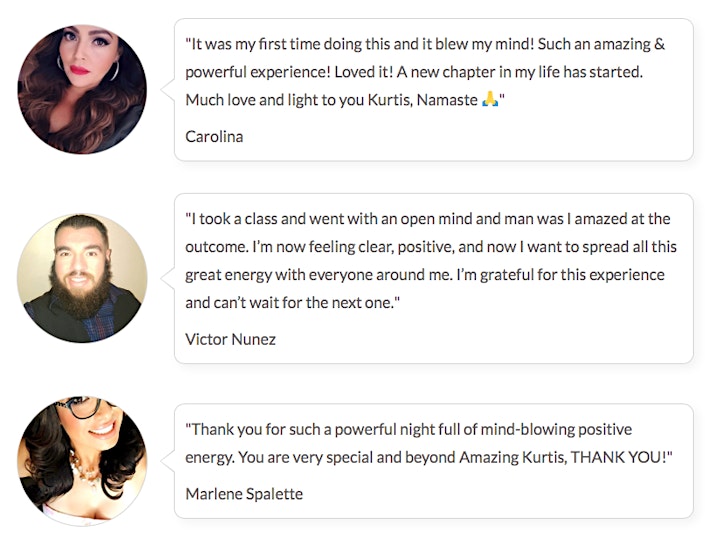 HOW IS ALL OF THIS POSSIBLE BY JUST BREATHING? 
Unresolved emotions from the past, unhealthy beliefs and negative thought patterns sabotage our current joy and drain our life force energy. This is what many refer to as "baggage", which is something we ALL carry with us and bring into all of our relationships (personal and work).
Over the years we accumulate these emotional traumas, stresses, failures, rejections, old heartbreaks, and financial burdens that ultimately create 'unconscious' habits that bleed into our daily life.
"Unexpressed emotions will never die. They are buried alive and will come forth later in uglier ways."  — Sigmund Freud
Breathwork helps you "let go" and finally get rid of this emotional baggage we're not even aware of carrying that's been preventing us from manifesting what we want and from experiencing the joys of life.
By releasing this stagnant energy within the body using the prana force of the breath, the breathwork process can help ignite a landslide of clearing and healing that is particularly effective with the following:
Stress

Anxiety

Depression

Lethargy/ fatigue

Emotional Detox

Balancing the nervous system

Pain management

Creativity

Divine Messages / Epiphanies

Increased Energy levels

Enhanced Consciousness

Trauma/Emotional release
[Legal Disclaimer located at the bottom of this page]
IS BREATHWORK FOR ME?
1. Are you breathing?
2. Do you want to create radical transformation in your life?
3. Are you willing to try something new?
If you answered YES to any of those questions then come us and find out why Breathwork Detox is exploding around the globe!
WHAT DO I NEED? HOW DO I PREPARE? 
ONCE YOU REGISTER "CLASS SUGGESTIONS" WILL BE EMAILED TO YOU IMMEDIATELY ***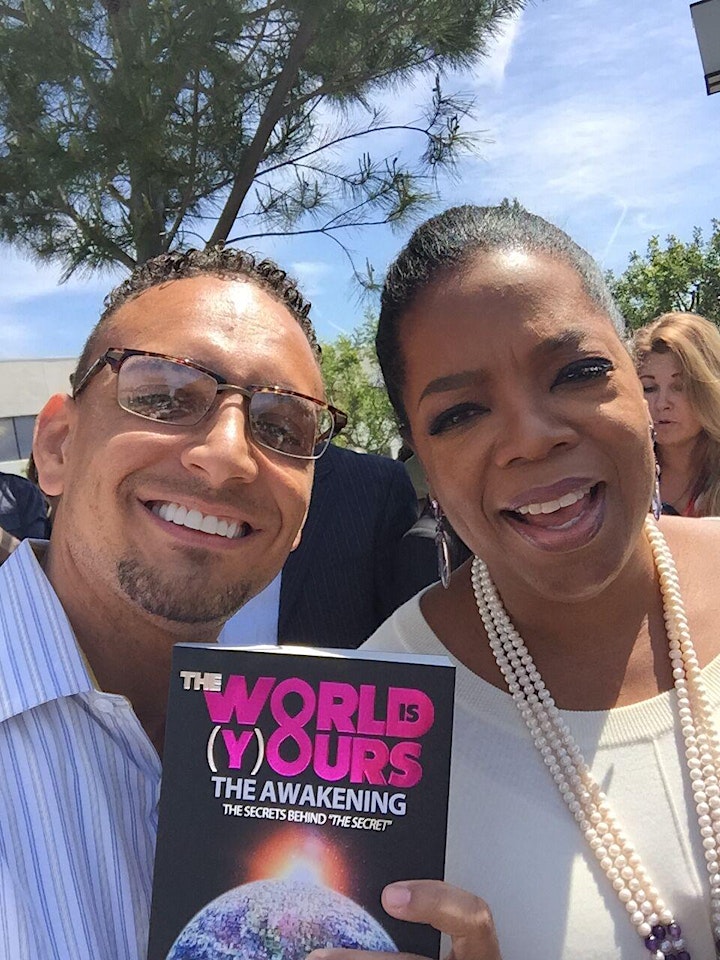 OUR FACILITATOR: 
Kurtis Lee Thomas is the #1 international best-selling author of the book, THE WORLD IS YOURS, THE AWAKENING-The Secrets behind "The Secret".
Kurtis is a world-class keynote speaker, founder of Breathwork Detox™, and a corporate mindfulness trainer who has spoken at the largest consciousness expositions in the world, some of the top colleges in the country, multiple fortune 500 companies, and some of the world's most prestigious casinos such as Foxwoods Resort and MGM Grand Casino.
Kurtis is a celebrity mindfulness mentor who dedicated his career to the powerful communion of mind, body, and spiritual healing in the most practical ways for the modern-day human. He's been seen in photos with celebrities such as Beyonce, Oprah, Kayne West, Tony Robbins, Jessica Alba, Deepak Chopra, Sir Richard Branson, Snoop Dogg, and Steve Forbes, the founder of Forbes Magazine.
His mantra of "First you must LEARN, then you should EARN, so eventually you can RETURN", led Kurtis to become a:
◊   Certified Life Coach◊   Certified Breathwork Facilitator◊   Certified Hypnotherapist◊   Certified in NLP (Neuro-linguistic programming practitioner)◊   Certified Reiki Master◊   Certified International Sports Sciences Association (ISSA) fitness professional.
In 2011, Kurtis had an amazing and eye-opening spiritual experience that changed his world forever... 
Kurtis discovered amazing abilities and mysteries about himself and the universe that he not only felt compelled to share with the rest of the world — but felt obligated to!
www.KurtisLeeThomas.com   |   @ManFromTheStars 
DISCLAIMER: The Content and information provided on this web site are intended for informational purposes only. No claims are made by Kurtis Lee Thomas as to specific health benefits and are NOT considered to be any prescriptions or healthcare information whatsoever. Information provided on this site is not intended to diagnose, mitigate, treat or cure any disease or condition whatsoever. Individuals should consult with their doctor or a qualified health care provider for medical advice. The user assumes all responsibility and risk for the use of the information on this web site. THE CONTENT ON THIS SITE HAS NOT BEEN EVALUATED OR APPROVED BY THE FDA. KURTIS LEE THOMAS RELINQUISHES ALL RESPONSIBILITY AND LIABILITY ASSOCIATED WITH ANY INFORMATION, SERVICES OBTAINED, OR PRACTICES BASED ON THE CONTENT OF THIS SITE.