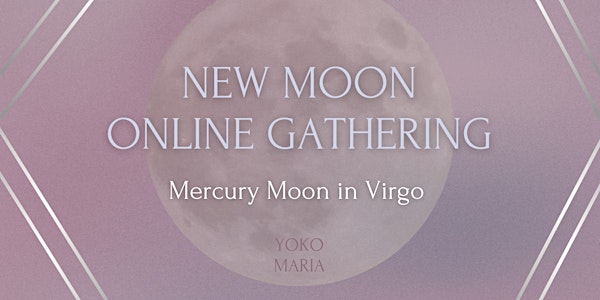 New Moon Online Gathering - Mercury Moon in Virgo
New Moon is the time to plant a new seed. Make a Wishlist with insights of the Virgo Moon, meditate with like-minded community for clarity!
Refund Policy
Contact the organizer to request a refund.
Eventbrite's fee is nonrefundable.
About this event
New Moon is the time to plant a new seed (or many seeds) along with the phase of the Moon, and the Moon is ready to be reborn again - with beautiful Maiden Goddess Archetype of Virgo! it is also a great moon cycle to get organized to re-shape yourself that aligns with your new face of god / goddess that you explored with Leo Moon Cycle.
"I ANALYZE" says Virgo moon with Mercury as its ruling planet. What are you analyzing? For what purpose? Are you analyzing or criticizing? Analysis can be helpful to make things better, but if you forget the original purpose, you could be lost into the detail and go off the track. You've got to make sure that you are connected to the center so that you can re-organize yourself and your life into the form that serves your purpose, and the Archetypal energy of Virgo will support you greatly.
We will work with Goddess Astraea the virgin goddess of purity to be reminded of our original blueprint of the Paradise - Shamballah. She is a great archetype for Virgo within us to be good and diligent, and Hermes the Mercury, the trickster god will step in to help us expanding our knowledge into wisdom with humor. His expression is unpredictable but he knows where he is going and his purpose. He will support Goddess Astraea to grow and expand to shine bright to show us the way - to our new Paradise, New Shamballah.
I am going LIVE for this New Moon Online Gathering, and will share my insight around the Archetypal power that we can potentially awaken within our Divine Blueprint. Balancing all these different qualities within us is important to truly manifest our own Archetype to share with the World and be a shining STAR.