Description
Saturday, September 28 is a new moon, the night sky is dark and a new lunar cycle is ready to begin. This is also a wonderful symbolic and energetic time to have your own new beginning.
~ Are you in a time of transition, feeling stuck or desiring greater clarity?
~ Would you like to feel free and reach your full potential?
~ Are you desiring to increase your happiness, confidence and positivity?
~ Have you always wanted to paint but haven't known where to start or are you an artist looking for a new way to approach your paintings?
~ Are you ready for something new?
With the guided step-by-step Intentional Creativity Method, along with an open heart and open mind, the universe is your oyster, and the canvas is yours to paint your own beautiful, symbolic and meaningful portrait of your inner guide.

Self-expression is one of the ways our soul, our inner guide, intuition or higher self communicates with us. What is your inner guide trying to tell you? Are you listening?
Includes all art supplies, snacks and spa water. Please bring a sack lunch and any favorite paint brushes. Clothing layers suggested as we will be both outdoors in the garden and indoors. $195 . Space is limited to nine participants, so if you'd like to join us, please register now!

Kerry Lee
Certified Intentional Creativity Facilitator, Adjunct Faculty for the Intentional Creativity Teacher Training and GOLDEN Paint Artist Educator, Kerry Lee, will guide you step-by-step to create a symbolic portrait of your own personal Inner Guide in this very special one day transformative workshop where NO EXPERIENCE IS NEEDED.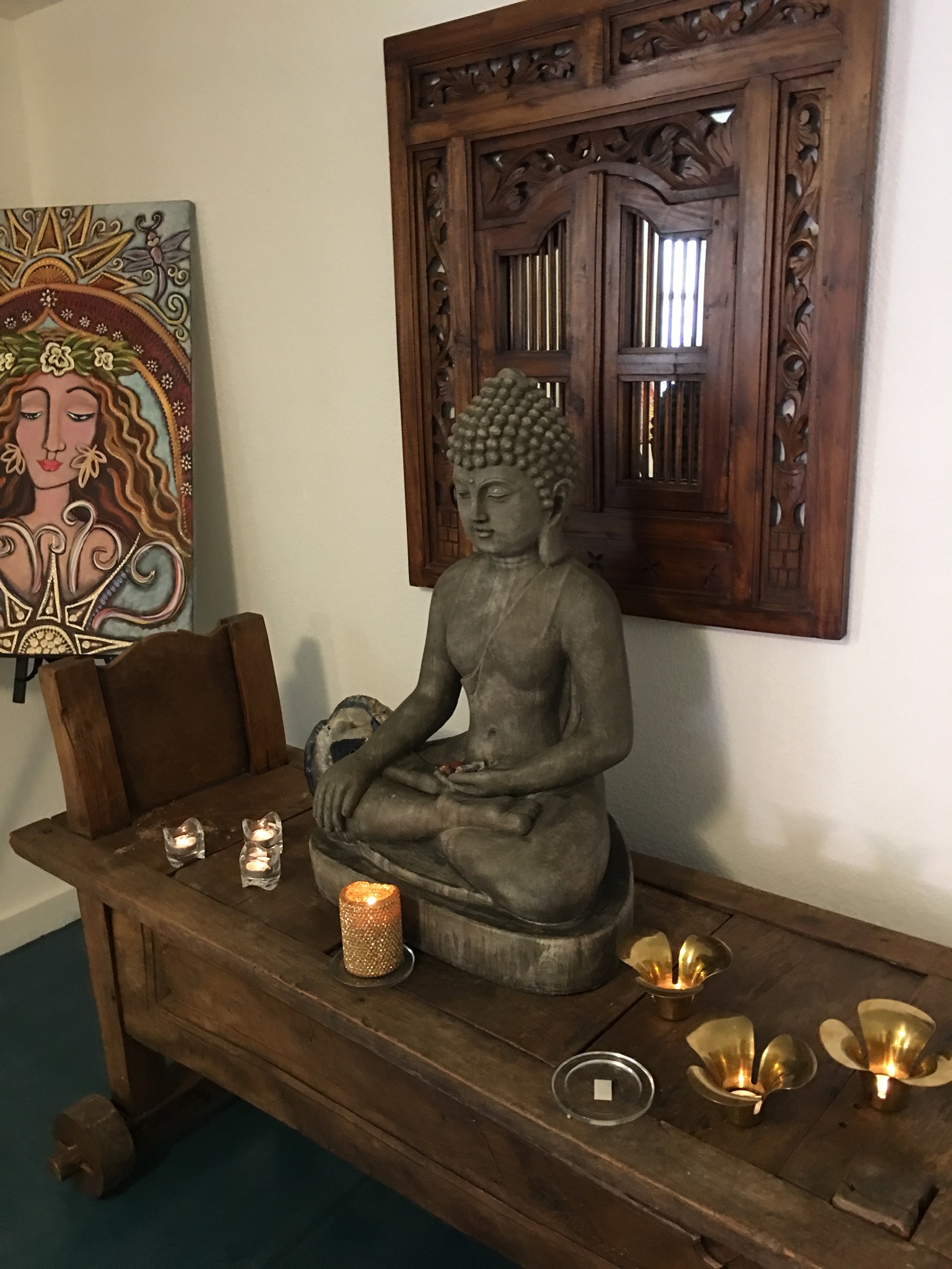 The Altar at B.A.S.H.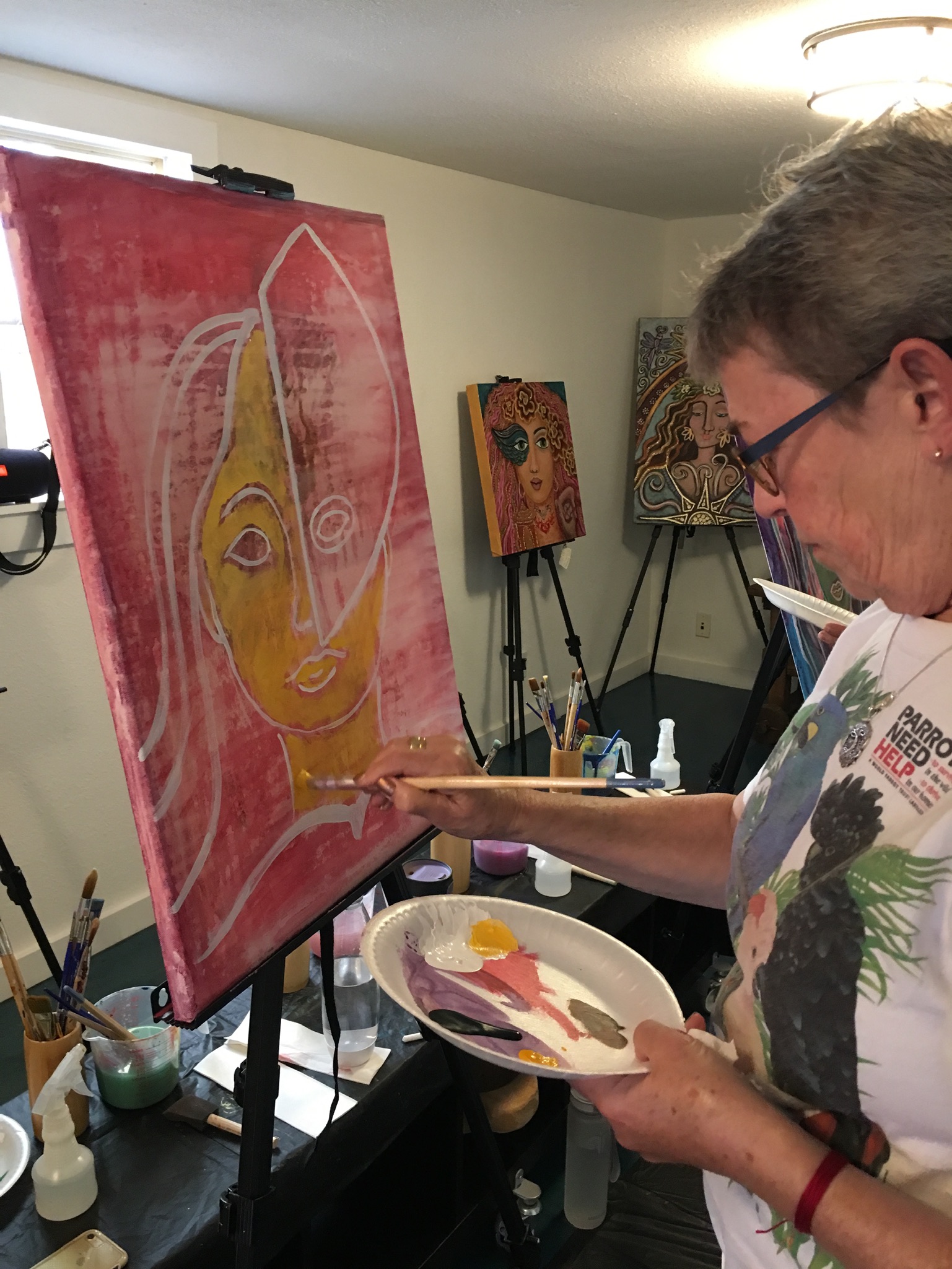 Inner Guides coming into form. They are partially based on what was imagined in a guided visualization.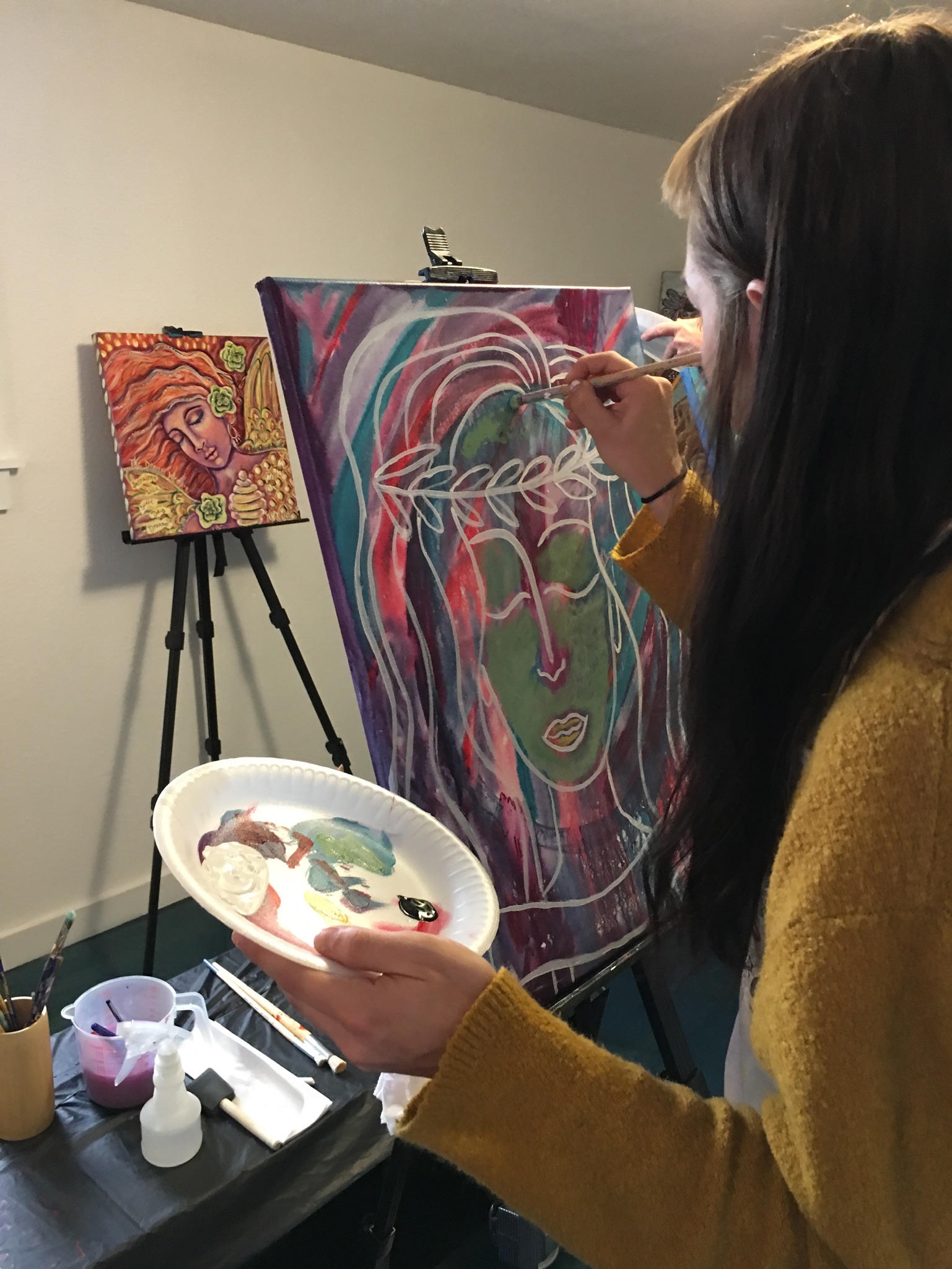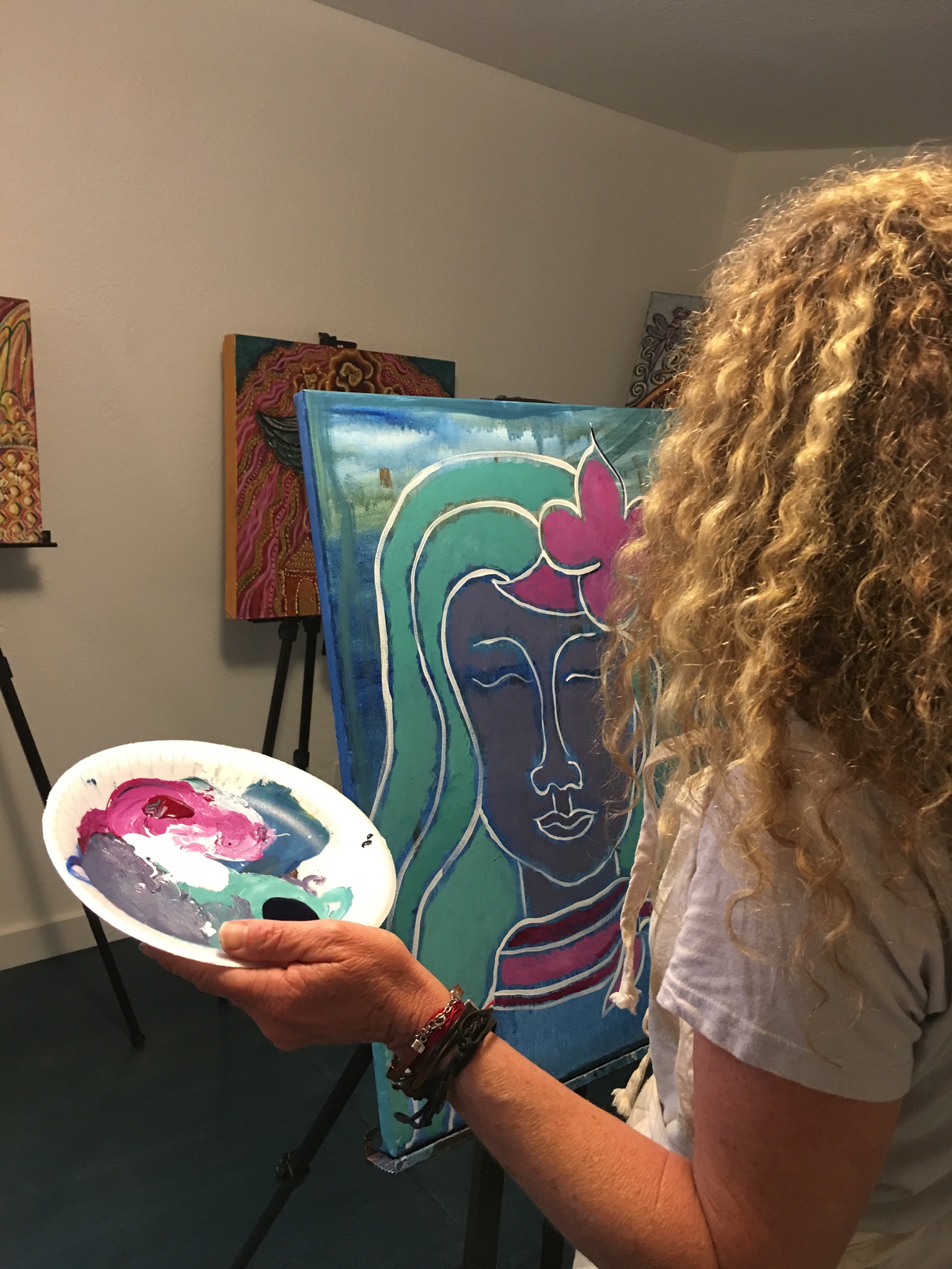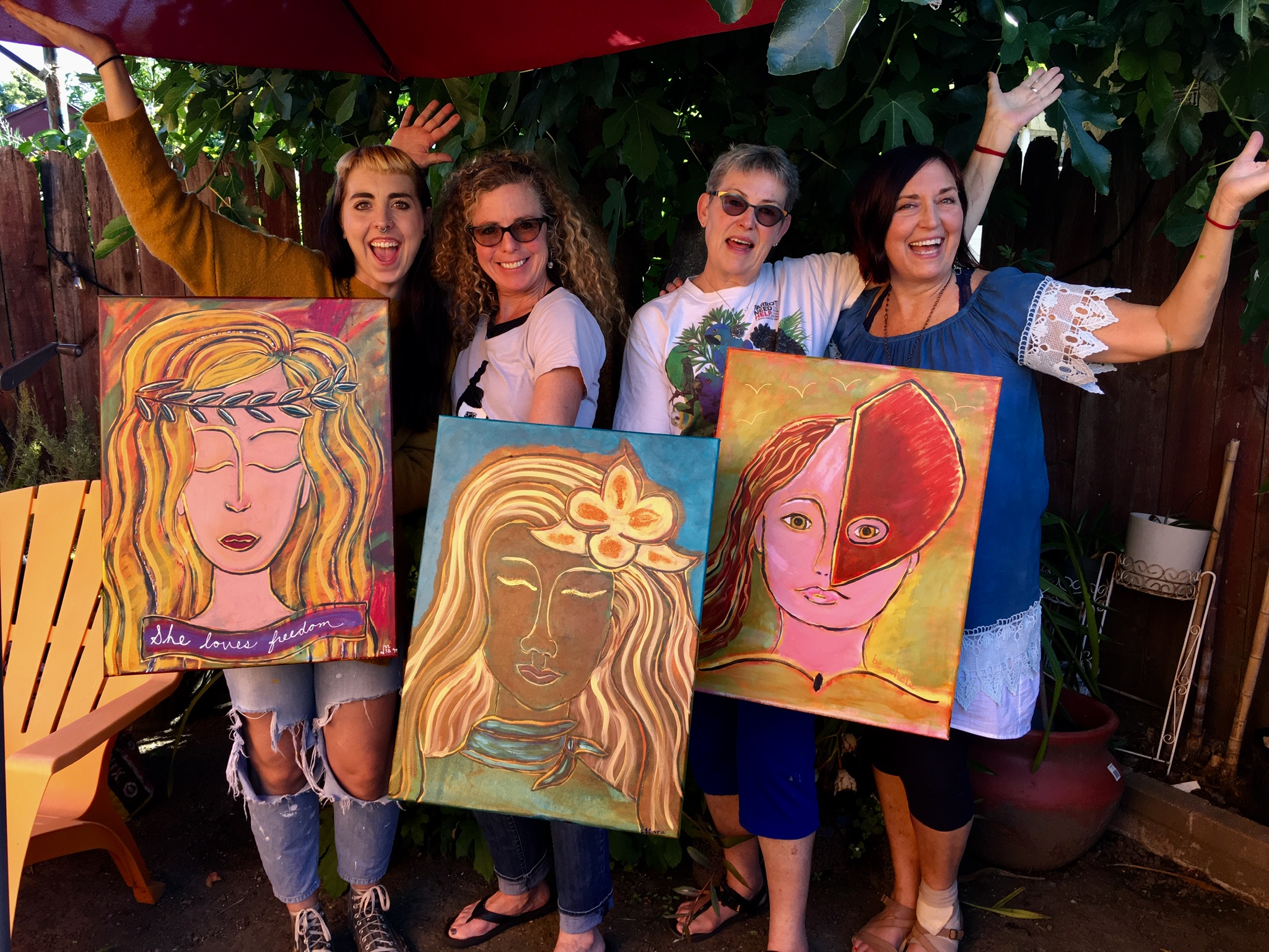 June 2019 at BASH -
"This was overall a fantastic experience. Kerry Lee is a great teacher and the mediations and the red thread ceremony in the beginning helped set the vibe. I loved the meditation with our guide and getting to create that image." ~ Julia
"I had a wonderful, sometimes challenging experience. However I hung in there! Loved spending time with creative, kind people." ~ Kara
"Kerry Lee is so comfortable to be with, so energizing and enthusiastic - the whole day was a lighthearted fun exploration. I loved connecting with what I envisioned and not trying to please others." ~ Wendy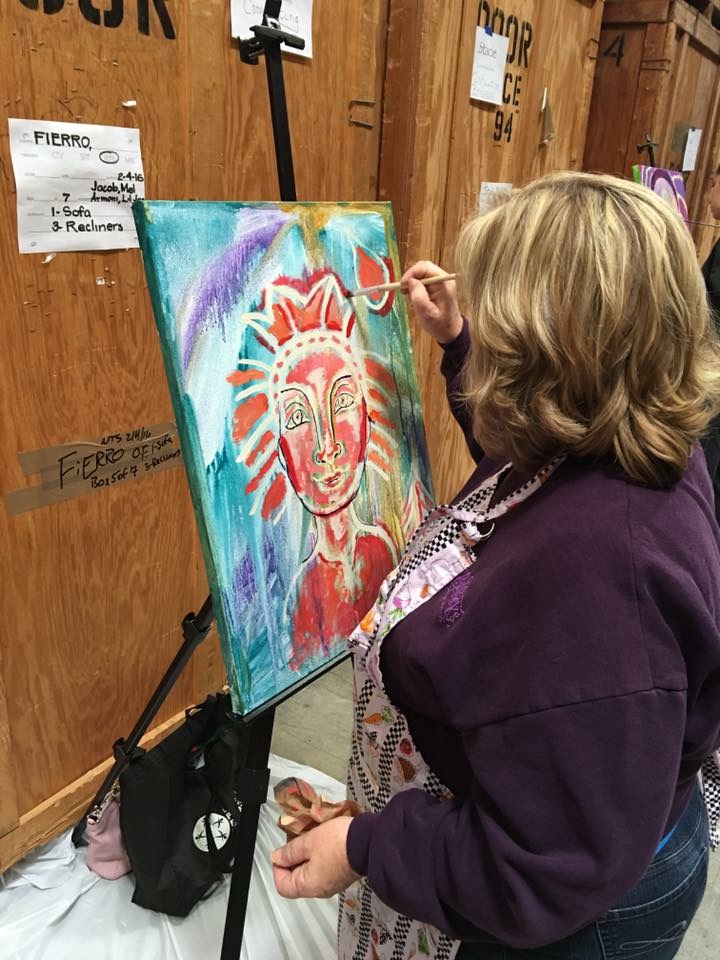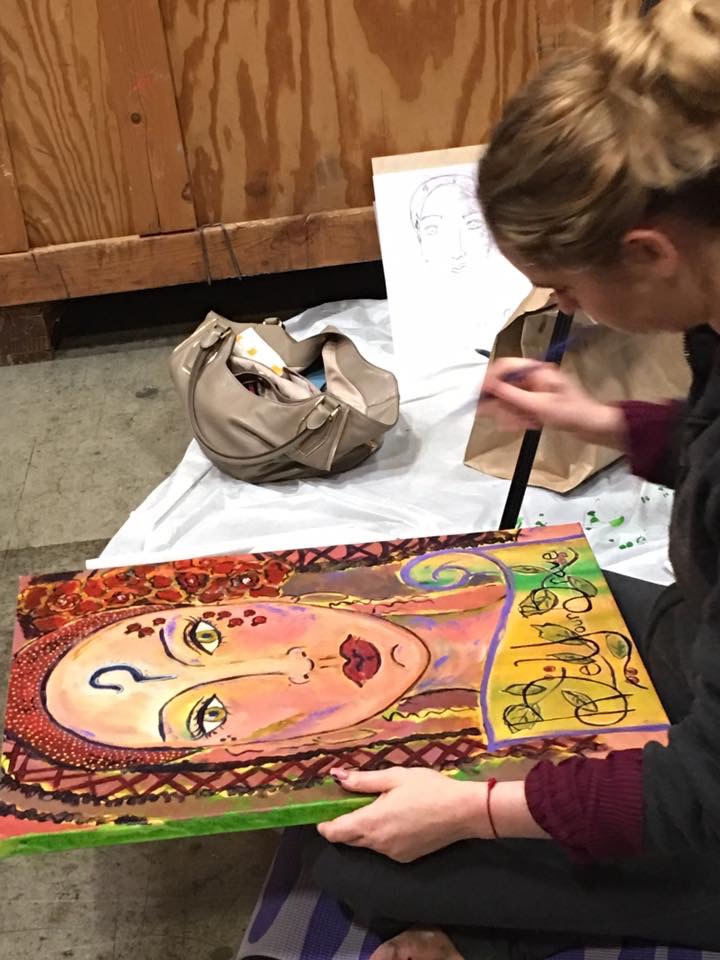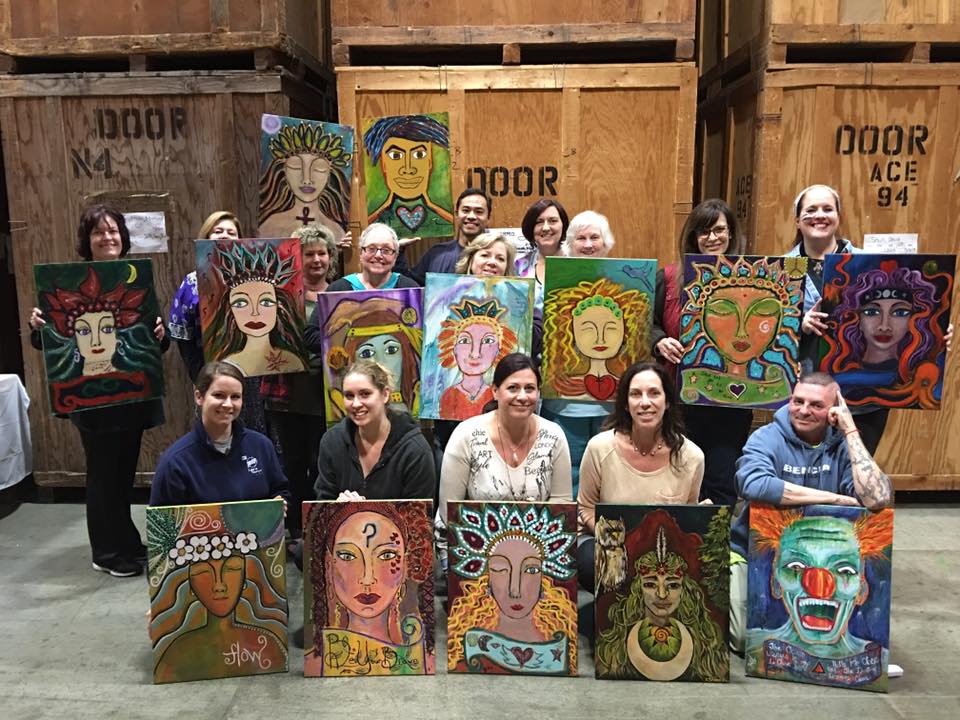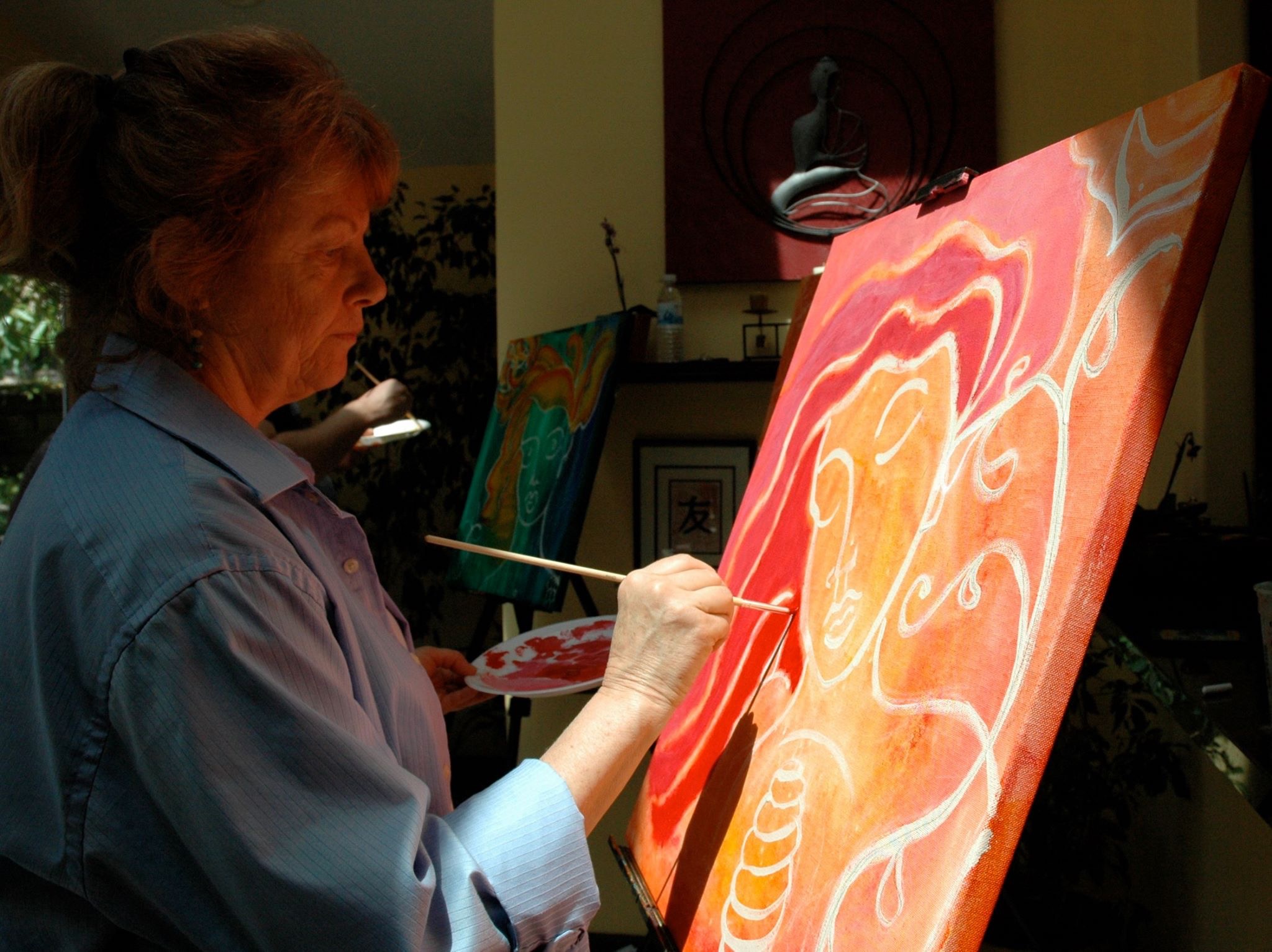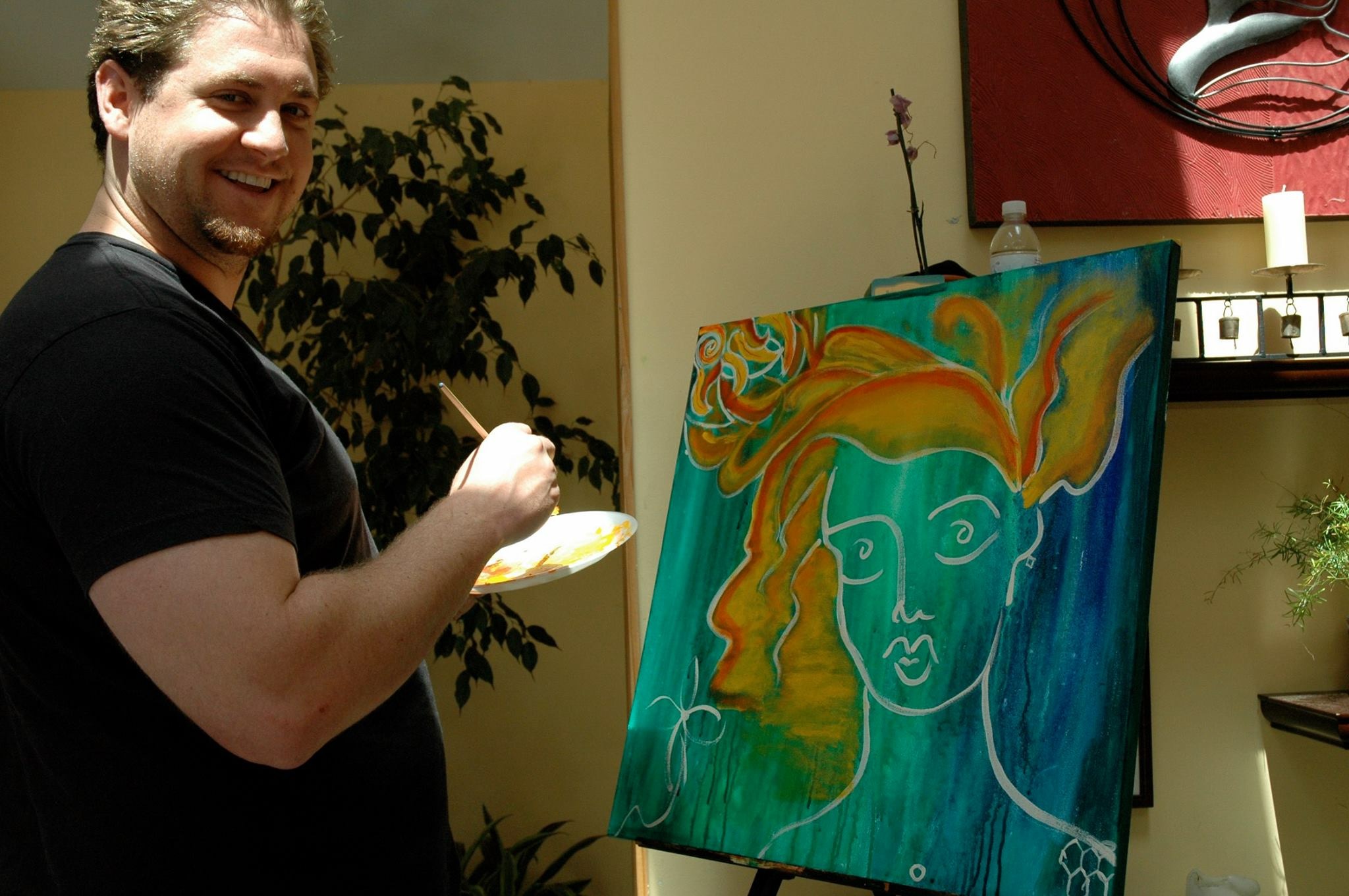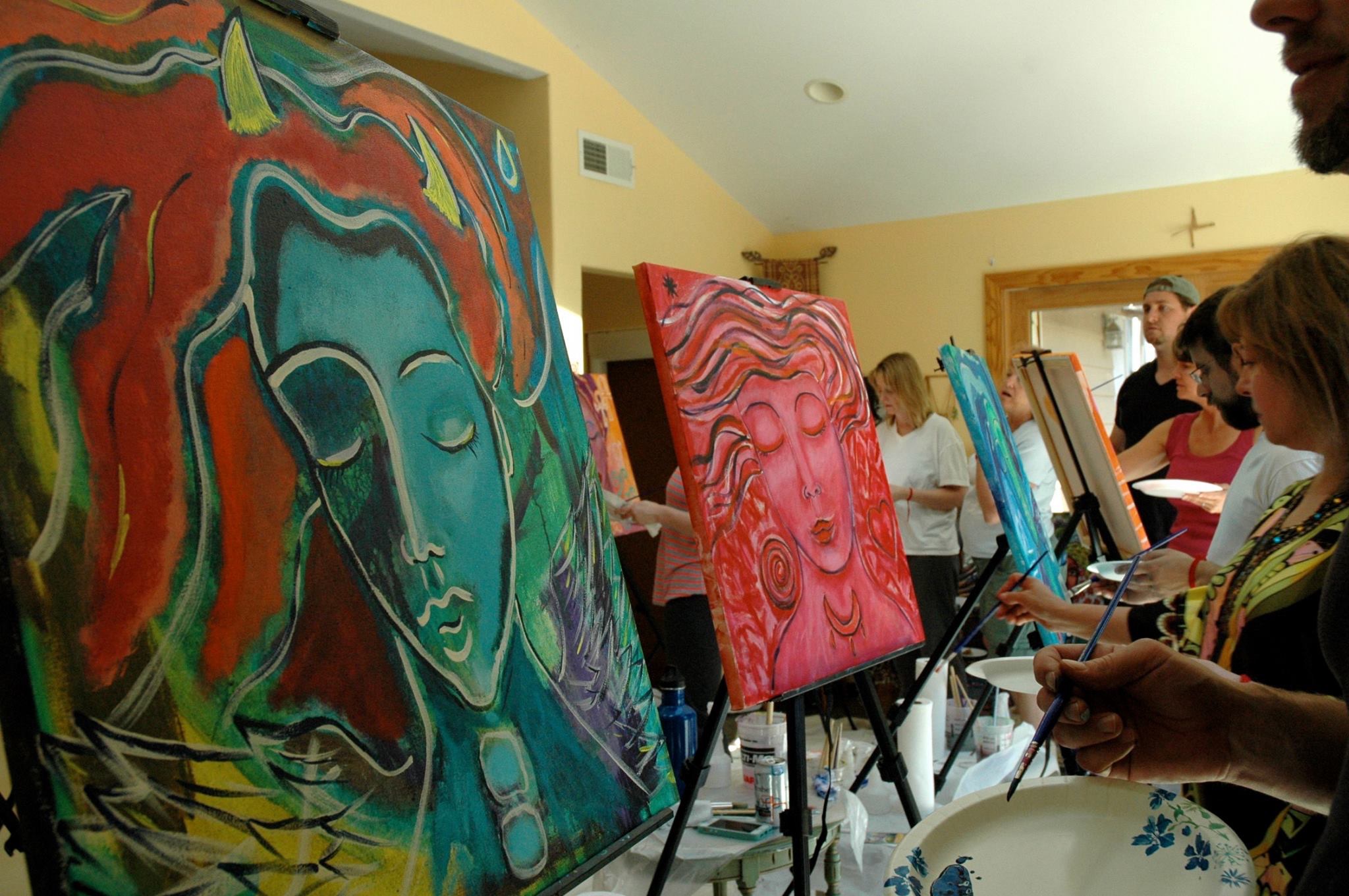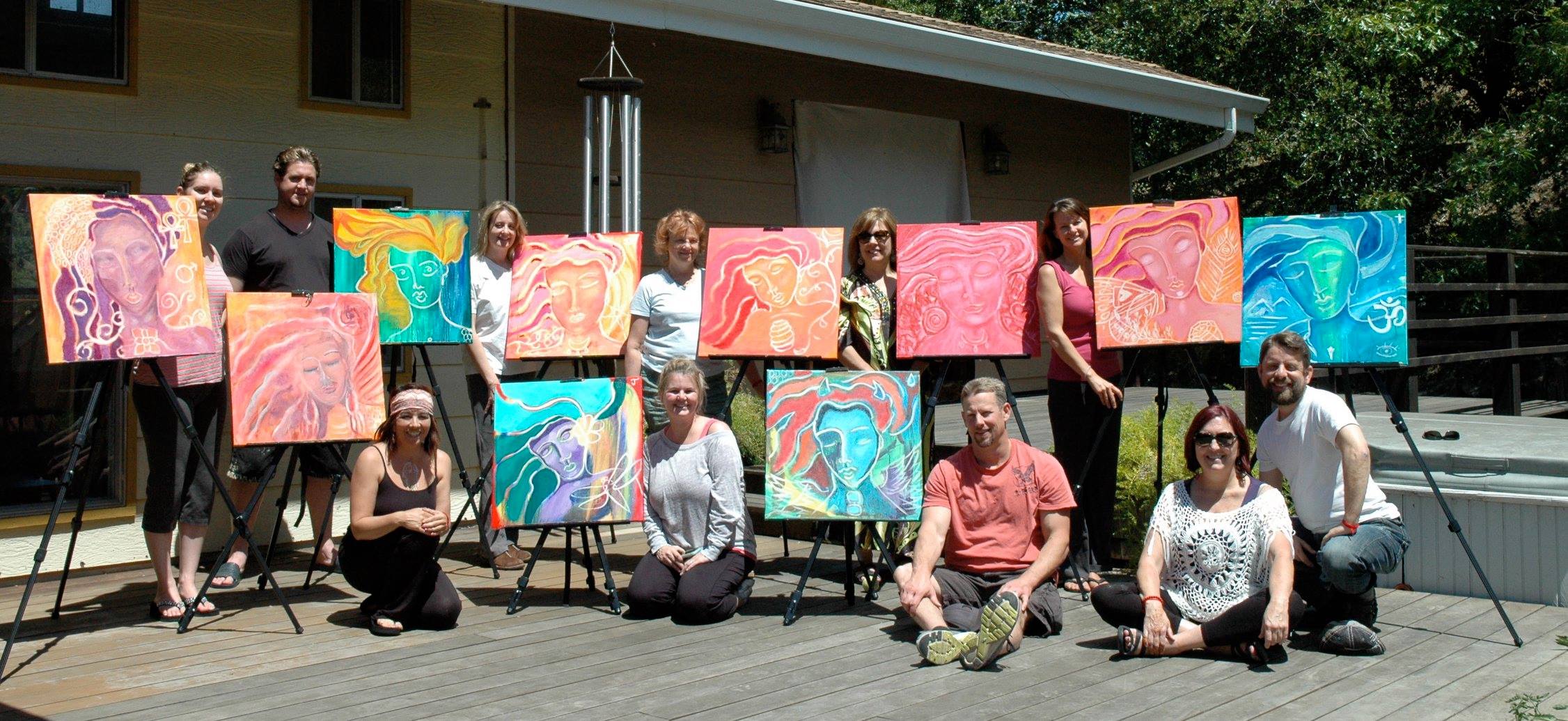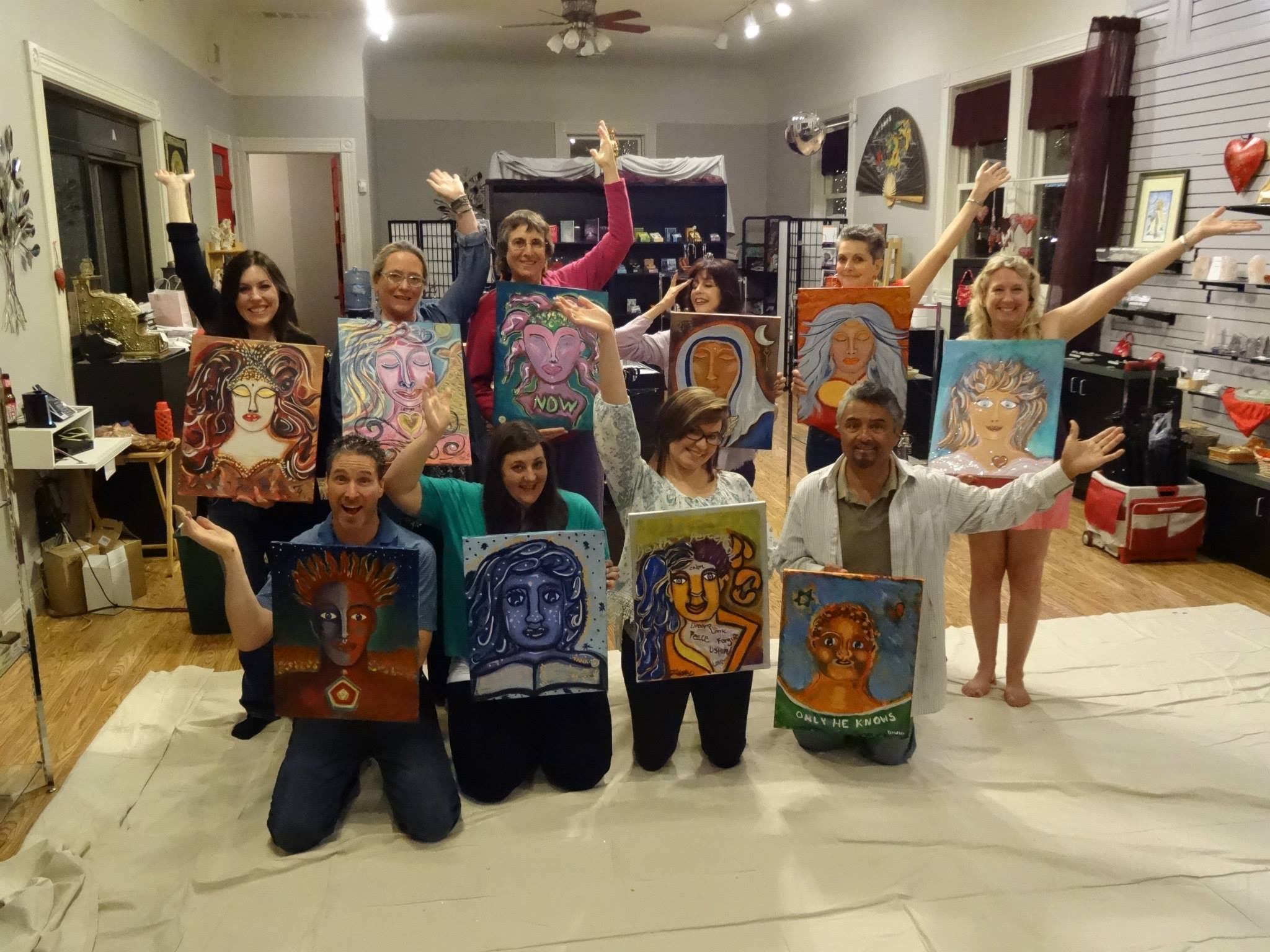 ---
Intentional Creativity® is a method of creating with mindfulness and intention as part of a journey of self-discovery. It begins with an inquiry about a story that lives in our memory banks. This inquiry creates an awareness of what our wise inner voice, our intuition, our higher self, wants to express by tuning in to our subconscious through our right brain and our heart. Moving memory through our hands and into image in physical form can create transformation. Utilizing a step by step process, Certified Intentional Creativity Facilitator Kerry Lee guides her students through a transformative method of intuitive painting. The method, developed by Shiloh Sophia McCloud can release blocks and old stories and allows new stories to emerge. It can also help heal life's wounds and vision the future with new insight. Intentional Creativity is when we choose to bring our mindfulness to our creations. Intuitive Painting is where we practice a deep listening to the subconscious inner mysteries and draw our inspiration from them. Kerry Lee's role is like an artist's midwife and inner wisdom guide. She believes each of us is creative and has an Artist within, waiting to be born.
"Intentional Creativity is a method that is accessible to all to discover or rediscover your true self, not the you that is buried under cultural conditioning, other people's opinions and inaccurate conclusions you drew as a child that became your beliefs about you are. It's a returning to your own bright navigational North Star and inner guidance" ~Kerry Lee
CLICK HERE PHOTO FOR A THREE MINUTE VIDEO ABOUT THIS MAGICAL METHOD...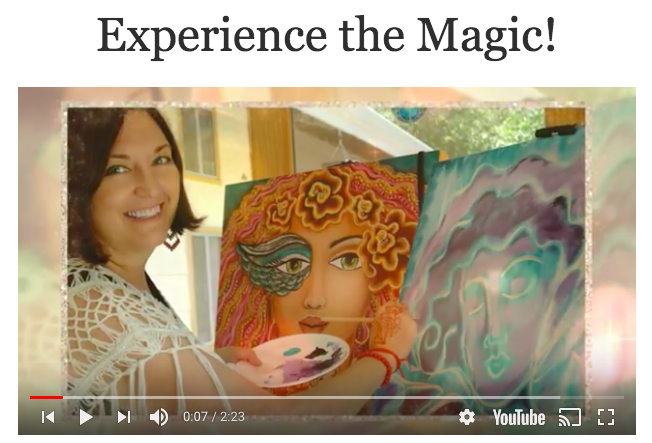 ---
This painting, "She releases her artist soul" was Kerry Lee' very first Intentional Creativity painting that released a more than three decade long case of "creative constipation"....read more about that story HERE.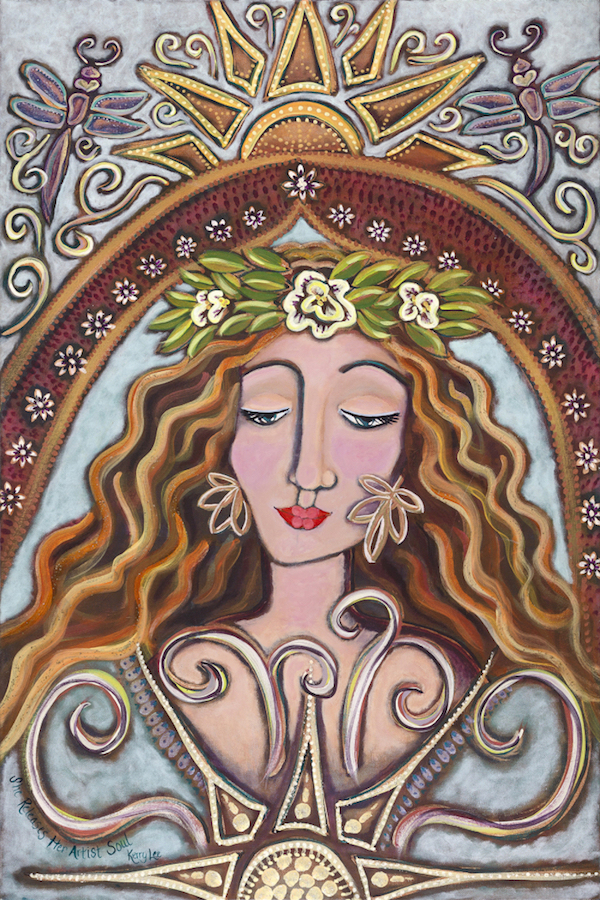 ---
---
REAL RESULTS
In 2017, the Intentional Creativity Foundation conducted research within the teacher and student community and those of other intuitive artist circles. Here is what we found:
Practice and Compassion
93% - experience creativity as a mindfulness practice
89% - include creativity as a part of their spiritual practice
89% - feel a sense of connection with the Divine (as they define it)
86% - feel that their creative practice positively impacted those closest to them
92% - feel that creativity influences their compassion for themselves
90% - experience compassion for others near them through creativity
83% - experience compassion for others they did not know through stories they heard
80% - would suggest the creative process to others who experience depression
Self Expression and Well Being
87% - consider themselves self-expressed as compared to before they were creating
86% - experience breakthroughs and aha's during painting
77% - choose painting specifically to work through a chosen breakthrough
90% - experience a shift in their default thinking
88% - experience a shift in their personal story through creating with intention
89% - bring insights back into their life that they discovered while painting
85% - experience an expanded sense of self
79% - notice an ease of physical symptoms while creating
93% - experience creating as a relief/break that benefits their overall well being
90% - experience a shift in recurring emotional pain through creative process
90% - creativity helps them to maintain a healthy outlook on life
PRAISE
"I am grateful to see the results of my art-phobic entre into the world of intuitive Intentional Creativity guided by Kerry Lee! I so appreciate having created a work of art that I love and that is very personal. Even more than that, the process of creating this piece was multi layered – both literally and figuratively. While working with my hands, the subconscious is free to tell me things. It was free to express dreams and goals that my literal mind has been ignoring. As I followed Kerry Lee's guidance through the painting layers and their evolving symbolism, I discovered things I didn't acknowledge as my heart's desire. And as I finished this painting, I also found courage to make some big life changes that have freed me to have more space in my world and to be more grounded in who I am. My painting Muse was "quiet confidence". Confidence inside glows on the outside.
Painting – yes. Intuitive – yes. Transforming – yes. Thank you Kerry Lee.
Kim, Higher Education Professional
And now playfully creative
-----
"This was a terrific day which has turned into a great week of enjoying my "Queen" and contemplating her/our future! She speaks to me daily. My husband won't let me move her from the living room and she will be hung in a place of honor when she is "done".…My set intention was to have FUN and FREEDOM and I did it!! I am also Kerry Lee, you are a wonderful midwife of the process! Your genuine self came through and you were unselfish in sharing your love, your talents and, of course, the goodies! Brava!" Jenn, Licensed Marriage & Family Therapist
----
"My "Magical Muse" is kind of a strange one and she is very magical. She sits across from me in my meditation space. The funny thing about her is she completely transforms with the light. Because I used the copper/gold on her face, when certain light reflects on her she doesn't look too good. But, in the lighting of my meditation space she looks absolutely beautiful and perfect! She has brought me so many creative ideas. I thank you for opening up that space within me that I can access any time. Truly, the Universe is using you to teach others how to access their own creative paths that lie within. What an important work you're doing!" Jade – Professional Portrait Artist
----
"I loved this class – even though I had never painted before. I had fun, tapped into a deeper creativity, and created a piece of art I am proud of and somewhat in awe of. If you want to treat yourself to a heart and mind opening experience, check it out. The teacher Kerry Lee is a joy to work with." Mark, Business Coach

---
---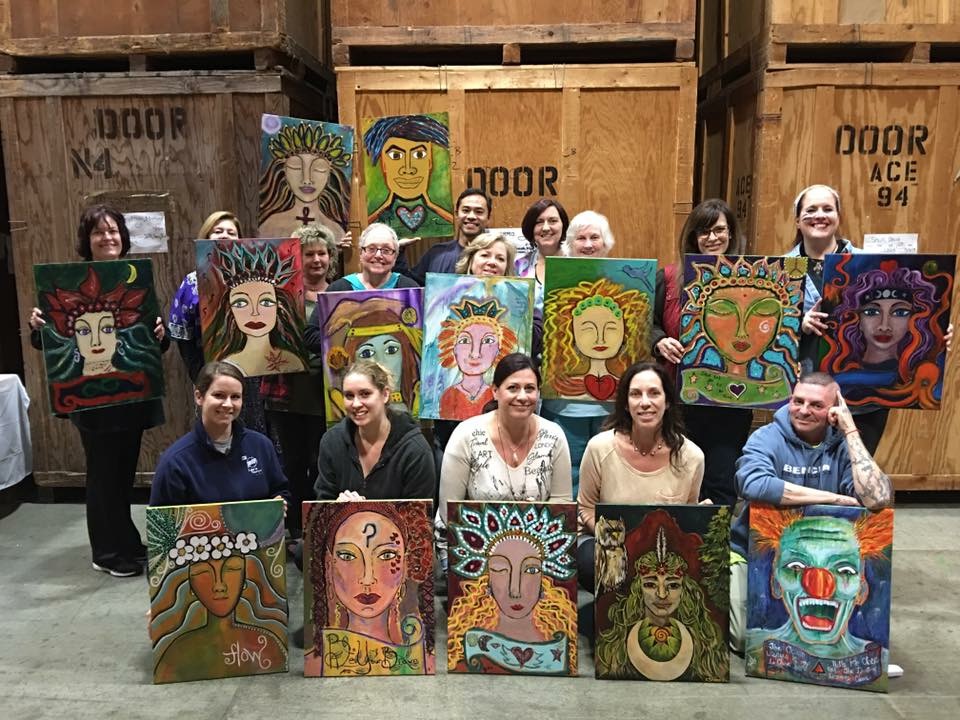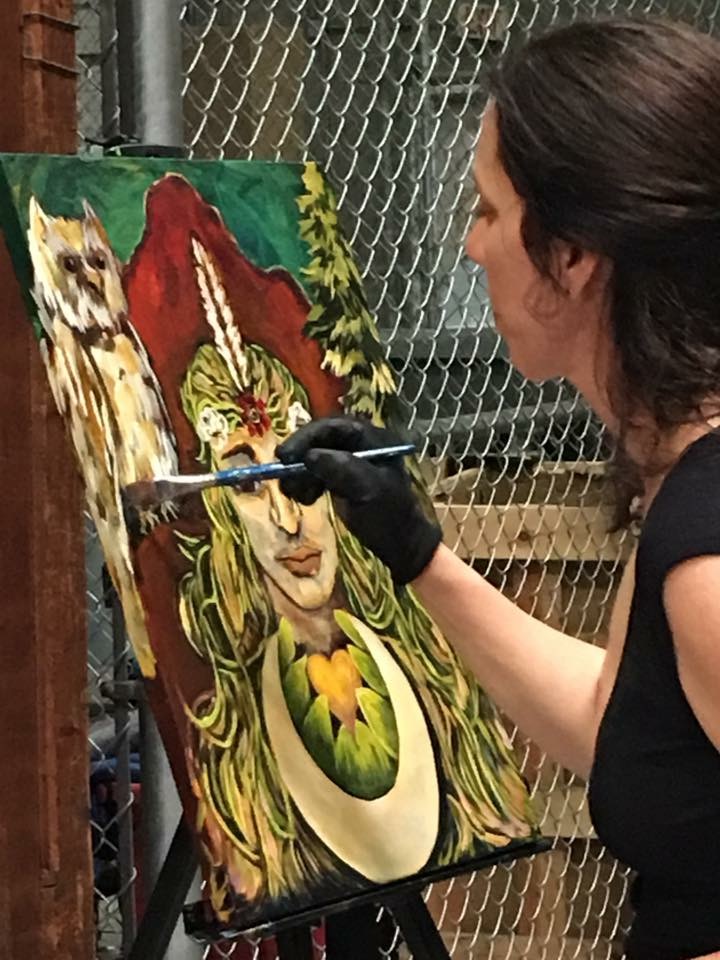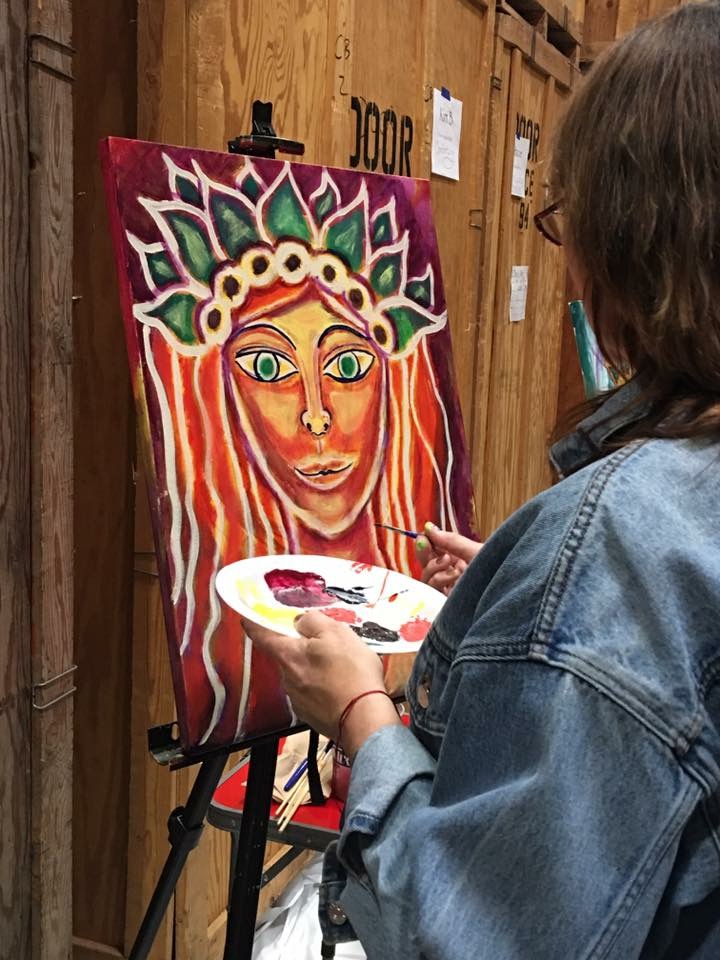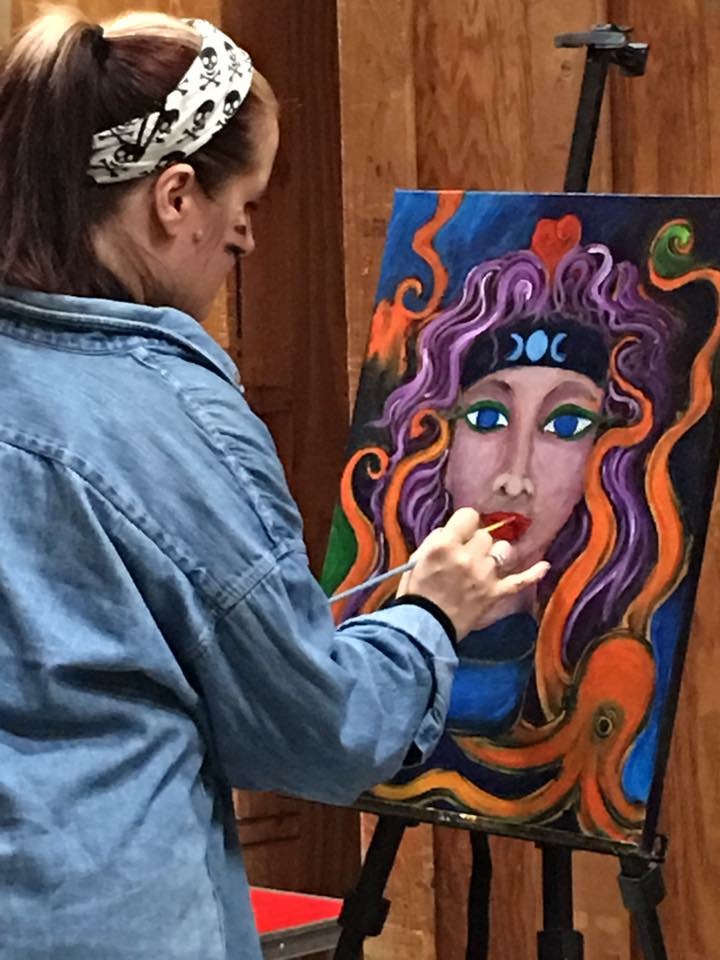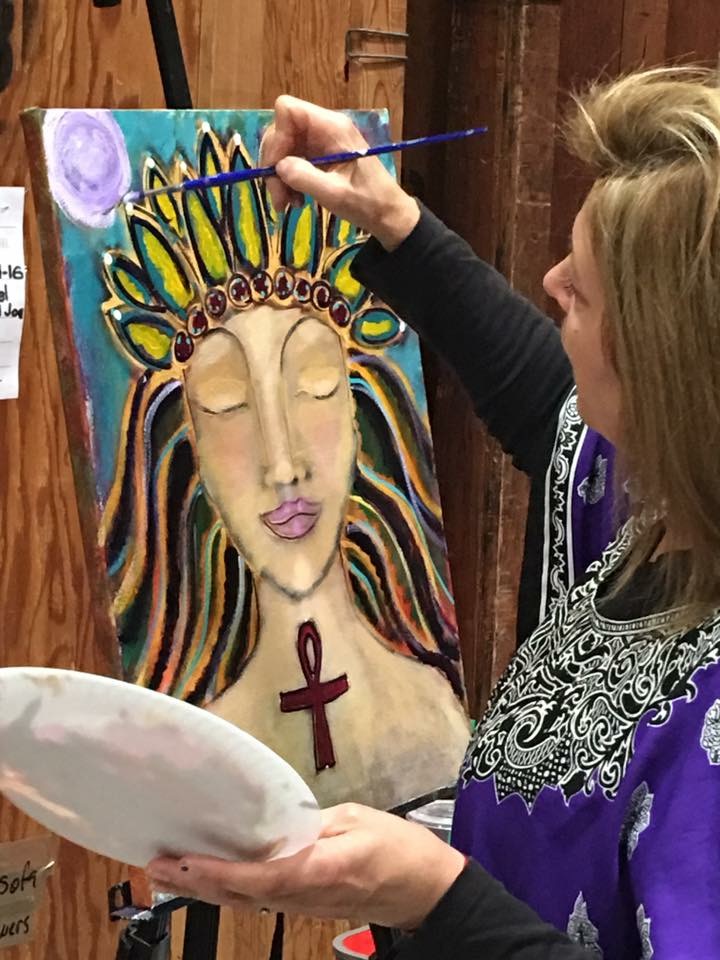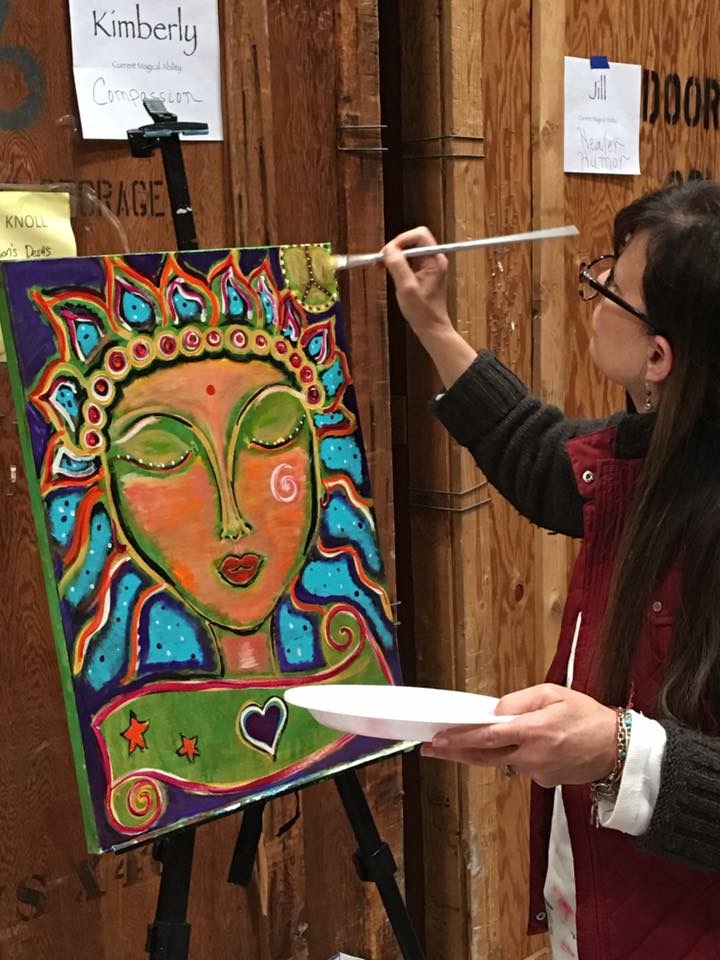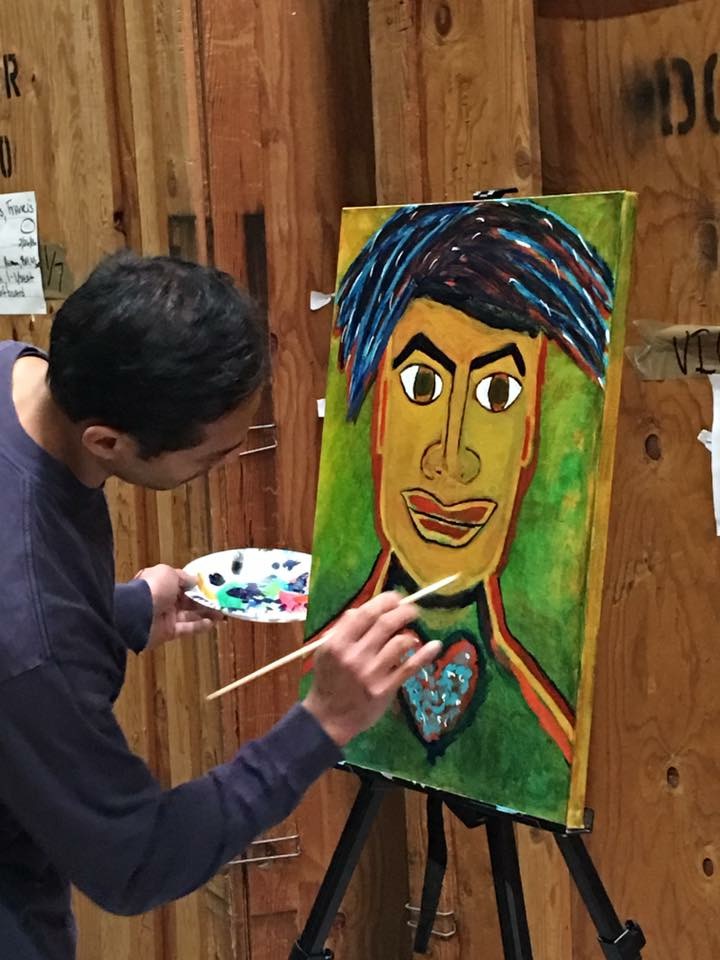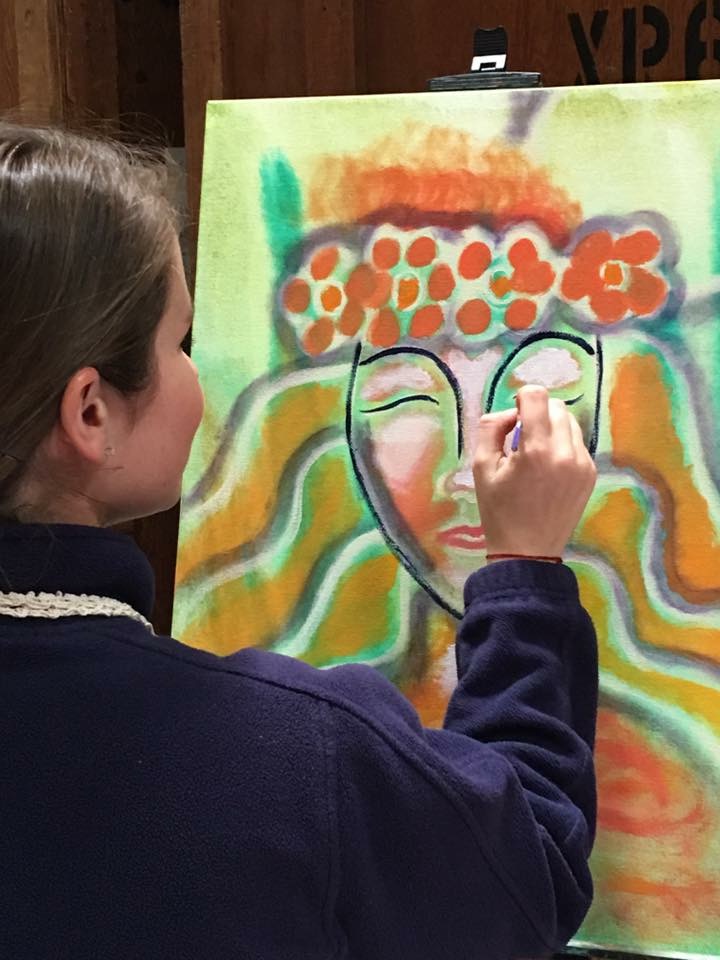 ---
---
---