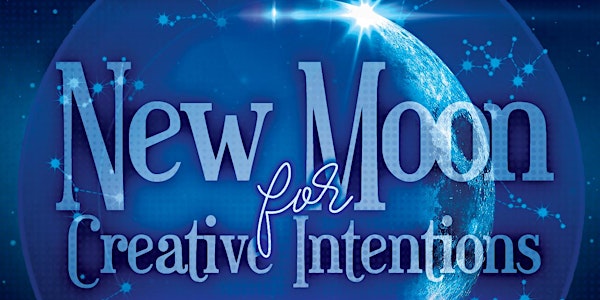 New Moon for Creative Intentions Gathering
A facilitated gathering of artists and creatives energized by the February New Moon to set creative intentions for the next 30 days.
About this event
Join us for an inspiring evening of creative alignment and connection fueled by the New Moon energy.
The new moon is a wonderful time to set intentions and launch new creative projects. New moons happen once a month and signify the beginning of a new cycle, which many think as "a cosmic reset." Connecting to these lunar energies can provide grounding and a sense of direction.
Our agenda includes a brief discusson about New Moon energy and how it allows us to move forward with our creative intentions. We will then focus on self-reflecting questions that will be provided prior to the session to help us determine what habits, blocks, or other barriers to our creativity that we will leave behind. You will set intentions for your creative practice and create affirmations that you can use for the next 30 days going into March 2021. The session will end with a guided meditation to seal our intentions.
A worksheet (optional) with reflection questions will be provided at least 24 hours prior to the event as well as a Zoom link.
To ensure a successful event, please consider having the following ready prior to our session:
1. Find a quiet, sacred space to participate where you won't be disturbed.
2. Pen and paper (or worksheet) on hand.
3. Intentions that you want to set for your creative practice for the next 30 days.
2. A nourishing beverage ( non alcoholic) (optional)
3. Candle (optional)
4. Your favorite uplifting scent via essential oils or incense (optional)
5. An object that may represents your current creative project or intention (a book, a piece of art, a manuscript, photograph, etc.). You may also decide to select a crystal or another sacred object.
6. Good positive vibes .
NOTE: Participants will not be allowed in the session 10 minutes after the start time to ensure that we maintain the integrity of the space for everyone participating.
This sacred time is a gift for you to help you move forward with your creative goals and ready to create.
Within 48-24 hours of the event you will receive a link for the gathering (via Zoom) and any handouts that you can download .
About the Facilitator
Sharon J. Burton is an artist, art curator, and creative life advisor and Founder of Spark Your Creative based in the Washington, DC area. She is a self-taught visual artist whose preferred medium is collage and mixed media and has exhibited her art in galleries, art venues and other settings across the country since 2007.
Since 2016, she has focused on helping people in "creative recovery"...those looking to revive or jump start their creativity through workshops, her blog and as the host of Spark Your Creatve Podcast which features artists and other creatives who are using their unique talents to create more mindful communities and a safer world.
Sharon has been trained as creativity coach through the Creativity Coaching Association. She is also Level 2 Reiki Practitioner and received her Breathwork + Meditation Teacher Certification with Faith Hunter of Embrace OM based in Washington, DC. She infuses her creativity coaching with wellness practices to help her clients break through the blocks that prevent them from fully engaging in their creative potential.
Learn more about her services at http://sparkyourcreative.com