Description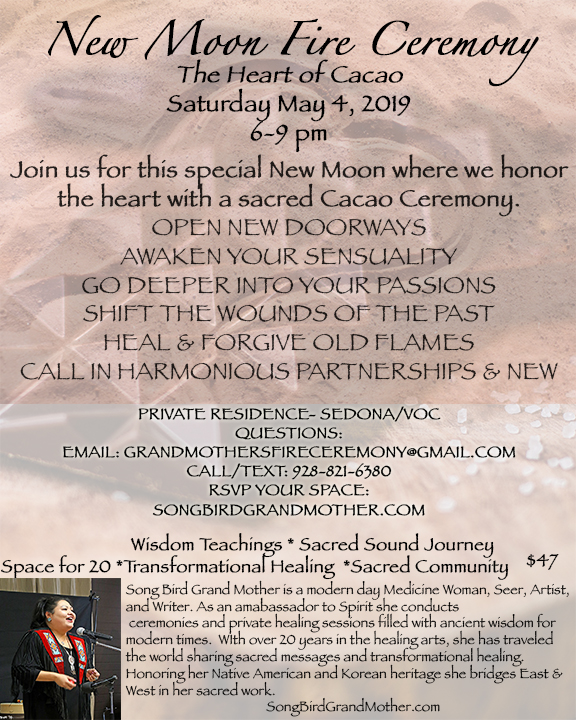 Join us for a special cacao New Moon. This moon we will focus on clearing, healing, and aligning the heart space to more joy, freedom, love, expression, and awakening.
Cacao is an ancient brew used throughout South America to heal physical, emotional, spiritual, and mental ailments. It is a "gift from the Gods" and in this time of transition and awakening is being called to more and more people.
We will begin with a sacred talking circle, as we sip on a special brew made for this night, as we release, transform, and lighten the mind, body, and spirit.
If you are ready to open new doorways, heal and forgive the past, and move forward into your passions. This is the ceremony for you!
Come and be in a safe space, under the stars, in sacred community.
The fire is open to men and women. No children under 16.
Please email or call for questions.
GrandMothersFireCeremony@gmail.com
or call/text 928-821-6380
Details:
Tea and water will be available
No food so please come nourished.

This is an outdoor fire, please bring blankets and dress warmly. If there is rain or snow we will move the fire indoors. Come prepared to be outside. The ceremony is in the backyard, parking is on the street or driveway.
The Address is given when your ticket is confirmed. It will arrive by email, so please look for it.


Things to bring for you:

Open heart, Open Mind

Notebook/pen

Wear Comfortable clothing

Water

Pillow/blanket/Chair-
There are some chairs, and spaces on the carpet to sit. There are also additional pillows and blankets for those traveling.

Anything you would like "charged" on our altar (Jewelry, stones, pictures etc...)

Flowers for the prayer altar

It is proper protocol to bring a gift to the host. (these sacred herbs are used for the fire) please bring one of the following:

Cedar, tobacco, sweet grass, sage, lavender, palo santo, Juniper, Corn meal or pollen, Mugwort, or another sacred herb