Description
New Moon Ceremony ~
Native Flute Meditation and Drum Journey
Gather in Sacred Circle at dusk, when the veils between worlds are thinnest, to embrace the new moon with reflection, renewal and seeding new intentions.

Let go of everyday concerns and rest in peaceful meditation to the soothing sounds of Native American Flute music played live.

Journey with the drum to the unseen realms to connect with compassionate guardian spirits for healing and guidance through direct revelation.
During this sacred ceremony, we will dance our heartfelt prayer for the Amazon Rainforest. Then, we will call upon the Spirit of Water to help us dissolve persistent worries. This will free our minds so that we can practice being present during the Native Flute Meditation. Afterwards, we may experience an unusually peaceful state from which we can then more effectively create meaningful intentions to manifest in our lives. And of course, we will call upon Spirit to empower those intentions!

Sonya Jason is a professional musician, shamanic practitioner and ceremonialist. Her work masterfully empowers each person's innate connection with Spirit for guidance and healing. Sonya plays Native American wood flutes, frame drum, conch shell, gourd rattles and chakapa (Peruvian leaf rattle) to create powerful moving ceremonies, healing meditation music, and insightful shamanic journeys.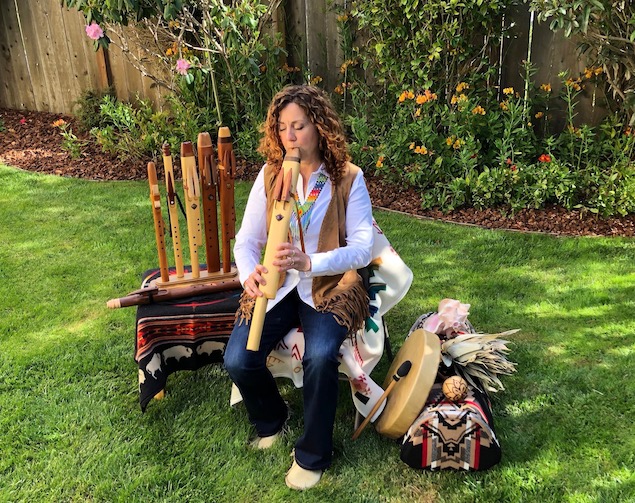 WHEN: Friday, August 30, 2019
TIME: 6-8 pm (please arrive 15min early so we start on time)
WHERE: On the lush green lawn surrounded by flowering plants inside the Emerging Space Greenhouse at Moon Mothers Nursery (formerly Pardini's Nursery behind Mezza Luna Restaurant), 401 Prospect Way, Half Moon Bay Harbor, CA 94019
PARKING: free street parking available throughout the harbor
HOW MUCH: $35 per person purchased online, spaces limited so please buy your ticket in advance. $45 at the door, space permitting.
WHO: Age 16+, no previous meditation or journeying experience necessary
WHAT ELSE:
~ For the deepest experience, eat lightly and avoid alcohol before the ceremony
~ Back jacks and chairs are available for sitting in the circle on the lawn
~ Dress comfortably in layers
~ Bring a warm blanket or two to be cozy
~ Bring an eye mask or bandana
~ Bring your favorite rattle(s) if you have one or borrow one of mine (supplies limited)
~ Bring a water bottle
~ Bring a notebook or journal and a pen to record your insights (Electronic recording, audio, video, photography, and the use of computers are not permitted during the ceremony.)
~ Note to those with sensitivities or allergies: a small amount of sage or palo santo incense will be burned to cleanse the space

GENERAL ADMISSION ONLINE: $35
Spaces limited so please purchase your ticket in advance
GENERAL ADMISSION DOOR: $45 (space permitting)