Join us in exploring the effects of climate disruption globally and here in New Mexico, while also learning how you can make a difference in
About this event
"NEW MEXICO RISING"
Combating Climate Disruption. Making a Difference!
Maybe you are still not sure about the science behind Climate Change.
Or maybe you're convinced and want to learn more about the effects of Climate Disruption in New Mexico. Or, perhaps you are frustrated and feeling powerless to prevent a pending climate catastrophe. We invite you to join us for films and conversation at an important, groundbreaking event, "New Mexico Rising" - scheduled for Friday, September 6th and September 7th at the UNM Center for Continuing Education, 1634 University Avenue, NE.
Join us in exploring the effects of climate disruption globally and here in New Mexico, while also learning how you can make a difference in saving our planet!
View films which document threats to New Mexico's environment and climate while also illustrating the significant impact individuals are making in resisting environmental degradation and climate disruption.
Discover initiatives to save our soils, transition to clean energy, and protect our public lands. Gain insight into ancient Native American wisdom in living in a sustainable balance with nature.
After breaking up into small groups to explore specific issues, leave the day with an action plan for what you can do to make a difference!
Enlightenment leads to empowerment!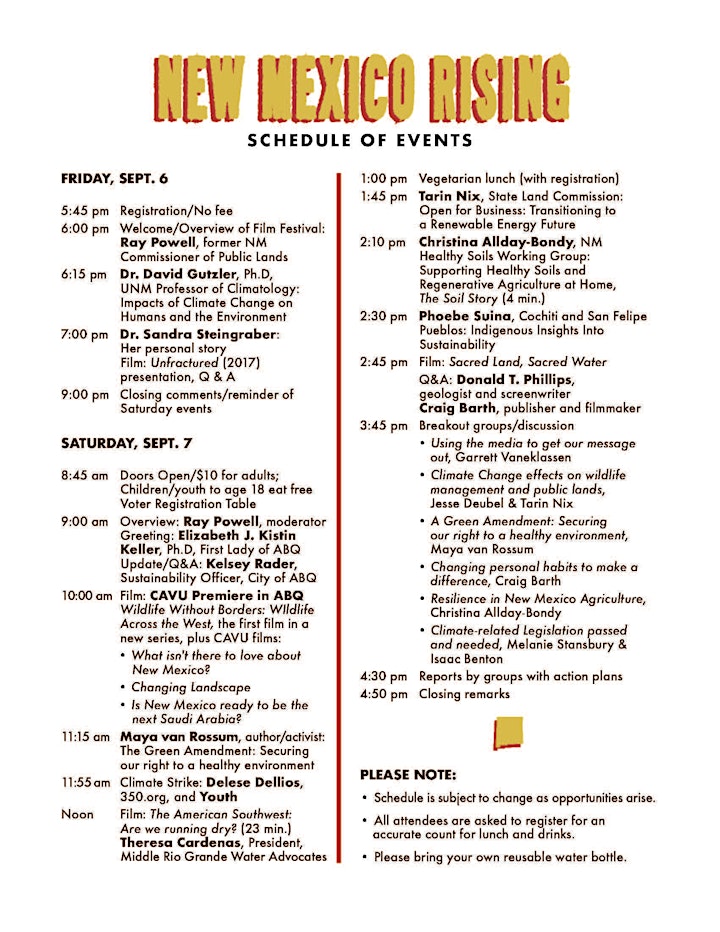 Organizer of NEW MEXICO RISING
The New Mexico Wildlife Federation (NMWF) is a 501(c)3, founded by Aldo Leopold, and is the oldest conservation organization in the Southwest. The mission of the NMWF is to inspire New Mexicans to conserve public landscapes, watersheds, and wildlife for our children's future.
NMWF's key priorities are to protect habitat, create opportunities for outdoor recreation, and provide experiential education to New Mexico's youth, families and communities focused on key conservation issues. A common thread to all of these priorities is healthy and accessible public lands.
New Mexico Wildlife Federation is also committed to engaging the next generation of outdoor enthusiasts and fostering a high quality of life for all New Mexicans. Through fishing, rafting, hiking, camping, archery, and science based conservation education, the NMWF creates opportunities for New Mexico's youth and families not only to connect to our public lands and watersheds, but also to one another.