Description
Reserve your ticket for our New Mexico Oracle Users Group Kickoff Meeting on September 25, 2018 at The University of New Mexico. Senior Principle Product Manager for Oracle, Gerald Venzl will be our keynote speaker.
---
When: Tuesday, September 25, 2018
Time: 11:00am to 2:00pm
Where: Collaborative Teaching and Learning Building Room 110, The University of New Mexico,
1, University Blvd NE, Albuquerque, NM 87131
Cost: FREE
Agenda:
11:00 - 11:30 am - Check-In and Board Introductions

11:30 - 12:00 pm - Lunch

12:00 - 12:30 pm - Live SQL and Dev Gym Demo

12:30 - 2:00 pm - Keynote with Gerald Venzl
Title: Supercharge your Code to Get Optimal Database Performance
Abstract: Everybody agrees that programming languages are lightning-fast and powerful. Yet performance quickly hits a bottleneck when a database is part of the stack. For years and years, databases have been seen as the slow, monolithic back ends that limit your application's throughput. Yet the reality is that most of the time, it is the code interacting with the database that limits your throughput. Autocommit, too many network round-trips, doing unnecessary work are just some of the culprits that will limit your throughput. Yet all of those can easily be avoided with some simple tricks and refactoring of your code. In this session, learn how to apply tricks that will supercharge your application. Never wait for a reply from your DBA again.
Speaker name: Gerald Venzl
Speaker title: Senior Principal Product Manager
Twitter: @GeraldVenzl
Blog: https://geraldonit.com
Bio: Gerald Venzl is a Senior Principal Product Manager for Oracle. During his career Gerald has worked as a Developer, DBA, Performance Tuner, Software Architect, Consultant and Enterprise Architect prior to his current role, while still being active as a developer in his free time. This allowed Gerald to live several different lives in the IT sector, providing him with a solid understanding of the concerns in these individual areas while gaining a holistic view overall. In his current role Gerald is responsible for improving the developer experience of the Oracle Database and the Oracle Cloud. Besides that, Gerald focuses on advocating how to build systems that provide flexibility yet still meet the needs of the users.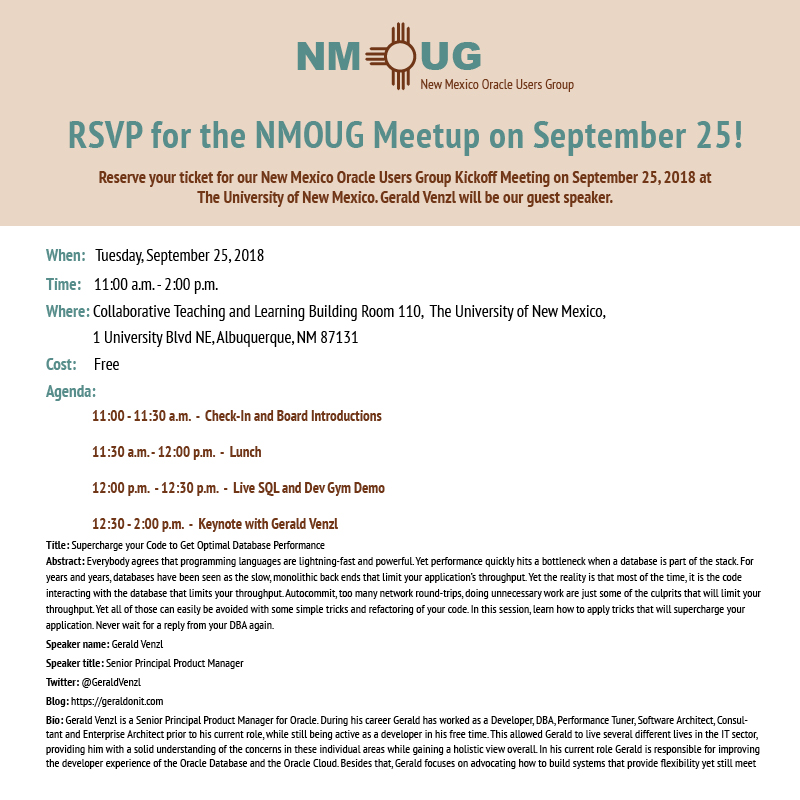 FAQs
How can I contact the organizer with any questions?
Email us at nmoug.comm@gmail.com or click here.