New Mexico IDEA Annual Meeting

Tuesday, November 28, 2017 at 8:00 AM

-

Thursday, November 30, 2017 at 5:00 PM (MST)
Event Details
New Mexico Industrial Development Executives Association Annual Meeting will be held on November 28 - 30th at the Clovis Civic Center.  November 28th the Rural Economic Development Council will host their quarterly meeting followed by Economic Development Seminars and the NMIDEA Annual Meeting on November 29-30th.
REGISTRATION:
The registration fee is $150 per person. A Special Discounted Registration Fee of $100 per person is available through November 20th. (Discount Rate is only applicable to registations that are paid in full by November 20, 2017)

To Register, Click the "TICKET OR ORDER NOW" button on mobile devicdes or use the individual or group option on this page
(No Refunds are allowed)
 If you have questions or need to register using a Purchase Order, please call Ariana or Chase at the Clovis Chamber/EDC (575) 763-6600 or email the Chamber/EDC at staff@clovisnm.org.
AGENDA:
Tuesday, November 28th
9am -5pm            Rural Economic Development Council Meeting
 Wednesday, November 29th

9:30am                  Tour of Southwest Cheese (confirmed)           
                               CIDC will Provide Transportation

11 - 12:30                Lunch on your own                                                                      

1pm                          Registration Opens                                 Civic Center

1:30pm                    Welcome and Introductions:                    Civic Center
                                NMIDEA President Eileen Yarborough (confirmed)
                                Clovis Mayor David Lansford (confirmed)

1:45pm                       New NMIDEA member self-introductions

2:00pm                       NMEDD Cabinet Secretary Matt Geisel (confirmed)

2:15 - 3:45pm           Professional Development                    Civic Center
        Tim Nitti, New Mexico Partnership – NM Partnership Vision/Approach (confirmed)
        Robin Beaubien/Beaubien Consulting - Social Media Marketing (confirmed)

3:45 – 4pm                BREAK

4pm                           NM IDEA Annual Meeting  



Thursday - November 30th

8am                          Networking Breakfast                            Civic Center

8:30am                     Opening Session                                   Civic Center

9-10:15                    New Tools in the Toolbox
                                Russ Cummings - New Mexico Small Business Investment Corporation(confirmed)
                                Michelle Huckfeldt - Union Pacific Railroad Certified Sites Program(confirmed)
                                Juan Torres, NMEDD – Credit Enhancement Program(confirmed)

10:15 – 10:30    BREAK

10:30-noon    Case study: Southwest Cheese
                               Chase Gentry/Clovis industrial Development Corporation(confirmed)
                               David North/Southwest Cheese(invited)

12:30              Awards Luncheon                                              Civic Center

2 - 5pm            NM Partnership Training Program
                         New Prospect Recruitment Opportunity (PRO) Approach/Standards (confirmed)            

5pm                Meeting Adjourns
CLICK HERE TO VIEW THE TENATIVE AGENDA FOR THE EVENT
AWARDS:
Six awards are given to indivduals and/or organizations to encourage, recocgnize and promote outstanding achievement and professionalism in the field of economic development.  The awards are given out each year at NM-IDEA's annual meeting.  The awards committee reviews the nominations and selects the award winners.  Click on the link below to download the nomination form and to see a brief overview of each award.  Nominee forms should be e-mailed to therese.varela@state.nm.us.  If you have any questions regarding the awards, please call Therese Varela at 505.827.0300.

The 2017 NMIDEA Awards Form is attached below..  All nominations are due by October 20, 2017.

CLICK HERE TO DOWNLOAD THE NM-IDEA AWARD DESCRIPTION AND NOMINATION FORM
HOTEL AND ACCOMODATIONS:

Comfort Inn & Suites - Clovis NM - (HOST HOTEL)

Enjoy your trip to New Mexico when you book with our pet-friendly Comfort Inn & Suites® hotel in Clovis, where behind every great stay is a great night.

Our leisure hotel is conveniently located near Clovis Community College, Eastern New Mexico University, Wayland Baptist University and Plains Regional Medical Center. Make the most of your trip by enjoying local attractions near our hotel, including:
The Clovis Civic Center
The Hillcrest Park and Zoo
Southwest Cheese
Curry County attractions
Clovis Municipal Airport
Our hotels are everywhere you want to be with all the amenities you need. If you're traveling for work, you can make the most of our amenities with access to a computer with Internet and copy and fax machines before unwinding at our Manager's Reception. Additional amenities include:
Free WiFi
Indoor heated pool & whirlpool
Fitness center
Guest laundry
Free coffee
Get going with a great breakfast. Start your morning in Clovis with our free hot breakfast offering everything from eggs, waffles and meat to healthy options like yogurt and fresh fruit.

We will get you rested and ready for anything, especially with our guest room amenities, which include flat-screen TVs, microwaves, refrigerators, coffee makers, hair dryers, irons and ironing boards.

Whether leisure or business travel, alone or with the family, we at Comfort Inn & Suites in Clovis will help make your trip a success.
Book Host Hotel now at:
CLICK HERE TO RESERVE A ROOM AT THE NM-IDEA HOST HOTEL
Other Hotels in Clovis: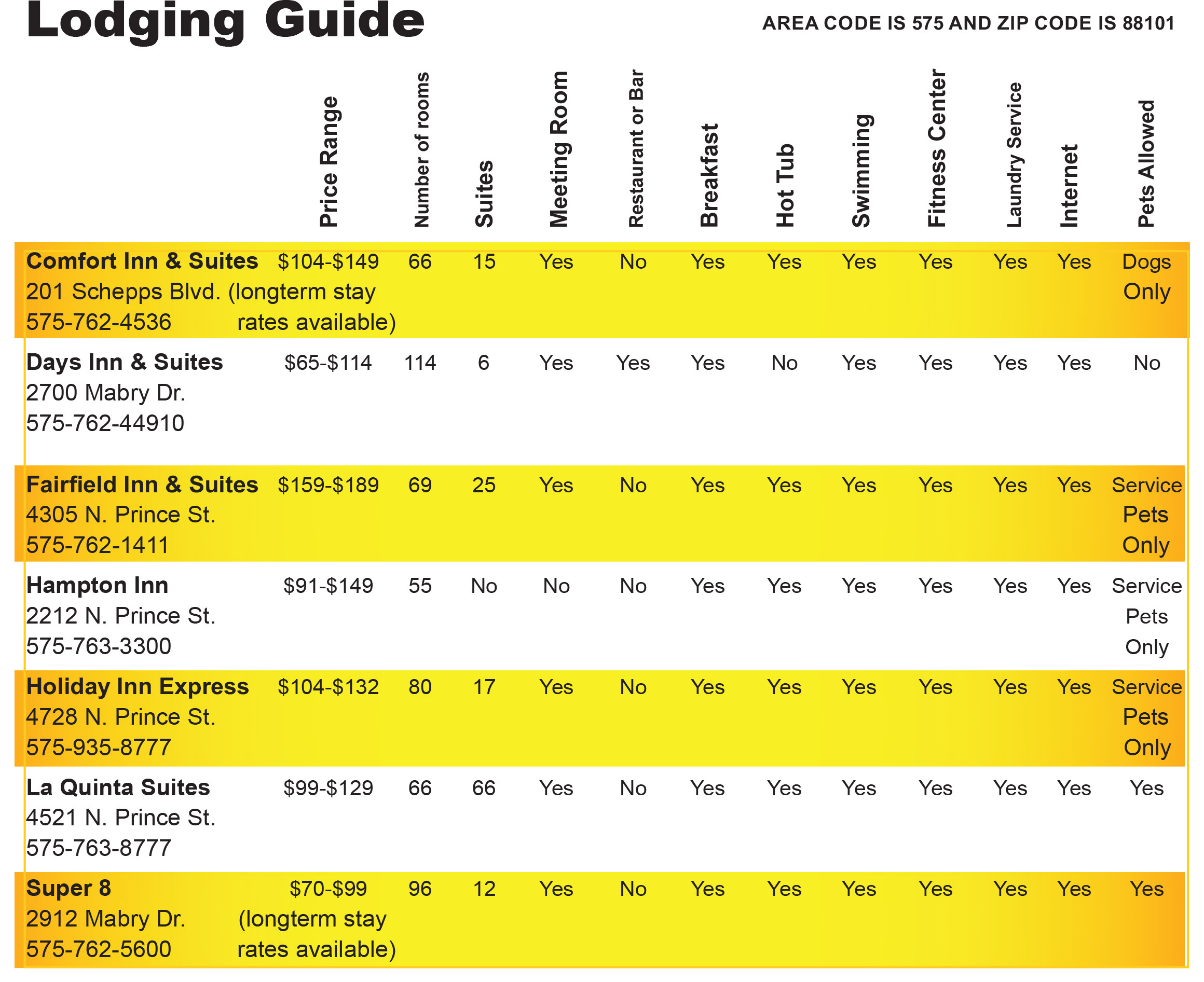 Questions:
Ariana or Chase @ 575.763.3435
staff@clovisnm.org
When & Where

Clovis Civic Center
801 Schepps Blvd.
Clovis, NM 88101


Tuesday, November 28, 2017 at 8:00 AM

-

Thursday, November 30, 2017 at 5:00 PM (MST)
Add to my calendar
Organizer
Statewide Economic Development Professional Association