Description


August 19th & 20th 2017
Come experience this unique outdoor Craft Beer, Wine & Art event nestled in the Cool Pines of Ruidoso.
Avg. temperatures in August are 75°
*FREE ADMISSION FOR KIDS 12
If you are looking for fun new Ruidoso events, you just found one of the hottest premier events offered to area visitors. Experience the flavors of New Mexico at the 2017 New Mexico Flavor Festival!
There is a flavor for everyone! From ages 5 to 105 there is a flavor for you! Come out with your family and friends and experience a unique event in the cool pines of Ruidoso, where the average summer temperatures are in the mid 70s! Escape the heat!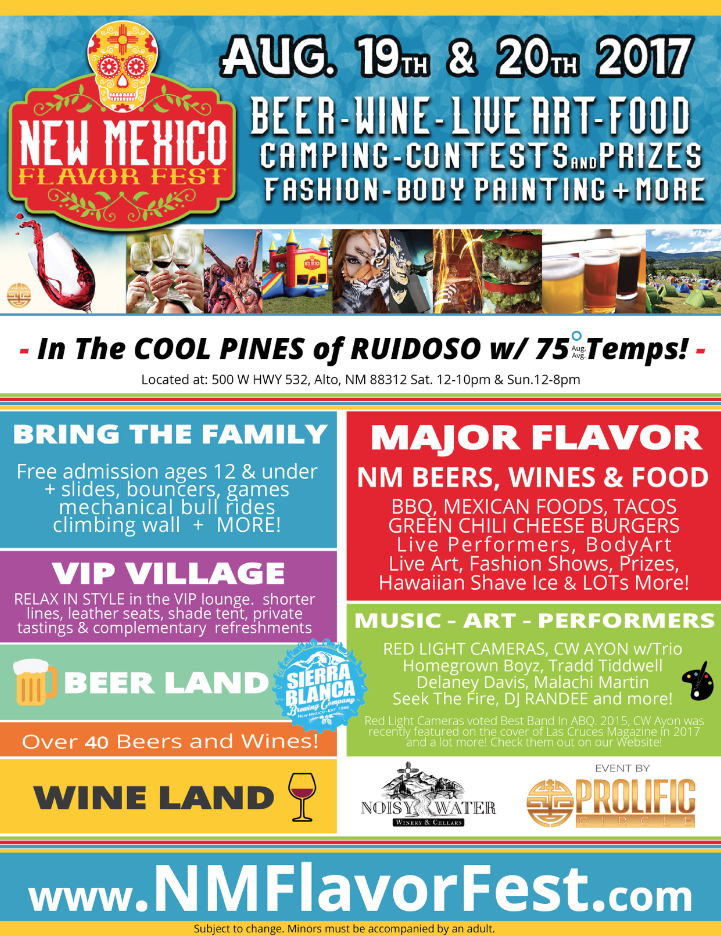 ENJOY AWARD WINNING NM BEERS & WINES, MOUTH WATERING FOODS such as authentic Mexican dishes, Ceviche, Green Chili Cheeseburgers, Food Trucks, BBQ , Tacos, posole and more, and all along with award winning musicians and artists such as, The Red Light Cameras (who have won numerous awards such as Best Band In Albuquerque 2015 , and many more. Also see CW Ayon, who was recently featured on the cover of Las Cruces Magazine and has a long list of accomplishments, as well as the newly formed CW Ayon Trio, + Seek the Fire, Homegrown Boyz, Blake Martin, The Noisy Water Band, and amazing solo artists Tradd Tidwell, Malachi Martin, Brandon Bailey Johnson and Company, DJ RANDEE and B FRESH keeping it live at night! Don't miss the live body art contests Saturday night and the Kids Getup & Go Costume Expo. on Sunday! We are also very excited to have Mr. Jordan Torres demonstrating his live sculpting and displaying his famous artwork and more! Also see live street art, canvas, pottery, dance and more!


NM Flavor Fest features over 40 NM Beers & Wines as well as some Foods of New Mexico! + Live Art Exhibits, Auctions, Live Music, a Kids Fashion /Getup & Go Costume Contest, Live Art Creations, Sculptors, Painters, Performers, Indian Tacos, Authentic Mexican and New Mexican Foods + other COOL Contests, and CASH Prizes! Also enjoy overnight camping in a convenient location near the event center, you can also check out our lodging partners and enjoy our comfortable VIP lounge.
And for you PARTY ANIMALS... Fire Spinning, Glow Shows, $500 Body Painting Contest and Live DJ's at night, Glow paint, and much more!
Proceeds from art auction goes to a charity! We are still deciding which charities it will benefit at this time. Apply for your charity HERE.
Choose Your Flavor!
(Subject to Change)
*ALL PRICES WILL INCREASE AT THE DOOR


All event activities and details are subject to change. All sales are final, this is a rain or shine event.