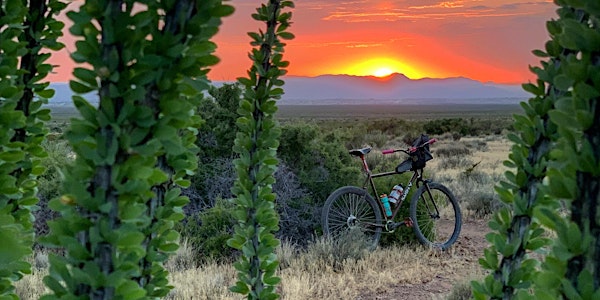 New Mexico Bikepacking Summit: Origins & Connections
The first New Mexico Bikepacking Summit is centered on developing the statewide bikepacking network and making personal connections.
When and where
Location
Las Cruces PO Box 2111 Las Cruces, NM 88004
About this event
Our goals for this first summit, Origins and Connections, are to raise awareness of the New Mexico Bikepacking Network, discuss how this could be beneficial to folks across the state, and outline some strategies to help us succeed in creating something inclusive, sustainable, and truly New Mexican.
We'll kick things off with a NM based bike and goods sale at Outdoor Adventures. Some of your favorite people will be on hand selling their bottles, handlebars, bikes, bags, stickers, and more.
After a lunch break, we'll get to the heart of the summit. We've lined up a few experts and all around good folks to share what they know. There will be some talk about bikes and big rides, but we'll also discuss economic development and outdoor equity.
Schedule of Events:
October 22, 2021
*8:30-11:00 a.m. Meet and Greet/Gear Sale at Outdoor Adventures. NM based companies will be there selling their products.
*11:00am-2:00p.m. Lunch Break
*2:00-5:00p.m. Speakers and Panels
Speakers:
Axie Navas, Director of New Mexico Outdoor Recreation Division
Angelica Rubio, State Representative for District 35, Community Organizer
Bailey Gene Newberry, Owner & Operator of Sincere Cycles
Other: we'll also have Patrick Farnsworth from the Bikes or Death Podcast roaming around the Summit. You may get to be interviewed or watch a live recording of an interview and ask questions.