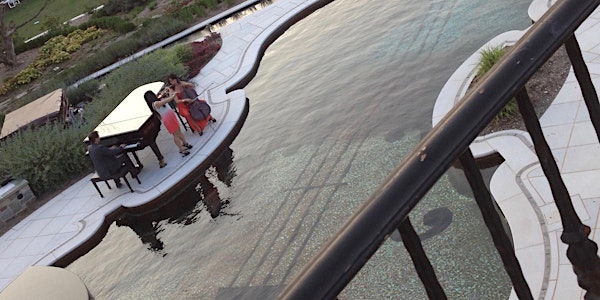 NEW MELODY TRIO: Casa Stradivari PREMIERE
From the shimmering poolside...
About this event
Thursday, July 22 at 7:30 ET
CASA STRADIVARI Premiere
GRAMMY®️-nominated Juilliard graduates, formerly known as the high-octane sister-act, Project-SiS, Christine Kim (cellist) and Pauline Kim (violinist/composer) with pianist/composer Andrew John form New Melody Trio. "Casa Stradivari," the third and final in the series of three videos, takes place in a private home around a swimming pool designed after an actual model of a Stradivarius violin.
Violin and cello tracks recorded at Spin Recording Studios by Roy Hendrickson, mixed by Brian Losch and mastered by Chris Graham. The video was all shot in one day with all natural light by Russ Dixon.
NEW MELODY TRIO
Host
Nicholas Zork, Event Producer
https://www.newmelodytrio.com