| | |
| --- | --- |
| New Media Film Festival Editing Award sponsored by Moviola | |
Event Details

SUBMIT ABOVE FOR New Media Film Festival Editing Award sponsored by Moviola
You are submitting for:
New Media Film Festival Editing Award sponsored by Moviola – In 1923, Moviola founders created the very first film editing machine. 

The Winner of this category receives:
--Camera package for a filmmaker: 5D three day weekend package.
--Free editing class at Moviola on-site at their training facility.
--Free Moviola Webinar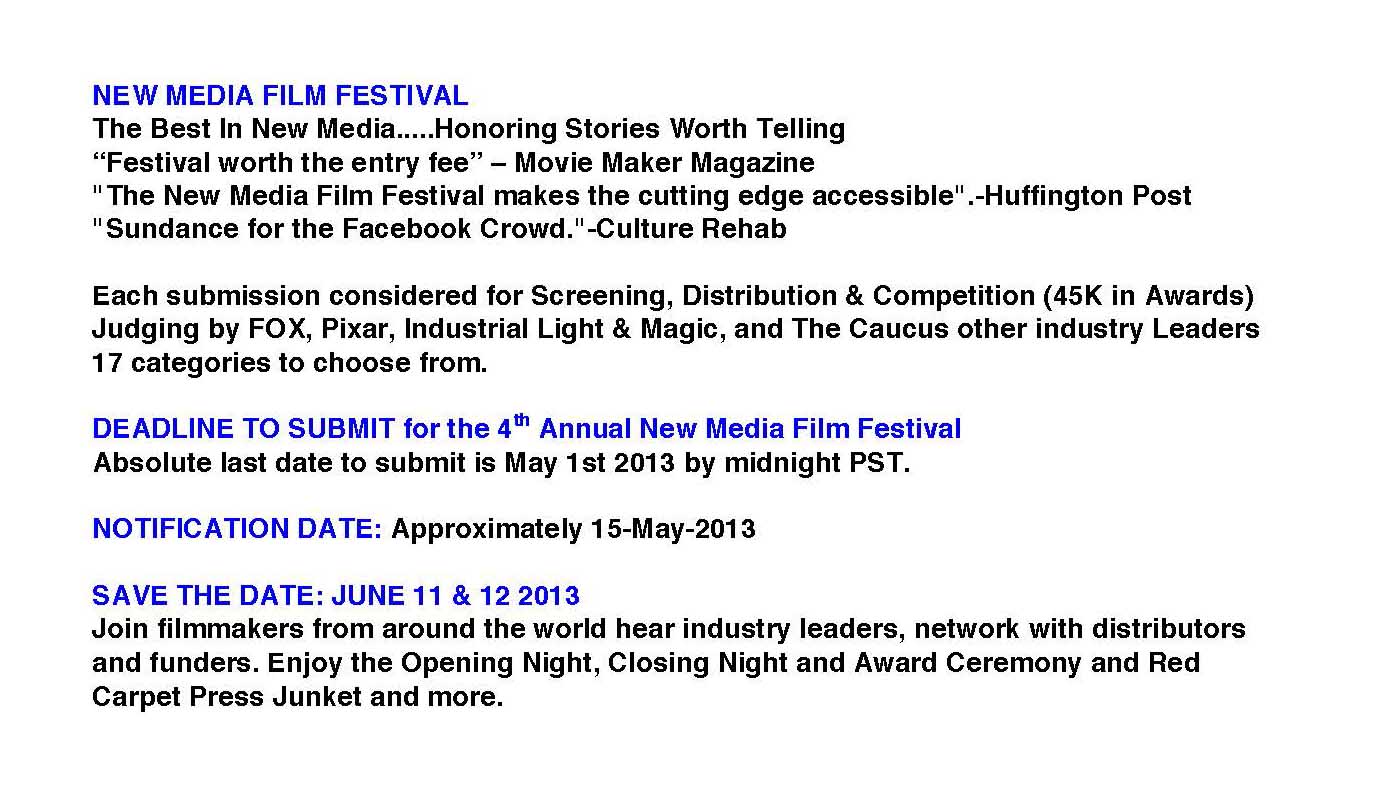 Click here to attend 4th  Annual New Media Film Festival.
By Submitting, you have read and agree to the terms in the link below: 
TERMS AND CONDITIONS FOR SUBMITTING TO NEW MEDIA FILM FESTIVAL
Sorry no Refunds.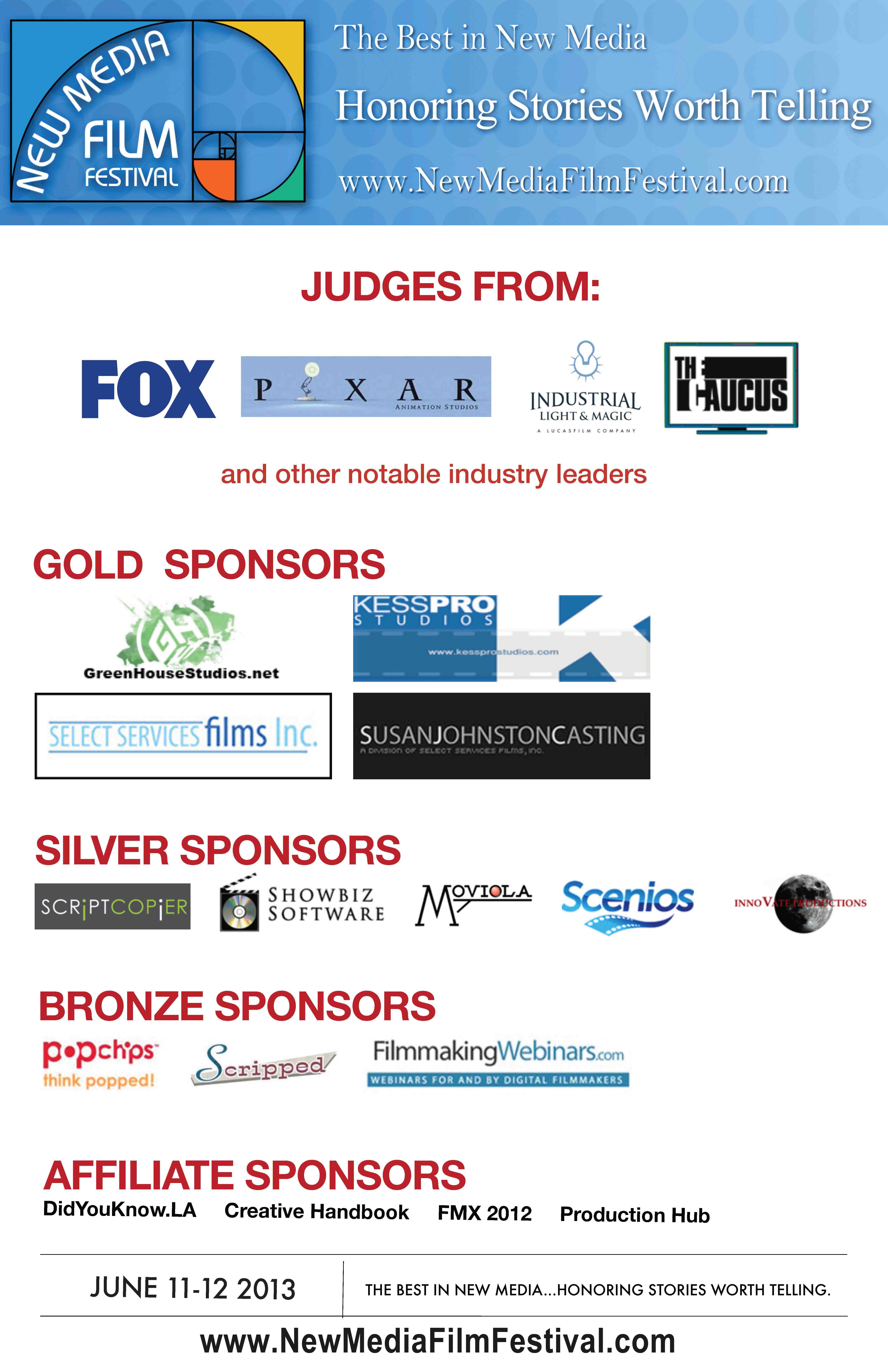 Where
10850 W. Pico Blvd.
Los Angeles, 90064


Organizer
NewMediaFilmFestival.com
6TH ANNUAL NEW MEDIA FILM FESTIVAL  June 9 & 10 2015 at The Landmark Los Angeles CA
New Media Film Festival: The Best in New Media-What's New, What's Next...Honoring Stories Worth Telling in all media that are innovative, imaginative and inspirational. Stories that can make you laugh, cry, think & go beyond the ordinary. 

New Media Film Festival intersects the interactivity of new technologies & formats for Media & Cinema which exemplify the power of the cinematic arts to inspire and transform. A festival where we Honor Stories Worth Telling that are created by people of All Ages-All Cultures-All Media.
SUBMIT: For Screening, Distribution & Competition ($45k in awards) opportunities.
IMDB qualifying
Judging by Pixar, Fox, The Caucus & other Industry Leaders, 
20  Categories - 3D, Animation, Apps, Digital Comics, Documentary, Feature, LGBT, Machinima, Made on Mobile/Tablet,  Music Video, New Media, Pilot, Scripts,  Shorts, Shot on RED, Sniplers – 30 second pitch, SRC- Socially Responsible Content, STEAM-Science, Technology, Engineering, Art, Math, Trailers, Web Series
ATTEND:  Join filmmakers from around the World; hear industry leaders, network with distributors and funders. Enjoy the Opening Night, Networking Lounge- Screenings, Panels, Q & A's, Closing Night and Award Ceremony and Red Carpet Press Junket. International & Affordable
 
"Makes the cutting edge accessible."- Huffington Post
"Worth the entry fee." – Movie Maker Magazine
GIVING BACK:
FREE 3D channel on NVidia https://www.3dvisionlive.com/category/channel/new-media-film-festival
Donate every year to non profits and students: LA High School #9, LA Film School Students, weSPARK, Unemployment Fund, The Madrone Project!, GATE, Save The Whales, EyeCare4kids and more. 
FREE International Art Exhibit, Art On Wall category & New Media Marketing Table, Networking Lounge
Our Founder/Director – Susan Johnston is an Award Winning Producer and is a Global Speaker on New Media, Social Media & Incremental Monetization in the Digital Space. www.NewMediaFilmFestival.com 




New Media Film Festival Editing Award sponsored by Moviola