Description


The Jubilee/Redemption facility is no longer available to us so starting in September AAII-Silicon Valley will move to a new event location - the Garden House at Shoup Park in Los Altos!! See below for further details.
---
Our New Location:
The Garden House at Shoup Park
Our new home will be at the Garden House at Shoup Park in Los Altos. The Garden House represents a significant upgrade...
The facility can accommodate up to 150 people

It features a raised stage with a large drop-down screen and projector

The location features light airy outdoor view in a forested park setting

Plenty of free parking is available

Easy to find, central location

And much more...
There is one drawback: There is no Wi-Fi access at the location. Those of you who need Wi-Fi access will need to bring your own hotspot.
If you haven't been to the Garden House here is a photo of the interior...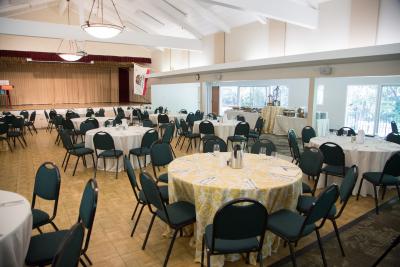 And a shot of the exterior....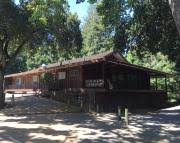 ---
Getting to the Garden House at Shoup Park
Below are a few maps with links to the Google maps -- starting with getting there from South San Jose...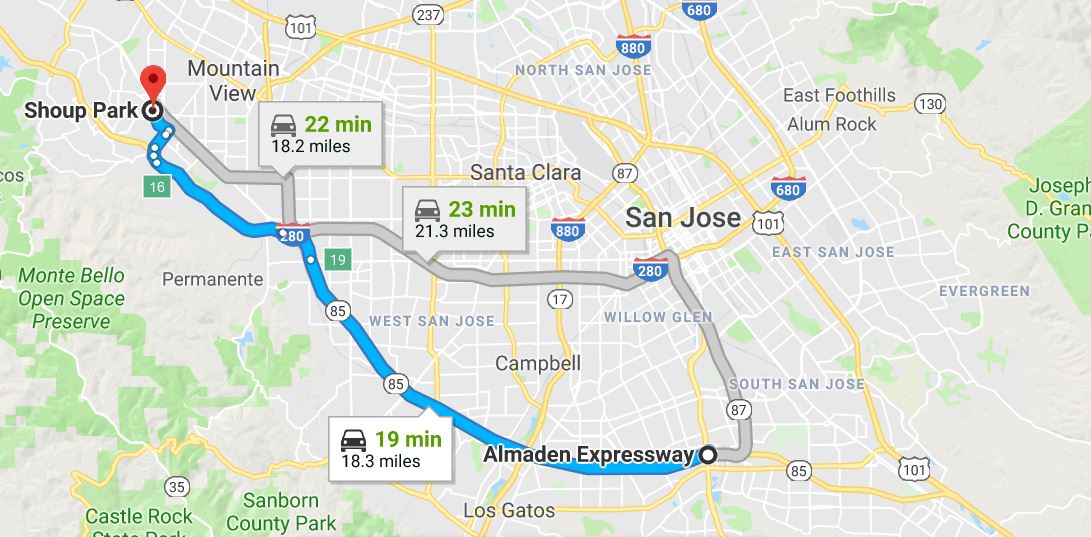 Getting there from the east bay...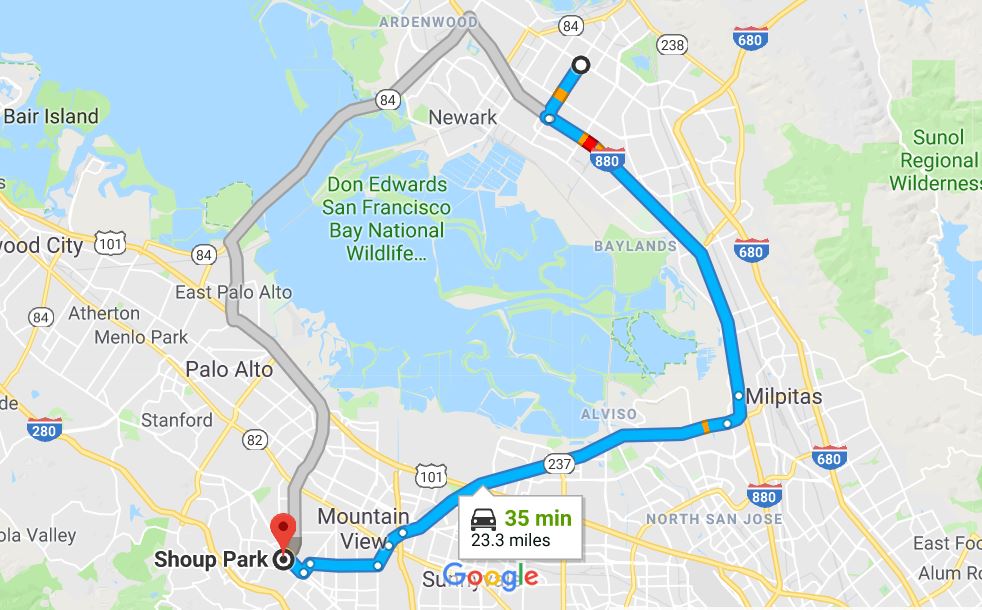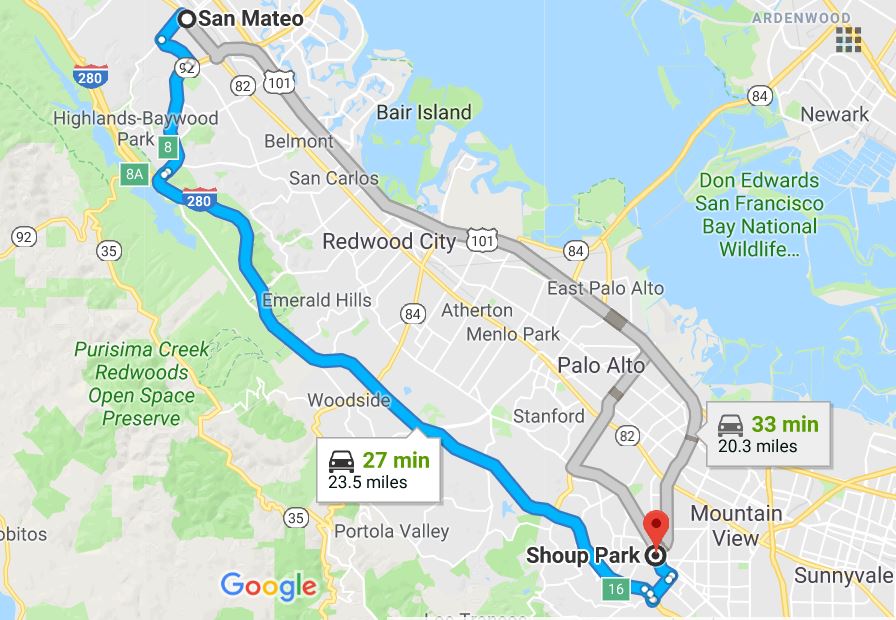 and here's a hand drawn map of the Garden House showing layour, parking, etc.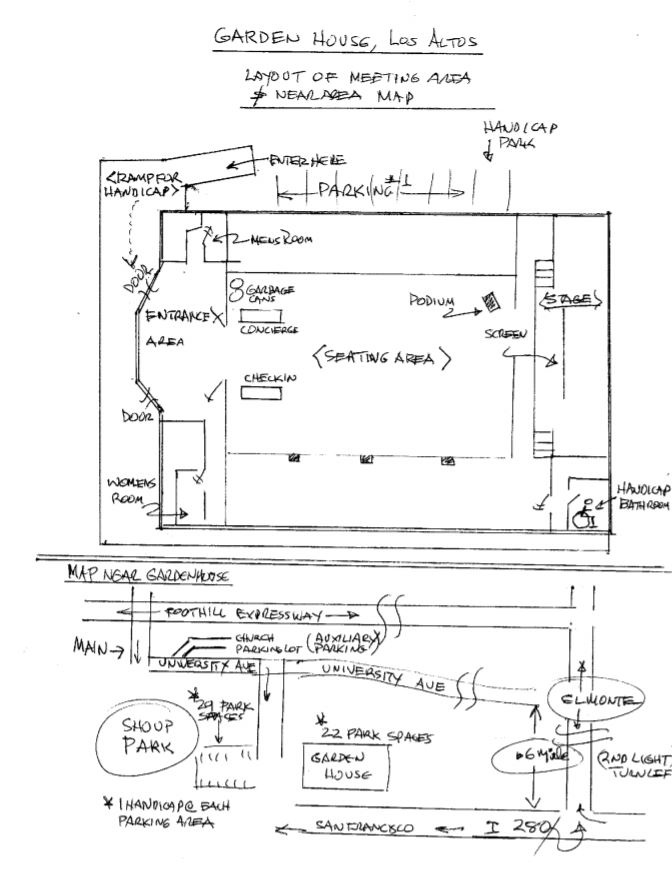 ---


This season we plan to webcast our events live....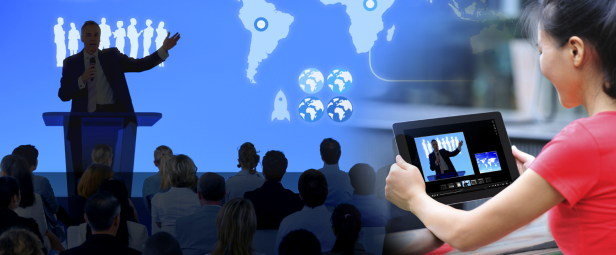 This season the chapter will be webcasting as many of our events "live" from our Shoup Park Garden House location as circumstances allow. We strongly encourage you to attend our events in-person if you're in the area and your schedule permits. (We love seeing and interacting with our members.) However, if you're out of area or your Saturday schedule can't afford the extra commute time, feel free to attend via webcast.
All participants will get the option to attend in person or remotely via the webcast -- the choice is yours!
If you're participating live at our Shoup Park Garden House location our speaker will be presenting live just as in the past.

If you're participating via webcast, you'll be able to interact with the speaker, ask questions, etc. via the webcast chat window. (Board members will ask your questions on your behalf.)

With the speaker's permission, we'll have copies of the speaker's slides available for download at our website before the event begins

After the event all participants -- live at Shoup Park or remote via webcast -- will get access to recording of a session.
We're working hard to allow our members the choice to particpate live or via webcast based on your preferences. We hope this makes our events both more enjoyable and accessible to you.
OK, so how does this webcast thing work???
It's pretty simple, really...
You buy your ticket, you get an email confirming your purchase, and we log your email address.

Two days before the event we send you an email with the link to the event and directions on how to log on. We'll repeat this email the day before the event.

The morning of the event we'll send you the password to enter the event. You can enter starting at 8:30.

When you enter the webcast you'll see some of our slides on the screen. We'll mute your audio and disable your camera so there aren't any distracting pictures, videos or sounds.

You can ask questions at any time via your chat window in our tool. Your hard-working Board members will capture your questions and present them to our speaker.

That's it!!
For those eager-beavers who just have to study ahead and find out more....
Let us know if you have any questions!
---
More Information on the event...
While we're changing our location much of our event will remain the same....
We've kept our pricing steady with early registration at $20 and late registration at $25

Students under 25 enter Free. (No registration required, show ID at Registration Desk)

No refreshments (e.g., coffee) are provided -- plan accordingly.

To have a bit of fun, we will continue to raffle off investment books, event tickets and other items

Our concierge table provides you with speaker and AAII-SV handouts, AAII information, a book swap area (bring a book, take a book), hand outs from past speakers, and other "good stuff".

Better yet, there is always a Board member or two present where you can ask questions, provide event feedback, make suggestions, etc.
The schedule of our events will remain the same...
EVENT SCHEDULE
8:30 AM - Registration (The webcast will be up at this time)
8:55 AM - Chapter Announcements
9:00 AM - First Presentation
10:15 AM - Break
10:30 AM - Second Presentation

11:30 AM - Program end