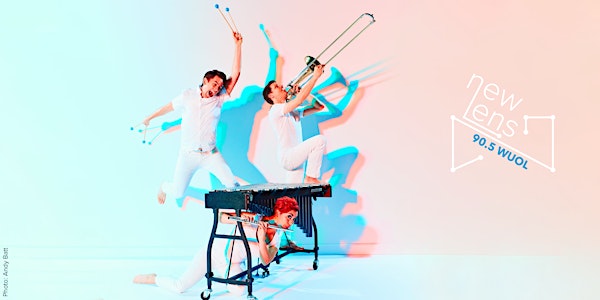 New Lens: The Fourth Wall
Performing their award-winning variety show "Fruit Flies Like a Banana."
When and where
Location
21c Museum Hotel Louisville 700 West Main Street Louisville, KY 40202
About this event
90.5 WUOL is proud to continue our collaboration with 21c Museum Hotel to present New Lens, a free concert series exploring diverse and intriguing sounds and ideas in new music, art and society.
Few musical ensembles earn top marks for their "deft choreography," but this is no ordinary ensemble. Comprised of three performers and over twenty pieces, The Fourth Wall is part chamber music group, part devised theater company, part modern dance troupe and part circus act, blending music, theater, dance, and acrobatics into a new hybrid art form. In their award-winning variety show "Fruit Flies Like a Banana," this trio of musicians creates new interdisciplinary works and reinterprets classic repertoire - all performed in an order chosen by the audience - to make music take the leaps off the stage.
New Lens is free, but seating is limited and a ticket is required.
Attendees are encouraged to arrive early, grab a cocktail and view the current exhibitions at 21c or visit Proof on Main to enjoy some culinary artistry. Seating opens at 6:30 p.m. and the program begins at 7 p.m. Concerts will be held in the museum's atrium.
Mask wearing is optional in 21c Museum Hotel.
COVID protocols are subject to change based on the safety level of Jefferson County as tracked by the CDC. We will communicate any changes through email provided with your registration.