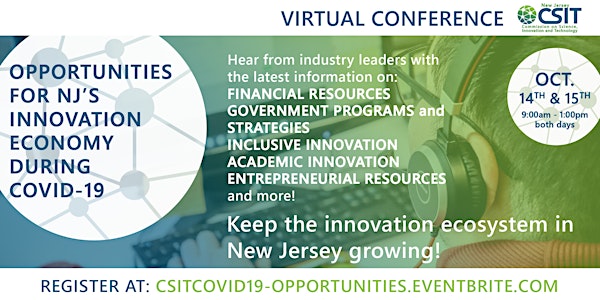 Multiple dates
New Jersey's Opportunities in the Covid-19 Innovation Economy
The latest information, resources, programs, strategies, and more to keep the New Jersey innovation economy growing.
Date and time
October 14, 2020 · 6am - October 15, 2020 · 10am PDT
About this event
Covid-19 has caused unprecedented disruptions in every aspect of our lives, our work environment and communities. This has posed many challenges, and also unique opportunities, for innovation in New Jersey. Leaders from New Jersey government, industry, academia, and the investment community will discuss strategies and resources for accelerating innovation in New Jersey in the COVID economy. In this virtual event, speakers will provide the latest information on financial resources, government programs and strategies, inclusive innovation, academic innovation and entrepreneurial resources all with a goal to keep the innovation ecosystem in New Jersey growing!
Agenda for October 14th:
9:00am – 9:20am: Keynote Speaker: Tim Sullivan | CEO, NJEDA
9:25am – 10:20am: Current Venture Investing Trends and Opportunities
Moderator: Kathleen Coviello | Executive Vice President for Technology, Life Sciences & Entrepreneurship , NJEDA
Jim Golubieski | President, Foundation Venture Capital Group
David Horowitz | CEO, Touchdown Ventures
Stephen Socolof | Managing Partner, Tech Council Ventures
Tom Wisniewski | Managing Partner, Newark Ventures
10:25am – 11:20am: Keeping the Innovation State Growing
Moderator: Kai Feder | Chief of Staff, Office of Innovation, State of NJ
Debbie Hart | CEO, BioNJ
Joe Kelley | Governor's Office, Deputy Chief for Economic Growth
Jose Lozano | President & CEO, ChooseNJ
Aaron Price | President & CEO, TechUnited
11:25am – 12:20pm: NJ's Support for Underrepresented Innovators
Moderator: Hester Agudosi | Chief Diversity Officer, New Jersey Office of Diversity & Inclusion
Jessica Gonzalez | CEO, InCharged
Jill Johnson | CEO, IFEL Institute for Entrepreneurial Leadership
Keith Kirkland | Founder, & CEO, WearWorks
Mark Scotland | CEO, 4.0 Analytics
Agenda for October 15th:
9:00am – 9:20am: Keynote Speaker: Andrew Zwicker | Assemblyman, District 16
9:25am – 10:20am: Academic Innovation – Strong as Ever
Moderator: Dale Caldwell | Director, Rothman Institute of Innovation and Entrepreneurship, Fairleigh Dickinson University
David Kimball | VP, Research & Economic Development, Rutgers University
Simon Nynens | CEO, NJ Innovation Institute
Rod Priestley | Vice Dean for Innovation, Princeton University
David Zimmerman | Director of Technology Commercialization, Stevens Institute of Technology
10:25am – 11:20am: Innovators Panel: Surviving and Thriving During Covid-19
Moderator: Judith Sheft | Executive Director, NJ Commission on Science, Innovation and Technology
Jose Espinoza | CEO, SRL Group, VentureLink
Mike Frederickson | CEO, System Innovation Engineering, South Jersey TechPark
William May | CEO, Flavor Solutions Inc, Rutgers Food Innovation Center
Manveer Sidhu | President, Sidhu Laboratories, Rutgers EcoComplex
Tara Zedayko | Founder and CEO, DIG Labs, Princeton Innovation Center Biolabs
11:25am – 12:20pm: Current Angel Investing Trends and Opportunities
Moderator: Anne-Marie Maman | Executive Director, Princeton Entrepreneurship Council, President, NJBIN
Mario Casabona | Founder & CEO, TechLaunch and Casabona Ventures
Stephen Dyer | Chairman, Jumpstart NJ Angel Networks
Lyneir Richardson | Executive Director, CUEED Rutgers, Black and Latino Angel Fund
Gina Tedesco | Managing Director, Golden Seeds
About the organizer
The New Jersey Economic Development Authority (NJEDA) serves as the State's principal agency for driving economic growth. The NJEDA is committed to making New Jersey a national model for inclusive and sustainable economic development by focusing on key strategies to help build strong and dynamic communities, create good jobs for New Jersey residents, and provide pathways to a stronger and fairer economy. Through partnerships with a diverse range of stakeholders, the NJEDA creates and implements initiatives to enhance the economic vitality and quality of life in the State and strengthen New Jersey's long-term economic competitiveness.