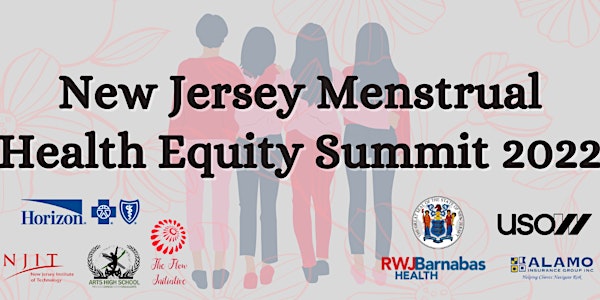 New Jersey Menstrual Health Equity Summit
Join us for New Jersey's first-ever Menstrual Health Equity Summit featuring influential voices, menstrual health advocates, and more.
When and where
Location
New Jersey Institute of Technology Campus Center 150 Bleeker Street, 2nd Floor Newark, NJ 07102
About this event
The first-ever New Jersey Menstrual Health Equity Summit encourages all that would like to create transformative change for girls, women and menstruating people to become a part of the movement.
EVENT OVERVIEW
The event is being hosted by Assemblywoman Shanique Speight, representative of New Jersey's 29th Legislative District, and The Flow Initiative, a local organization dedicated to addressing period poverty and accelerating access to menstrual health products in Hudson County, New Jersey and nationwide.
Founded by Eiko La Boria, The Flow Initiative has distributed more than 750,000 products for women, girls, and members of the LGBTQ+ community. To strengthen the organization's mission, The Flow Initiative partnered with Sabrina Browne, a period poverty/menstrual equity advocate to spearhead organizational partnerships and increase consumer awareness nationwide. Together, La Boria and Browne have worked with a variety of local and national partners to address menstrual health issues.
Attendees are encouraged to come and learn about Menstrual Health at the intersection of policy, innovation, education, menstrual disorders , period poverty and menstrual equity.
ATTENDEE CALL TO ACTION
People can take action to #EndPeriodPoverty by emailing their representatives and urging them to support the Menstrual Equity for All Act. Get started by visiting https://tinyurl.com/TheFlowInitiative
EVENT SPONSORS
Special thanks to event sponsors Horizon BCBS NJ, NJIT, Arts High School, RWJ Barnabas Health, USOW, Alamo, and the State of New Jersey.
CONTACT INFORMATION
For additional information please contact the office of Assemblywoman Shanique Speight at menstrualhealthequity@gmail.com and (862) 237-9752. #NJMHESummit2022