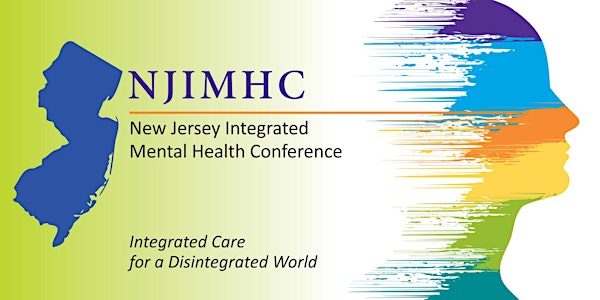 New Jersey Integrated Mental Health Conference
Full-day event for practitioners and leaders in mental health, behavioral health, and holistic wellness where attendees can earn CEUs.
When and where
Location
Brookdale Community College - Warner Student Life Center Warner Student Life Center, Lot #7 Lincroft, NJ 07738
About this event
8 hours 30 minutes

Mobile eTicket
This one-day conference will be filled with thought-provoking keynote speakers, engaging panel discussions, and immersive workshops designed to inspire critical conversations and take a deeper dive into exploring collaboration between psychiatry, psychotherapy, and mind-body modalities to effectively treat mental wellbeing of patients.
Our inaugural theme - Integrated Care for a Disintegrated World - explores how the COVID-19 pandemic has been the singular shared adverse community experience of our time. The impact of the pandemic created an environment of chronic stress that closed the window of tolerance and resulted in a society more fragile and brittle in managing distress.
However, the pandemic also presented an opportunity to revisit the conventional model of mental health initiatives and reimagine one where the whole person is seen and heard, with approaches that bring the whole person into understanding; building beyond general medicine and psychiatry. Proposing a truly whole person, whole life experience perspective to clinical care, incorporating psychiatry, psychotherapy, integrative approaches, and mind-body modalities required for the recovery of self, family, community, and a world so worthy of rescue.
This conference will develop and promote a practice model that affirms wholeness and wellness and will work towards ending the illusion of separateness and the trauma of stigma
View full event agenda
For more information please visit www.njimhc.com.
For sponsorship opportuniites and general questions please email info@njimhc.com.
Conference Agenda
8:00am - 9:00am - Registration, Continental Breakfast and Networking
9:00am - 9:30am - Opening Remarks
9:30am - 11:00am - SHIFTING THE PARADIGM Using Integrated Mental Health Care To Heal And Save Lives - Eric Kussin
11:00am -11:30am - Break
Morning Workshops - 11:30am - 1:00pm
A JOURNEY TO HEALING Providing a Holistic Approach with Psychopharmacology - Dr. Jessica Pogran DO
MENTAL HEALTH AND SPIRITUALITY The importance of having more than a clinical mindset in a Post-Pandemic World - Erica Cuni LMFT, CIMHP
MINDFUL MOVEMENT The Most Empowering, Transformative, and Self-Compassionate Approach to Moving More and Feeling Better- Laura Khoudari, CPT, CES
AN INTRODUCTION TO SAND PLAY THERAPY - Toni Zachos-Kaplan MSW, LCSW
1:00pm - 2:00pm - Lunch
2:00pm - 3:30pm - Afternoon Keynote: AN INTEGRATED MENTAL HEALTH WELLNESS CARE PLAN - Integrating the Caring Collaboratively - Larry Thompson MSW, LCSW, Dr. Jessica Pogran DO, Kristin Huber LPC, Simone Borger MA, ATR, Ryan Gervasi LCSW, RYT, Yvonne Stern MS, LAC, NCC
3:30pm - 4:00pm - Break
Afternoon Workshops - 4:00pm - 5:30pm
THE MINDFULNESS TOOLBOX - Foundational Mind-Body Practices for the 21st Century Client - Larry Thompson MSW, LCSW & Ryan Gervasi LCSW, RYT
ECOTHERAPY - Inviting Nature as a Cofacilitator - Kristin Huber, LPC
OPERATION HOPE: EQUINE ASSISTED PSYCHOTHERAPY - The Healing Power of Horses - Brooke Lichter LCSW & Sara Velez LCSW
SOUND BATHING AS TRAUMA-INFORMED CARE - Julie Stolker LAC
INTERSECTIONALITY, PRIVILEGE, AND MENTAL HEALTH - How multiple, socially constructed marginalizations impact mental and behavioral health - Juan Carlos Barrera LSW