Description
Utility Entertainment
New Jack City All Black Affair
January 14 ,2017
Ukrainian Cultural Center Somerset NJ
135 Davidson Ave. Somerset, NJ
Performances by
Christopher Williams (Dreamin),Howard Hewett (Show Me) and Jeff Redd (You Called And Told Me).
Host by: Alisha Lee and Doug Oliver
Music by: Ruban Toro (Latin Bull), Dj Tameil and Dj Ran
Honoring Host: Eddie Nicholas, Ms. Theresa, Anthony Wiggins and DVS Imaad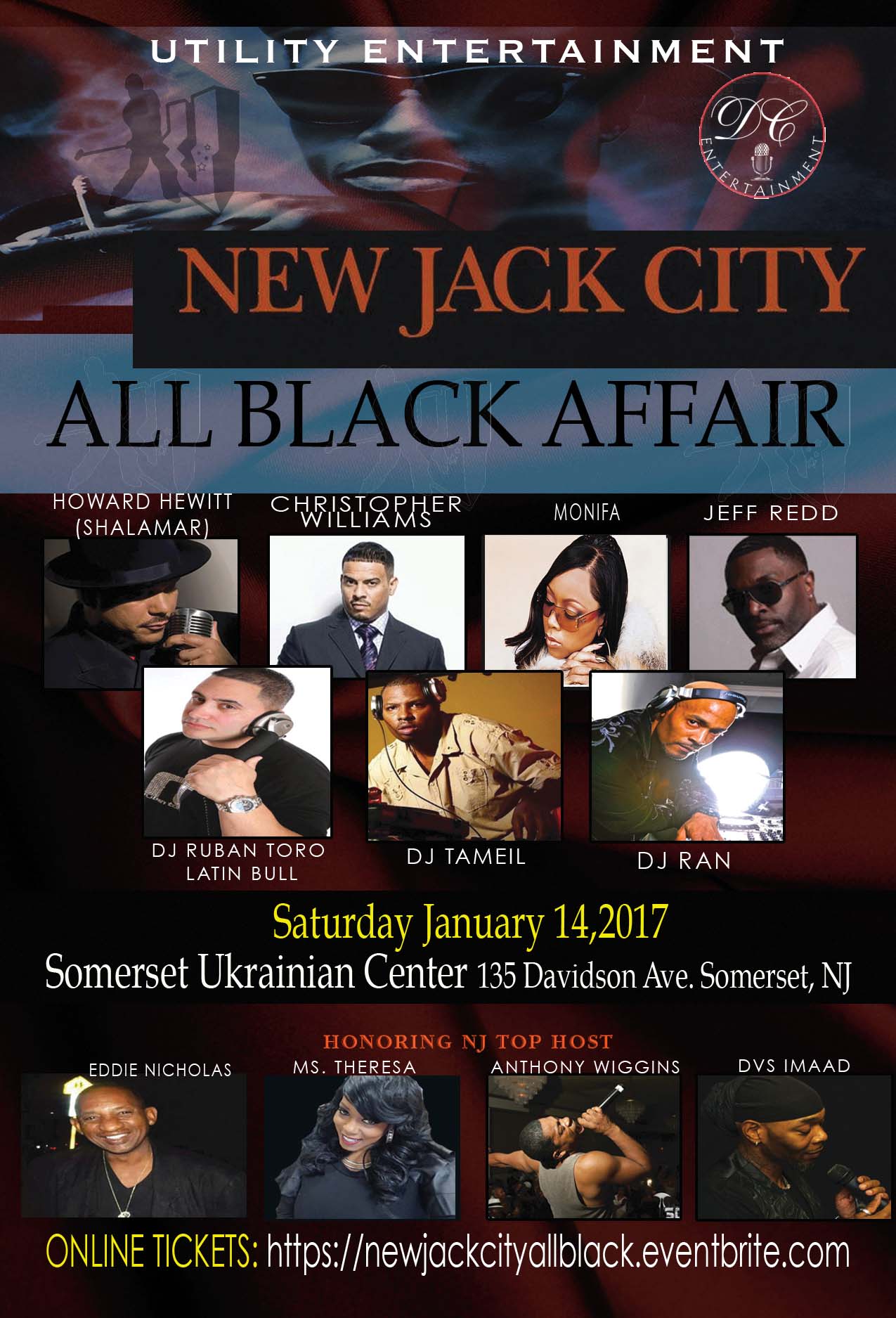 Sounds Power By: Glen Sounds
Dress Code : Boss Wear
Gentleman: Dapper ( Black Suits, Ties, Black Slacks, Sports Jackets And Shoes
Ladies: Classy ( Black Bress, Lounge Dresses and Black Dress Pants
Early Bird Special General $40 - Before November 26. - $45 Before December 16th.
Advance General Tickets $55 Comes With Lite Buffet while it last
Tickets at the Door $60
Cash Money Brothers Package (CMB) $350.
Includes 4 VIP Tickets and A Bottles of Choice.
Nino Brown Section (VIP) Private Up Front Seating, Private Bar, Private Lite Buffet and Meet & Greet with the Artist. $75
Ticket Info North & Central Jersey: Utility 973-946-2000 – Steve Davis 973-757-7086 – DJ Tameil 973-592-6158 - Kelly Waterfalls 908-209-4534 – DJ Hutch 973-393-6688- Wali-B. ENT. 201-780-8520- Marquis (Bumper 2 Bumper ENT) 201-323-5473- Dj. Chill X 908-380-0270
South Jersey: Lucretia (Lioness) 609-516-8972 & Tamela 609-963-9851
Ticket Location :
Pure Charisma Boutique - (862) 588-0409
Icon World: 257 Elizabeth Ave, Newark, NJ
Car Crafters
676 S 16th St, Newark, NJ 07103 (973) 416-5200
Wavy Cuts
97 Newport Ave, Somerset, NJ 08873 (732) 325-0890
$25 extra for each person for Buses To and From Event Leaving From: Newark NJ – Irvington NJ- Trenton NJ and Burlington NJ for more info Utility Ent. 973-946-2000
Room Available $99 Code: Utility ENT
Holiday Inn Somerset-Bridgewater
Address: 195 Davidson Ave, Somerset, NJ 08873
Phone:(732) 356-1700