New Insights and Approaches for Studying Rett Syndrome, an Autism Associated Disorder — A lecture by Dr. Gail Mandel

Wednesday, April 23, 2014 from 4:30 PM to 6:30 PM (EDT)
Event Details
Please join us for "New Insights and Approaches for Studying Rett Syndrome, an Autism Associated Disorder — A lecture by Gail Mandel", a free event for the scientific community — graduate level and higher — at the Simons Foundation, located on 21st Street in Manhattan. At a reception immediately following the talk, guests will have the opportunity to meet the speaker and mingle with colleagues. Limited seating is available on a first-come, first-served basis. We encourage you to obtain tickets online now through Eventbrite.
Abstract
A central goal in neuroscience is determining the genetic basis of neurological disorders — from autism to brain tumors. Many of these pathological states result from defects in gene regulatory programs that are fundamental to all cell types but lead to dysfunction specifically within the nervous system. Gail Mandel investigates the basis of this phenomenon and has identified cell-cell interactions between neurons and glia involved in pathological states of brain development. Mandel has ameliorated the neuropathology of one autism spectrum disorder, Rett syndrome, by genetically replacing the defective MeCP2 gene with a good copy of the gene in astrocytes – glia cells in the brain. She is now exploring the underlying mechanisms crucial for neuronal signaling.
In this lecture, Mandel will provide a general introduction to Rett syndrome (RTT), a neurodevelopmental disease of girls that results from defects in the gene encoding of the transcription factor methyl-CpG-binding protein 2 (MeCP2).  She will provide evidence that the pathology is complex, involving defects in both neurons and astrocytes in conventional RTT mouse models.  She will discuss emerging ideas about the normal function of the MeCP2 protein and her recent findings that point to a role for MeCP2 in 3-D chromatin architecture. Finally, she will discuss whether Rett syndrome could be amenable to gene replacement strategies.
About the Speaker 
Gail Mandel holds a Ph.D. in immunology from the University of California, Los Angeles (UCLA) and did postdoctoral work in biochemistry and molecular biology at UCLA; the University of California, San Diego; and Harvard Medical School. She began her career at Tufts Medical School in Boston, where she was one of the first investigators to clone and express mammalian voltage-dependent ion channels. In the department of neurobiology and behavior at Stony Brook University, she identified the protein REST, which is responsible for regulation of sodium channel expression and the acquisition of cellular excitability. These discoveries have helped unlock the mechanisms through which embryonic cell types differentiate specifically into neurons. Currently, Mandel is a senior scientist in the Vollum Institute at Oregon Health & Science University. She is an Investigator of the Howard Hughes Medical Institute and a member of the American Academy of Sciences and National Academy of Sciences.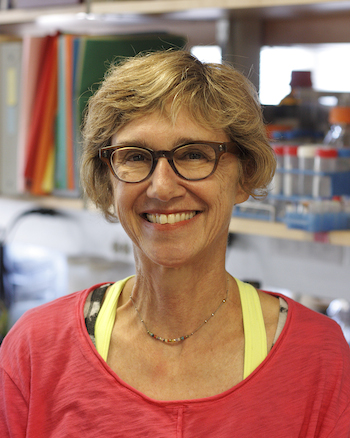 Schedule
Doors open                                       4:00PM
Lecture and Q&A                             4:30-6:00PM
Reception                                          6:00-6:30PM
Location
Gerald D. Fischbach Auditorium
Simons Foundation
160 Fifth Avenue, 2nd Floor
(Entrance on 21st Street)
New York, NY  10010
The Gerald D. Fischbach Auditorium offers accessible seating to patrons with special access needs. Please fill out the special accommodations request when ordering your ticket online.
Doors open 30 minutes prior to the start of the event.

Upcoming Autism: Emerging Concepts lectures
May 28, 2014               Gina Turrigiano

Simons Foundation Lectures schedule is available here.
Inquiries: lectures@simonsfoundation.org.
Have questions about New Insights and Approaches for Studying Rett Syndrome, an Autism Associated Disorder — A lecture by Dr. Gail Mandel?
Contact Simons Foundation Lectures
When & Where

Gerald D. Fischbach Auditorium, Simons Foundation
160 5th Avenue
New York, NY 10010


Wednesday, April 23, 2014 from 4:30 PM to 6:30 PM (EDT)
Add to my calendar
Organizer
Simons Foundation Lectures
The Simons Foundation launched the Simons Foundation Lectures in 2013 with the intention of drawing area scientists and scholars together around diverse and important topics in mathematics, physics, computer science, life sciences and autism research.  

To read more about the Simons Foundation mission and its programs, please visit simonsfoundation.org.
New Insights and Approaches for Studying Rett Syndrome, an Autism Associated Disorder — A lecture by Dr. Gail Mandel