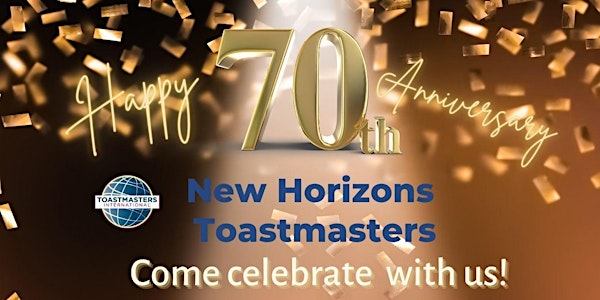 New Horizons 70th Anniv Celebration/Open House
Join the party as the New Horizons Toastmasters celebrates its 70th Anniversary! We're having an Open House / TM Meeting / Celebration.
About this event
We will have FUN and LEARN from each other as we hear past and present STORIES about New Horizons, and ALL can share the best communication FEEDBACK or MEMORY you have from a Toastmaster meeting (or perhaps somewhere else).
Who's invited? YOU! Guests; former, current and future New Horizons members; visitors from other Toastmasters (TM) Clubs; family members, people curious about TM, and more - ALL are welcome!
Feel free to dress in your finest (from the waist up - it is on Zoom, after all) and/or put on a festive Zoom Background. Meeting is officially 8-9:30am Pacific Time (UTC-7). Come early and stay after so we can get to know you!