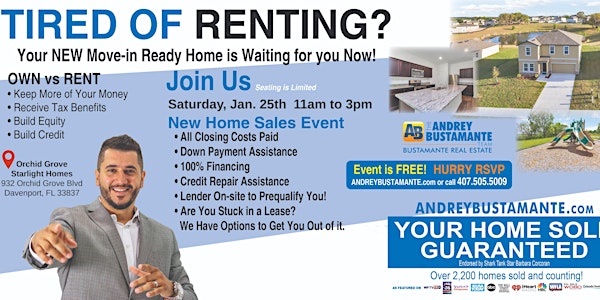 New Home Sales Event - Davenport Florida - Hablamos Español
When and where
Location
Starlight Homes 932 Orchid Grove Blvd Davenport, FL 33837
Description
EVENT: New Home Sales Event in Davenport Florida - near Championsgate right off of 27.
We will have Spanish and English Speaking Real Estate Experts at this Event. Hablamos Español y te podemos ayudar en tu idioma.
Who is this event for:

ANYONE who is currently renting, living with parents or relatives. We find that in today's market there are families paying $1200 to $2,000 per month on rent. Unfortunately ALL of that money is going in your landlord's pocket and none of it is going towards your equity in your home or your principal amount due - ofcourse not because it's not your house.

You see if it was your house - a certain amount of that payments (200-300 approx) would be going towards your principal amount owed (each month that you make your payment, you eat away at the amount). Better yet, as home prices go up as they have for the past 10 + years you are the one that BENEFITS because of appreciation.
There's tax deductions that help during tax season - like we're in today.
We understand that you may feel or think that you're not in a position to buy, you're not alone.
You see, most people think that you need a 720-800 credit score in order to buy a home - couldn't be further from the truth. We have helped and continue to help buyer's get into their first home with credit scores in the 500's

Most people think they need 20% downpayment. Again - this is another myth is couldn't be more false. We work with amazing lenders and community programs that allow our buyers to benefit from down payment assistance programs and different government programs where you end up brining in most cases anywhere from $0 dollars, alot of times $1,000 dollars, and at most 3.5% down. By working with us we can help you SAVE THOUSANDS OF DOLLARS and EVEN GET THE SELLER/BUILDER TO COVER YOUR CLOSINGS COSTS!!!!
This invitation is for EVERYONE AND THE BEST PART IS THAT IT'S FREE TO ATTEND.
Location:
Starlight Home's Davenport Location - Orchid Grove
When:
Saturday, January 25th from 11-3.
REFRESHMENTS AND LUNCH:
We will have refreshments, waters, soda, all sorts of snacks and EVEN LUNCH FOR THE first 25 people that join us.
We have homes Starting at 998/month *Principal and Interest.
Downpayment assistance available.
No credit, it's ok - we can help you.
100% Financing Available
Need to move in quick - it's ok, we have inventory homes available that close close in 3-4 weeks.
Location:

Orchid Grove - Starlight Homes
932 Orchid Grove Blvd
Davenport, FL 33837
Saturday, January 25th
11:00 am - 3:00 pm
To Register: Text 407.505.5009 or click the link