Event Information
Location
Royal Academy of Spain in Rome
3 Piazza di San Pietro in Montorio
00153 Roma
Italy
The New Generations Festival brings together emerging architects/studios, creating a space for contemplation and analysis of the profession.
About this event
This registration form is for attendance at the festival in person at the Royal Academy of Spain in Rome. Please do not reserve tickets if you wish to attend the event online.
After Milan, Florence, Genoa, Madrid, and Warsaw, New Urban Challenges takes place in Rome, as the ongoing three-year edition of the New Generations Festival (2020, 2021, 2022) that explores the relation between the urban environment and six intertwined themes, two every year. The 2021 edition of the festival is based on the following two themes: '(City &) Technology' and '(City &) Image'.
The Festival is curated by the New Generations Cultural Association, with the support of the Royal Academy of Spain in Rome and Acción Cultural Española (AC/E) through their mobility programme PICE. The project has been awarded by the public tender "Estate Romana 2020 – 2021 – 2022" and is part of Romarama, a cultural programme promoted by Roma Capitale.
The 2021 New Generations Festival programme will involve the participation of emerging architects based on publications and editorial projects selected from the Call for Publications launched by New Generations. Exploring the two themes of 2021, the festival aims to create an active dialogue between the participants and the public through a hybrid format featuring a variety of online and public activities.
During the festival, at the Royal Academy of Spain in Rome, the Reading Room, an itinerant exhibition, will also be opened to the public featuring a selection of publications and editorial productions selected through an open call for publications.
Festival Programme
JUNE 30th
18:15 — Festival Inauguration + Pecha Kucha, Editorial Formats
Reading Room Installation
JULY 1st
09:45 — Itinerary at the Royal Academy of Spain in Rome and visits to the residencies
11:30 — Brainstorming session: ArchiZines Review Ep. 02, Curated by Järfälla
11:30 — Brainstorming Interviews, streamed online on Instagram
18:00 — Speakers Corner - (City and) Technology
JULY 2nd
11:30 — Brainstorming Interviews, streamed online on Instagram
18:00 — Speakers Corner - (City and) Image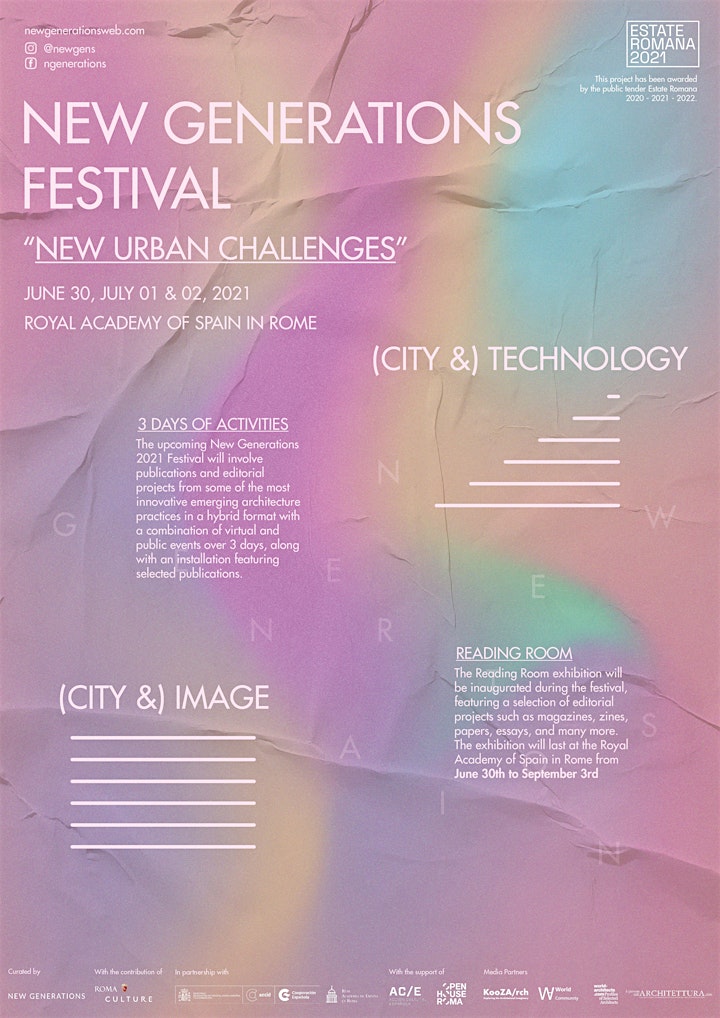 Date and time
Location
Royal Academy of Spain in Rome
3 Piazza di San Pietro in Montorio
00153 Roma
Italy