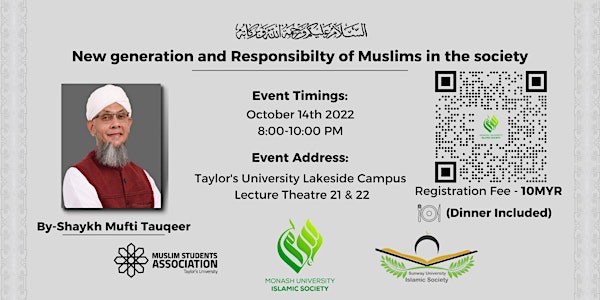 New generation and Responsibility of Muslims in the society
https://forms.gle/vW65fryEY8E7YQ2u7 Sign up to register as well.
When and where
Location
Taylor's University Lakeside Campus 1 Jalan Taylors Subang Jaya, Selangor 47500 Malaysia
Refund Policy
Contact the organizer to request a refund.
About this event
Shaykh Mufti Tauqeer is well versed in both Islamic and secular education. In Islamic education, he graduated with the A'alim degree and has his post-graduation with specialization in Islamic jurisprudence (commonly known as iftaa). In secular education, he holds a Master's degree in Computer Engineering from the Ohio State University, USA and has been the Director of many multinational corporations across the globe. Shaykh Tauqeer is also the khalifah of globally renowned Shaykh, Shaykh Zulfiqar Ahmad.
He has authorization to teach all major books of hadith by many renowned scholars of our time, like Shaykh ul Hadith Maulana Taqiuddin Nadwi (UAE), Shaykh ul Islam Mufti Muhammad Taqi Usmani (Pakistan) and Shaykh ul Tafseer Maulana Sajjad Nomani (India).
More often than not, people tend to function in extremes when it comes to their deen and dunya- some completely invest themselves in this worldly life, forgetting the impending akhirah, whereas others seclude themselves from society as a means to focus on their spiritual and religious duties, all the while neglecting their families and worldly duties. What they tend to forget is that Islam is not a religion of extremes but is, in fact, a religion of balance and ease. The key to being a good Muslim in the eyes of Allah (SWT) does not lie in hating the dunya or running away from it, it lies in finding a balance between your religious duties and your worldly duties- for they both go hand in hand.
What you focus on will become a reality in your life. Create laser sharp focus for the different areas of your life so you have a long term balance in life, your spiritual health, your financial health, your relationships, your physical health, your business and any other area that you want to succeed at. If you focus on only one, then you will only succeed at one. The solution is to focus on all of them but one or two at a time, creating a timeline for all of your goals.
Register for Event and join Shaykh Mufti Tauqeer to learn more.
Jazakallah khair.
https://forms.gle/vW65fryEY8E7YQ2u7