Event Information
Location
Seattle Space Needle
Seattle, WA 98109
Description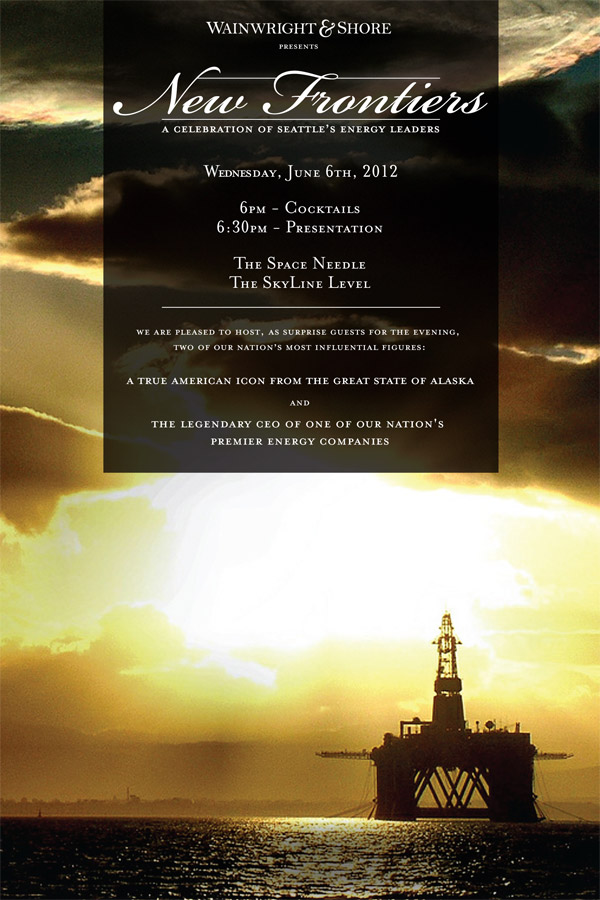 Wainwright & Shore presents
New Frontiers: A Celebration of Seattle's Energy Leaders
June 6, 2012
The Space Needle
SkyLine Level
Limited Seating Available

Seattle depends on its leaders in energy and resource development- today more than ever. Wainwright & Shore is proud to host an exclusive event for the thinkers, movers, and shakers who are shaping the future of Seattle's energy industries.
Bringing together thought, policy, and business leaders in Oil and Gas, Shipping, Real Estate, Telecommunications, and Business Outsourcing, as well as other forward-thinking interests, New Frontiers will honor the work these energy stars have accomplished in this difficult political environment the best way we know how—with a party!
New Frontiers will feature an exciting presentation by some of the most important names in the industry followed by an engaging discussion of the opportunities in the energy fields of the Pacific Northwest. The celebration will provide a unique opportunity for like-minded interests to exchange ideas, as well as to hear from some of the top minds in the energy fields from Seattle and beyond.
Special guests will include a true American icon from the great state of Alaska as well as one of our nation's top energy CEOs. Complimentary food and refreshments will be provided. This is not an evening to be missed!
Schedule of events for June 6, 2012:

5:45pm - Welcome and check-in
6:00pm - Cocktails served
6:30pm - Keynote Presentation
7:00pm - Discussion and mingling
Special thanks to the Joint Pacific Energy Leadership Council for hosting this event.
Date and time
Location
Seattle Space Needle
Seattle, WA 98109