Description
Welcome to Fit Wealth 5 Week Challenge.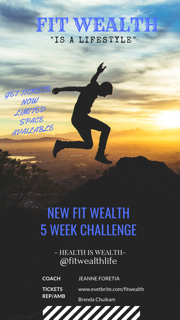 Fit Wealth Members Results from the 8 Week Challenge (Real Life Results)
Welcome to the Fit Wealth 5 week Challenge where living healthy is not a choice, it's a lifestyle. The Fit Wealth program started with a few members and now it is a worldwide program with over 30 members from across the globe (Nigeria, Cameroon, Hungary, United Kingdom, USA, Canada etc). Our Fit Wealth support group on Whatsapp has become a family and support system for individuals who are struggling with different issues from health and wellness to weight loss struggles. After rounding up the first Fit Wealth 8 Week challenge which was an amazing experience for all our members, the support, love, encouragement, struggles and amazing weight loss results/stories made the experience fun. The Fit Wealth program support group was open, safe, non-judgmental and accountable space where people were transparent with their day-to-day struggles and find solutions to their problems. The group showed love and support, encouraged and challenge each other, which led to the completion of the challenge with no one quitting.
In today's day and age where we have busy drive through lives, work, family, school etc. we forget to invest in our health, wellness and body. We all have tried some form of dieting, e.g. Low carb, Keto, Vegan, Vegetarian etc and have failed by not being able to sustain it long term. I'm Guilty of that. The Fit Wealth program was created from a combination of military background, research and real life experiences.
As a Fit Wealth Coach I lead by example and I am all about mentoring, fitness empowerment & success. Dieting and starving are all short term because our bodies are not built to sustain them long term, hence why the Fit Wealth program was created to change the perspective of how people look at health & wellness, weight loss, fitness, food and lifestyle choices. The program focuses on creating, maintaining and sustaining a healthy lifestyle long-term such as eating clean, exercising, decompressing, sleeping well etc so that our bodies can adapt to that lifestyle. The program is easy, flexible and scalable to fit into every lifestyle including busy lifestyles. The only requirement is to activate your mindset to commit, stay consistent, be transparent & do not quit. The program will challenge your mind, body and give you new perspectives on healthy living & eating healthy while enjoying the process.
What you get: I will be providing you with the Fit Wealth materials, guidance, daily routines, tips, actionable tips, meal guides, exercises and daily motivational support. Its 2019 so let's secure that bag while investing in our well-being.
NOTE: The Fit Wealth Support group is open to everyone and FREE to join. Send an email to Coach Jeanne at jeanforetia@gmail.com or message us on instagram page @fitwealthlife for more info.
My Fitness Motto:
- Remember CARBS are not the Enemy, Calories are (Moderation is important)
- As long as you're burning more than your consuming by being in calorie deficit goal, the pounds will drop.
- Changing your mindset from loosing weight to being healthy this puts less pressure on the body and you will see a change
- Don't compare your health/fitness journey with others, "Everyone's body/process is different"
- Remember results take time so relax and don't Pressure your body.
- Eat clean, Sleep well, Exercise, Stress less, Decompress, Enjoy your cheat days, Don't let social media pressure you, Enjoy your Journey, Have Fun.
¥¥¥¥ PRIZES WILL BE GIVEN OUT ¥¥¥¥¥
¥¥¥¥FREE WEEKEND EXERCISE 1-1/Group trainings will be available with special guest appearance by my Military trainer. You may join in person or virtually, technology has made things easier.
Thanks for taking the next step to a healthy living.
Special thanks to our Fit Wealth Family and support group on Whatsapp.

Sincerely,
Jeanne Foretia (Fit Wealth Coach)
Brenda Chuinkam (Fit Wealth AMB)
***Team No Excuses***


Date and Time
Location
Refund Policy