New Fiction Adoptee Book Discussion Series: FUTURE HOME OF THE LIVING GOD
About this Event
This book discussion is part of a series that Network of Politicized Adoptees is hosting that centers transracial and/or transnational adoption.
In an effort to create a safer space and to foster open conversations around transracial and transnational adoption, our space will be adoptee-of-color-only.
Book Description: The world as we know it is ending. Evolution has reversed itself, affecting every living creature on earth. Science cannot stop the world from running backwards, as woman after woman gives birth to infants that appear to be primitive species of humans. Twenty-six-year-old Cedar Hawk Songmaker, adopted daughter of a pair of big-hearted, open-minded Minneapolis liberals, is as disturbed and uncertain as the rest of America around her. But for Cedar, this change is profound and deeply personal. She is four months pregnant... (Source: https://www.harpercollins.com/9780062694058/future-home-of-the-living-god/)
Local Adoptee Author Bio: 신 선 영 Sun Yung Shin was born in Seoul, Korea, during 박 정 희 Park Chung-hee's military dictatorship, and grew up in the Chicago area. She is the editor of the best-selling anthology A Good Time for the Truth: Race in Minnesota, author of poetry collections Unbearable Splendor (finalist for the 2017 PEN USA Literary Award for Poetry, winner of the 2016 Minnesota Book Award for poetry); Rough, and Savage; and Skirt Full of Black (winner of the 2007 Asian American Literary Award for poetry), co-editor of Outsiders Within: Writing on Transracial Adoption, and author of bilingual illustrated book for children Cooper's Lesson. She lives in Minneapolis where she co-directs the community organization Poetry Asylum with poet Su Hwang. (Source: https://www.sunyungshin.com/sun_yung_shin/)
--------------
Registration: We will cap each book discussion to 20 people in order to accomodate for space and discussion. If we reach our capacity for an event, you will be added to a waitlist and prioritized for one of our future discussions.
Location: South Minneapolis (specific address will be sent to registrants)
Cost: Free
Where to Find Book: Books can be borrowed from your local library (or friend!) or purchased from a local bookstore. NPA especially supports local bookstores like Moon Palace Books. In support for our work, Moon Palace Books is offering a 20% discount on any of the books in this discussion series.
Refreshments: We will offer coffee and light refreshments.
----------------
About the Book Discussion Series: NPA is proud to be hosting a series of book discussions that centers transracial and/or transnational adoption. Each monthly discussion spotlights a distinct, contemporary book and various local transracial adoptee authors to facilitate. These chosen books feature major adoptee characters and/or have strong adoption themes. Our curated selection of books have been highly anticipated and received positive attention with a wide readership. Our interest in these types of books derives from their power to inform people about the lives of adoptees through a character or theme, from multiple perspectives and portrayals. Ultimately, our chosen books illustrate the complexity of the adoption narrative. We are also honored to lean on our amazing Twin Cities community assets by inviting local transracial adoptee authors to help spark these book discussions.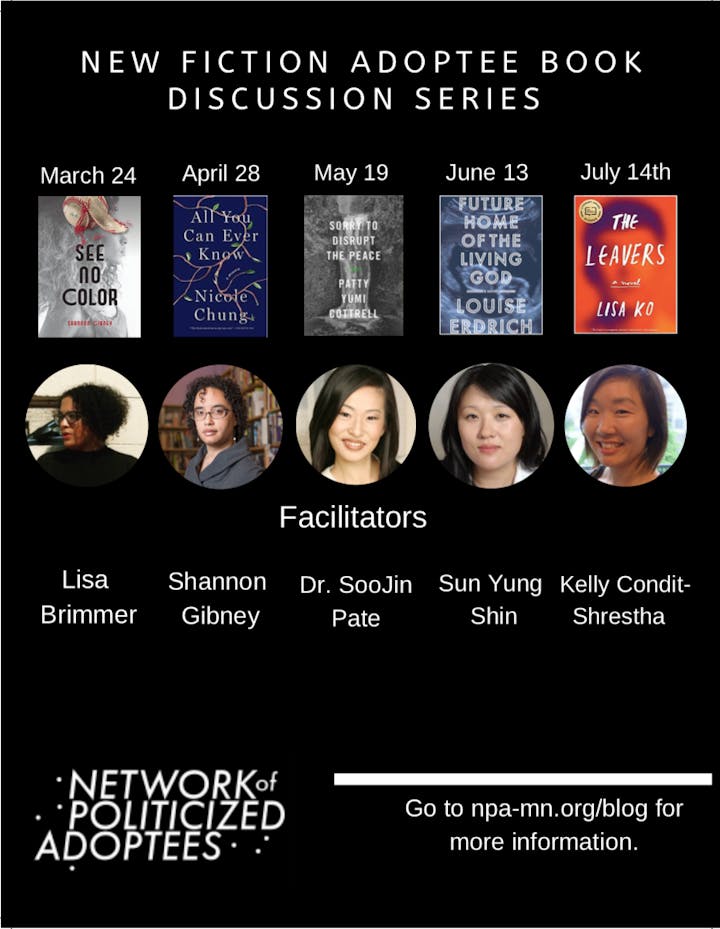 About NPA: Network of Politicized Adoptees (NPA) is comprised of transracial transnational adoptees representing a variety of countries of origin and professional backgrounds working in Minneapolis/St. Paul. Our mission is to strengthen, cultivate, and improve the lives of adoptees by building community power. Through solution-focused action, we advance adoptee justice by telling our own stories and collectively working towards systemic change within adoption. Our work has included forums, storytelling events, classes, conference presentations and support for others working toward social change. NPA's vision is that all adoptees feel empowered and have access to history, knowledge, fair policy, records, and positive health & relationships.