3-days Intensive Workshop with 2 of the most acclaimed teachers in Contact Improvisation, Andrew Harwood (Canada) and Ray Chung (Swe/USA).
About this Event
UPDATE: EVENT RESCHEDULED FOR APRIL.2021
Deepening Essentials (New Essentials 2.0)
9-11 APRIL, 2021. Friday through Sunday, total 15 hours with two of the most acclaimed international teachers in Contact Improvisation.
This workshop continues a tour-de-force to de-construct and re-construct our perception of what Contact Improvisation (CI) essentials and fundamentals are.
The "new" essentials will review grounding, centering, intention, and moving support. We'll move onto weight modulation, creating levity, precision in locating centers, developing the optimum tonus and alignment for sudden weight shifts, and more. The emphasis will be on creating pathways and opportunities to move out of the floor and into the air, or onto your partner, instead of lifting and carrying. Catching and jumping as a way to initiate contact, and creating continuity through supporting the movement rather than the weight of one's partner, will be one of the practices. Playing on the edge of what is possible for each participant, we will challenge one's self to really "go for it" in aerial movement and landing/catching strategies and techniques.
We will seek to reinvigorate the form through the use of variable speeds, impulse, influence, reflex, initiation, resistance, disappearance, subtle and surprising ways of moving weight, flowing through unfamiliar circumstances, extending our personal range of movement and integrating our imagination.

Playing lightly / seriously with our 'how to', our 'know-how' and our 'not knowing' while we beef up our game.
We encourage a greater range of experience with perhaps the following: Some familiarity with contact essentials is useful. Bring curiosity, an open mind and a keen desire to dance.
Some CI experience is preferred.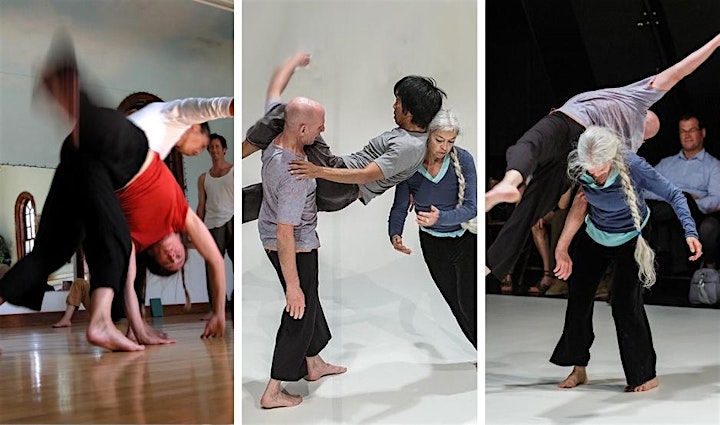 Some of the "essential" skills to be embodied in our practice of CI include the ability to:
Move while supporting the weight (1%-100%) of another mover,
Fall and land safely from any level
Follow and maintain the point of contact
Be comfortable moving upside down and with disorientation, and be omni-directionally responsive
Modulate the physical tone of ones' body in relation to partner and dancing
Be emotionally clear and present while dancing
Some CI experience is preferred.
RATES:
Regular Rate: $350
Patron Rate: $450
Bellow is a video fragment from a workshop with Andrew and Ray taughts ta the same venue 2 years ago. And an interview with Ray Chung prior to the New Essentials workshop last year.