NEW ENGLAND SCHOOL MENTAL HEALTH CONFERENCE ~ November 6th and 7th, 2017

Monday, November 6, 2017 from 8:00 AM to 4:15 PM (EST)
Event Details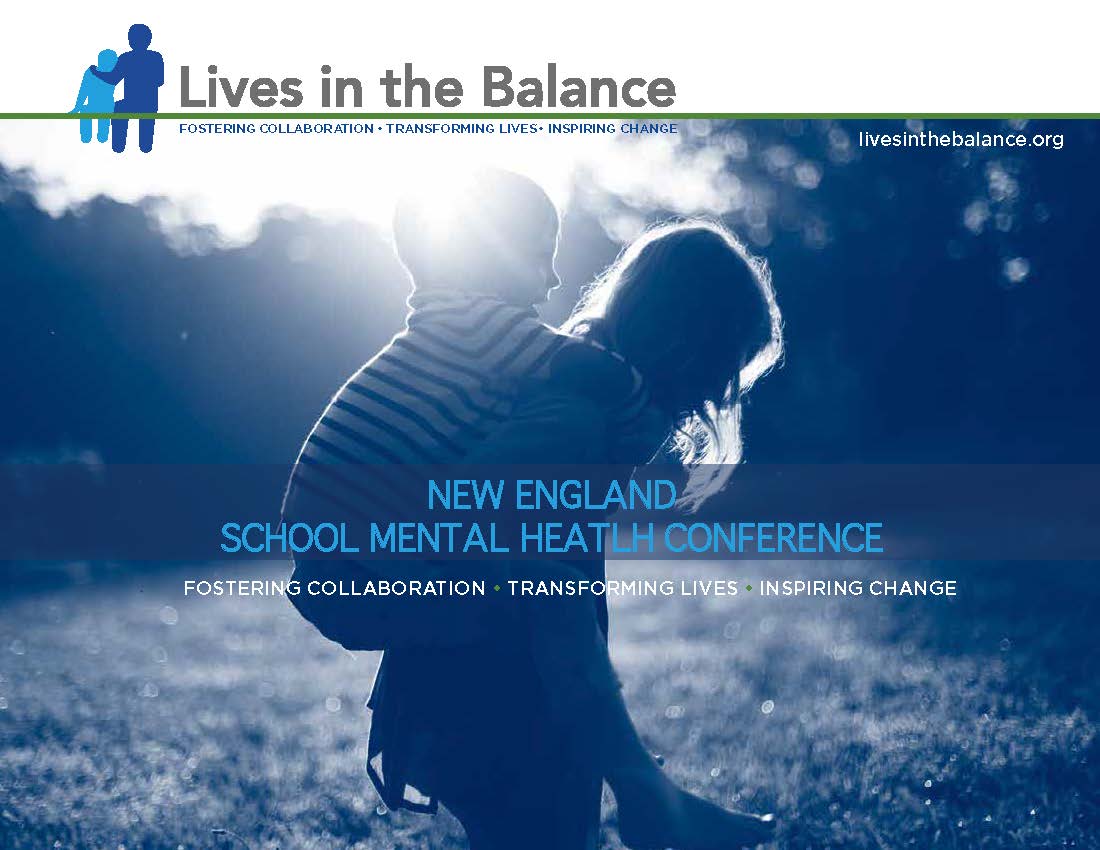 Lives in the Balance
New England School Mental Health Conference
November 6 & 7, 2017
Four Points by Sheraton - Norwood, MA
School-based professionals -- classroom teachers, administrators, mental health staff, school nurses, paraprofessionals -- are increasingly challenged to effectively meet the needs of students with social, emotional, and behavioral challenges. Tight budgets, high-stakes testing, and zero tolerance policies haven't made the task any easier. Lives in the Balance -- the non-profit founded by Dr. Ross Greene -- has sponsored similar Conferences for education professionals throughout North America, and now this special program is coming for the first time to New England. This Summit features Christian Stewart-Ferrer, an internationally renowned authority on autism spectrum disorders speaking for the first time in North America, along with leading experts Lisa Ferentz (trauma), Steven Feifer (learning and emotional disabilities), Adele Lafrance (Emotion-Focused School Support), and Dr. Greene (Collaborative & Proactive Solutions). It's two full days you won't want to miss, filled with invaluable information and practical, cutting-edge intervention strategies. Earn up to 12 Continuing Education credits! You can register for both days or just one. But don't miss it! 
MONDAY, NOVEMBER 6 
KEYNOTES
Collaborative & Proactive Solutions:
It's Not Just for Behaviorally Challenging Students Anymore
Ross W. Greene, Ph.D.
If you're a little worried about the human species these days, you're not alone. People are angry that their concerns are neither being heard nor addressed, and some people are expressing that anger in ways that are increasingly violent.  People are being less kind, less tolerant, less patient, less understanding, more dismissive.  What to do?  Start teaching the skills that define the better side of human nature, and incorporate those skills into the academic curriculum.  Skills like empathy, appreciating how one's behavior is affecting others, resolving disagreements without conflict, taking another's perspective, and honesty.  And do it with kids as early as possible in development.  How?  By engaging kids and adults in the process of solving problems collaboratively, by teaching and modeling those skills at home and school, and by giving kids and their caregivers as much opportunity as possible for practicing those skills.  How does one solve problems collaboratively? You'll hear about that in this keynote as well.
Why Does That Kid Keep Jumping Out of His Seat? The Impact of Trauma on Children
Lisa Ferentz, LCSW-C, DAPA
Children and teens are often misdiagnosed as ADD, ADHD, or oppositional when they display challenging behaviors, appear to be distracted, don't live up to their academic potential, or can't regulate themselves in the classroom and on the playground. In this keynote address, Lisa will look at these kids through a different lens: exploring the attachment styles that develop in dysfunctional and toxic families and the inherent challenge it creates for children at school. She will also describe the long-term cognitive, behavioral, social, academic, and emotional impact of trauma, abuse, and neglect. Participants will gain a better understanding of how trauma impacts a child's ability to focus and learn and how traumatized kids can present in the classroom. She will identify the factors -- including in the classroom -- that can exacerbate symptoms, as well as the mitigating factors that can reduce the impact on a child's evolving development. Videotapes, clients' artwork, and case scenarios will give participants a greater understanding of the toll that trauma takes...and how schools can provide compassionate, effective help.
BREAKOUT GROUPS
The Neuropsychology of Emotional Disorders: A Framework for Effective Intervention
Steven G. Feifer, D.Ed., NCSP, ABSNP
This breakout group will explore the neural architecture of emotional behavior by examining various brain structures laying the foundation for higher level social skill functioning. Specific biological factors related to the development of social competence and emotional self-regulation will be described, and there will be a detailed discussion on behavioral self-regulation, anxiety disorders, and depression from a brain-based educational perspective. Dr. Fiefer will also focus on factors leading to emotional dysregulation and the neurobiological underpinnings of stress.  He will also describe how schools can enhance emotional wellness in children through early prevention efforts, appropriate assessment strategies, and an improved school climate to foster emotional growth for all children.
Identifying Lagging Skills and Unsolved Problems
Ross W. Greene, Ph.D.
One of the hallmark contributions of Dr. Greene's Collaborative & Proactive Solutions (CPS) model is the recognition that maladaptive behavior occurs when expectations outstrip skills and its emphasis on identifying lagging skills and unsolved problems (unmet expectations).  In this breakout group, Dr. Greene will describe the use of the Assessment of Lagging Skills and Unsolved Problems (ALSUP), an efficient instrument that can be of great help in writing more meaningful, helpful, practical IEPs, 504 Plans, FBAs, and Behavior Plans, and potentially reduce the need for special education referrals.
Navigating the Developmental Challenges of Adolescence:
Enhancing Safety, Containment, and Affect Regulation 
Lisa Ferentz, LCSW-C, DAPA
Parents, teachers, and helping professionals often struggle in their interactions with adolescents, misreading their moods and needs, and inadvertently communicating in ways that create tension and increase disconnection. This breakout group will offer caregivers new insights into adolescent development and the adolescent brain, which will increase their understanding and empathy towards teenagers.  Lisa will explore the developmental challenges of adolescence and identify the different "evolving selves" that often conflict and compete within the teenager. Participants will also learn concrete strategies and creative techniques designed to help teenagers better regulate their emotional states, experience a greater sense of internal safety, and appropriately contain overwhelming thoughts and feelings that can compromise their academic success and interpersonal relationships. The presentation will be enhanced through the processing of adolescent artwork and journal entries.
TUESDAY, NOVEMBER 7
KEYNOTES
The Long, Winding Road of Autism Spectrum Conditions:
Insights and Strategies From a Man Who's Been There
Christian A. Stewart-Ferrer, M.A., Psy.S., Dip.Ed.
When living or working with people with Autism Spectrum Conditions (ASC), one often experiences a growing sense of bewilderment, of moving ever further into uncharted territory. In many cases, relatives -- and even professionals -- have an unspoken assumption that clarity would dawn upon all when the diagnosis was given, only to find that the diagnosis was simply the beginning of a long, winding, often confusing road. This keynote provides a guided tour through some of the main locations of that intricate landscape, hopefully making the subsequent travels more accessible. Specifically, while most people are used to feeling at home in their own world and less so in other worlds, this presentation will focus on the way people with ASC experience not just their own world, but also that of people bereft of ASC. It may come as a surprise that, to a person with ASC, non-ASC people appear to be challenged in several ways, including communication, focus, social skills, and more!
BREAKOUT GROUPS
Living in a Neurotypical World: The Autistic Perspective
Christian A. Stewart-Ferrer, M.A., Psy.S., Dip.Ed.
This break-out session is intended to build upon Dr. Stewart-Ferrer's keynote, focusing on the practical application of the insights gained. What are the pitfalls of communication between non-ASC to ASC individuals, and vice versa? What tends to get lost in translation? Which means of guidance and support are beneficial, and which ones are not, despite good intentions? These questions, and related considerations, will be addressed during this session.
Emotion-Focused School Support:
Equipping School Staff to Manage Strong Emotions in Children, Adolescents and Their Parents
Adele Lafrance, Ph.D., CPsych
Emotion-Focused School Support (EFSS) is a simple and efficient model for increasing the capacity for school staff to support the mental health of children, without adding to the already high demands of the school day. Given that a regulated physiology is critical for learning, the goals of EFSS include regulating child/adolescent emotion to facilitate a "return to learning," preventing emotional escalations, and de-escalating outbursts in progress. EFSS also includes a module to support school staff to support parents who are struggling with anxiety, shame, helplessness, resentment, and anger. This module of EFSS was developed for delivery through brief phone calls, parent-teacher meetings, or even when crossing paths in the hallway or main office. Concrete strategies will be provided through demonstration and skills practice.
Solving Problems Collaboratively
Ross W. Greene, Ph.D.
In this breakout group, Dr. Greene will describe the other major contribution of his evidence-based Collaborative & Proactive Solutions model: solving problems collaboratively. Countless schools have implemented this model, and have simultaneously seen dramatic reductions (or elimination) of discipline referrals, detentions, and suspensions. Dr. Greene will make extensive use of video in this breakout group.
FACULTY:
Steven G. Feifer, DEd, ABSNP, is an internationally renowned speaker and author in the field of learning disabilities, and has authored seven books on the neuropsychology of learning and emotional disorders in children. He has 19 years of experience as a school psychologist, was voted the Maryland School Psychologist of the Year in 2008, and awarded the 2009 National School Psychologist of the Year. Dr. Feifer is dually trained as both a licensed school psychologist, and also holds a diplomate in school neuropsychology. He continues to evaluate children in private practice at the Monocacy Neurodevelopmental Center in Frederick, Maryland.  Dr. Feifer has authored two tests on diagnosing learning disabilities in children; the FAR and the FAM, both published by PAR. His knowledge of learning and emotional disorders is as impressive as his dynamic presentation style.
Lisa Ferentz, LCSW-C, is the president and founder of the Institute for Advanced Psychotherapy Training and Education, which provides continuing education to mental health professionals. She is an internationally acclaimed speaker and highly sought-after clinical consultant. She has been in solo private practice specializing in trauma for more than thirty years, and in 2009 was named social worker of the year by the Maryland Society for Clinical Social Work. She is remarkably insightful about and compassionate toward children with trauma histories, and is equally knowledgeable of best practices in their treatment.
Ross W. Greene, Ph.D., is the originator of the innovative, evidence-based approach now known as Collaborative & Proactive Solutions (CPS), as described in his influential books The Explosive Child, Lost at School, Lost & Found, and the recently released Raising Human Beings. Dr. Greene was on the faculty at Harvard Medical School for over 20 years, and is now Founding Director of the non-profit Lives in the Balance.  He is on the adjunct faculty in the Department of Psychology at Virginia Tech and in the Faculty of Science at the University of Technology in Sydney, Australia. Dr. Greene has worked with several thousand behaviorally challenging kids and their families, and he and his colleagues at Lives in the Balance have overseen implementation and evaluation of the CPS model in hundreds of schools, inpatient psychiatry units, and residential and juvenile detention facilities, with dramatic effect: significant reductions in discipline referrals, detentions, suspensions, and the use of restraint procedures and solitary confinement. His compassion, humanity, empathy, and practicality come through in every presentation.
Dr. Adèle Lafrance PhD, C. Psych, is a clinical psychologist and Associate Professor in the Psychology Department at Laurentian University in Ontario, Canada. She is also the co-developer of Emotion-Focused Family Therapy (EFFT) for eating disorders and for general mental health. Related to EFFT, she is a trainer/supervising/consulting psychologist for a number of generalized and specialized mental health agencies across Canada and in Europe.  Dr. Lafrance is also the author of numerous publications in the field of clinical psychology. Her enthusiasm for kids is infectious, and her insights invaluable.
Christian A. Stewart-Ferrer, M.A.,Psy.S., Dip.Ed. is a Danish psychologist working in private practice and as a lecturer at the University of Southern Denmark. He has spent many years working with children, adolescents, and adults with Autism Spectrum Conditions (ASC), and working with the people around them. Diagnosed with ASC himself, he has the benefit of an insider's perspective on ASC, as well as an outsider's perspective on non-ASC. He mesmerizes his audiences with his insights, perspective, and clarity.
FAQs

Can I pay by check? Yes, click on the REGISTER button. You will be directed to Payment. Under Payment you can choose what method you would like to use.

How do I choose my breakout groups? You will be able to choose your breakout group when you order your ticket.

What time should I arrive? Registration begins at 8:00 to 8:30. Continental Breakfast will be offered. Keynotes begin at 8:45. The conference ends at 4:15.

What if I have more questions? Feel free to contact Liz Rudman at Summit@livesinthebalance.org. 

May I sign up more than one guest? Lives in the Balance asks that each participant sign up individually through Eventbrite (please contact Summit@livesinthebalance.org if you have questions).

Will lunch be provided? Yes, lunch is included, as is a continental breakfast.
Where can I stay if I need overnight accommodations? Four Points by Sheraton, Norwood, Massachusetts, is the host hotel and has overnight rooms for a discounted rate of $165.00 for single or double occupancy per night. Reservations can be made by calling (781)769-7900. All reservations should be made no later than October 9, 2017 for the discounted rate. 
Can I receive Continuing Education Credits? Yes, Continuing Education credits for this program are awarded by Commonwealth Educational Seminars (CES) for the following professions:
Social Workers

: CES, provider #1117, is approved as a Provider for Social Work Continuing Education by the Association of Social Work Boards (ASWB) www.aswb.org, through the Approved Continuing Education (ACE) program. CES maintains responsibility for the program. ASWB Approval Period: 10/5/15 through 10/5/18. Social Workers should contact their regulatory board to determine course approval. Social Workers participating in this course will receive 6.0 clinical continuing education clock hours.

Psychologists

: Commonwealth Educational Seminars (CES) is approved by the American Psychological Association (APA) to offer continuing education credit programs. CES maintains responsibility for this program and its content. Psychologists receive 6.0 hours of continuing education credit upon completing this program.

L

icensed Clinical Professional Counselors/Licensed Mental Health Counselors

:

Commonwealth Educational Seminars (CES) is entitled to grant continuing education credit for LCPCs/LMHCs in the following states: AZ, AR, CA, CO, CT, DE, DC, FL, GA, HI, ID, IL, IN, IA, KS, KY, ME, MA, MO, NE, NH, NJ, NM, NC, OR, PA, RI, SC, SD, TN, TX, UT, VT, VA, WA, WI, WY. CES maintains responsibility for this program. LCPCs/LMHCs completing the program will receive 6.0 continuing education hours of credit. 
When & Where

Four Points by Sheraton Norwood Hotel & Conference
1125 Boston-Providence Turnpike
Norwood, MA 02062


Monday, November 6, 2017 from 8:00 AM to 4:15 PM (EST)
Add to my calendar
Organizer
Lives in the Balance is the non-profit organization founded by child psychologist Dr. Ross Greene, originator of the evidence-based Collaborative & Proactive Solutions (CPS) approach. Our vision is to foster collaboration and empathy, transform lives, and inspire change for all children (especially the most vulnerable), to heighten awareness of the detrimental and counterproductive effects of punitive interventions, and to address the systemic issues that impede our progress. The mission of Lives in the Balance is to provide vital, accessible resources and programs to caregivers of behaviorally challenging kids; to bring the plight of these kids into the public consciousness; to address the systemic issues that cause many of these kids to slip through the cracks; and to promote parenting and disciplinary practices that foster the better side of human nature in all children.