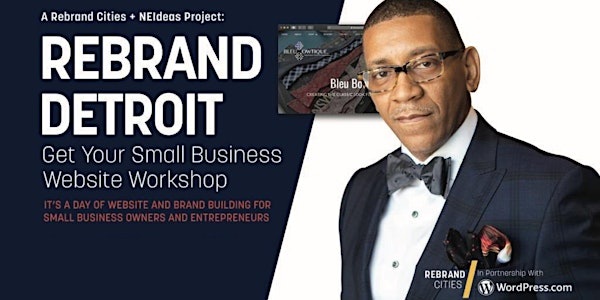 New Economy Initiative: Get Your Business Website - Detroit Cohort 2
When and where
Location
Detroit Center for Design + Technology 4219 Woodward Ave Detroit, Michigan 48201
Description
The New Economy Initiative (NEI): Get Your Business Website - Detroit Cohort 2 focuses on website building, branding insight, and photography (optional).
Rebrand Cities is a global civic design partnership with WordPress.com. There are 28 million small businesses in America, 46% of them do not have a website our series is designed to address this issue.
The goal of the NEI + Rebrand Cities partnership is to help create a sustainable presence online for all participating businesses and establish the basics of their brand.
Program Participants
NEIdeas Award Winners from 2014 - 2018 and NEI partner organizations are eligible to participate. There is a total universe of 144 small businesses that have been selected that are diverse and inclusive business owners in Detroit and Hamtramck, MI.

---
Training Schedule
There will be weekly assignments with a mix of in-person and webinar training sessions, along with a 1-day intensive website content development session, and consultations with developers.
Sessions:
#1 (LIVE): Feb. 10th (7p-9p) | Kickoff + Mapping Your New Site Design
Day 1 of the journey! Participants will receive an overview of the cohort topics and gain access to tools and resources to help navigate their experience.
#2 (VIDEO): Feb 17th (7p-9p) | Website Content Development Presentation + Website Planning
An engaging session to help business owners create content to vividly tell your story with simplicity!
#3 (LIVE): Feb. 24th (By. Appt.) | Photography Week
Business owners will receive a professional headshot as a part of their registration. Other advanced (onsite session, product photography, etc.) available upon request for an additional fee.
#4 (LIVE): March 2nd (9a-3p) | 1-Day Branding Intensive
Engaging session providing in-depth insight on personal and business branding strategies with Brand Camp University Founder, Hajj Flemings and guest presenters.
NO Group Session: March 9th| Independent Work Week
Opportunity for Business Owners to continue crafting content; live group session will not be held this week.
#5 (VIDEO): March 16th (By Appt.) | 2nd Developer Consultation
Business owners meet with assigned developers to review site progress.
#6 (LIVE): March 23rd (7pm-9pm) | Cohort Reflections + Cohort Presentations
A celebration of progress where participants share their journey and reveal highlights from their new website.

Things You Should Know Before Registering:
Participation requires a NEW Wordpress.com account and website through Rebrand Cities (vs. updating an existing site)

e-Commerce sites available at an additional cost

*Schedule subject to change as necessary with notification to participants.