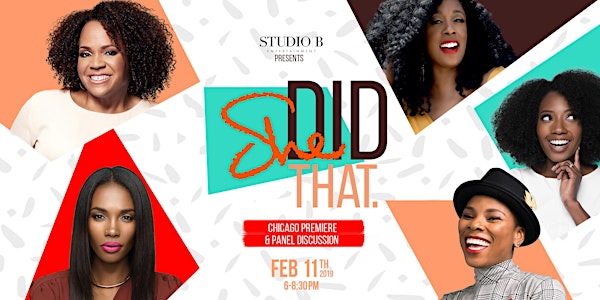 NEW DATE! Studio B Presents "She Did That." Chicago Premiere & Panel Discus...
Location
ROW 24
2411 S Michigan Ave.
Chicago, IL 60616
Description
Renae Bluitt's first cinematic project, "She Did That.", explores the passionate pursuits of Black women and their entrepreneurship journeys. An extension of Renae's In Her Shoes blog, "She Did That." offers an intimate peek inside the lives of four Black women entrepreneurs who continuously raise the glass ceiling for future generations.
What drives Black women to turn their obstacles into opportunities and passions into profit? "She Did That." seeks to answer this question with the goal of inspiring the next generation of change agents.
Spotlighting well-respected industry leaders through exclusive, never-seen-before footage, "She Did That." features vulnerable conversations with four fly female entrepreneurs - Luvvie Ajayi (New York Times best-selling author, speaker and digital strategist), Lisa Price (founder, Carol's Daughter), Melissa Butler (founder, The Lip Bar) and Tonya Rapley (founder, My Fab Finance.) Their powerful testimonies as to how grit and perseverance set the stage for success reminds audiences that Black women are indeed bosses in business, embarking on their own ventures at six times the national average. "She Did That." is a timely and poignant documentary on Black women entrepreneurs who are building legacies and making history - a conversation that should not be missed.
#shedidthatfilm
---
Chicago Panelists:
Renae Bluitt (executive producer, She Did That.), Trizonna McClendon (supervising story producer, She Did That.), Luvvie Ajayi (New York Times best-selling author, speaker and digital strategist) and Bonnie Smith (founder & CEO, Studio B Entertainment).
Chicago Premiere Brand Partners:
Presented By: Studio B Entertainment
Powered By: Byline Bank and ROW 24
Event Photography By: Beking Media
Studio B's mission is to create experiences that celebrate the lives of unique and vivid women. In 2019, the company is bringing its mission to life through a series of diversity-driven, women-focused events, starting with and for the Chicago community. When Smith saw 'She Did That.', she was inspired to bring the film to Chicago to inspire other women in their entrepreneurial endeavors.

IMPORTANT INFORMATION FOR THIS EVENT
This is a 21+EVENT (I.D. Required)
Seating is on a first come, first served basis
Metered street parking is limited. Uber, Lyft or taxi is highly recommended.