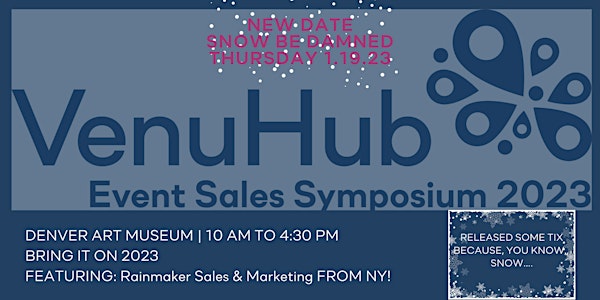 New DATE - Event Sales Symposium 2023
It was a snow day, hope you played, and now let's get down to it! Event challenges, successes, event sales, marketing & tools for success.
When and where
Location
Denver Art Museum 100 West 14th Avenue Parkway Denver, CO 80204
About this event
Update (as of 1/18/23 @ 11:27 am)
The Denver Art Museum closed today and they have been nothing but incredible partners to help us kick the can forward to tomorrow!
Please see new timeline - same great content, the room is set, and it's still amazing. If you have a ticket and can not attend please consider passing it on to a teammate or colleague - someone you mentor?
The day will be very casual so come and go as you need to - comfortable lounge setting outside the room by Bear Aesthetic for a quiet spot.
*********************************************************************
Rain, Cold or Snow - The Event is a go. Be safe, wear smart boots, note the longer arrival window & dress for comfort.
We recommend Parking at the Cultural Center Garage for ease and proximity. Enter on 12th Ave, slightly West of ART Hotel. $16 and walk through the Garage towards 13th and you are almost there! Walk across street to main entrance and we will be waiting with coffee and donuts.
10:00 am Networking, Reception
AM Program
Afternoon Session
1:30 pm - Lunch from the Denver Art Museum Catering
Rainmaker Sales & Marketing, Margaret Brower
****************************
Thank you to the 2023 Event Sales Symposium Partners, Friends, Sponsors and Speakers. Without you today would not be a reality.
Presenting Partner: Denver Art Museum - Catering, Venue and Audio Visual
Platinum: Bear Aesthetic, Event Rents, MiHi Entertainment, The Makery Cake Co.
Gold: Chris Starkey, Professional Speaker, Fleur Decor, MongoDB, Rainmaker Sales & Marketing, Studio JK Photography & The ART a Hotel / FIRE Restaurant & Lounge
Silver: Baked N' Denver, Bespoke Events, Boulder Spirits, Interaction Denver/The TEAMBuilding Co. &. NearlyWed Coaching
Bronze: Grüvi Beverages, The Strike Crew
www.venuhub.com