Description
This full-day workshop will explore how getting the word out about your artwork can be a fun and creative extension of your art practice. Learn the basics of marketing and public relations, then work in cooperation with other artists to develop a marketing, public relations and digital strategy that is as unique as your artwork. Identify who it is that needs to know about your artwork and develop a plan to reach them that feels right to you. This workshop is appropriate for any stage of your artistic career; participation in prior A.S.K. workshops is not required.
To show our appriciation for your participation in the A.S.K. Program we have created a SPECIAL OFFER. Those who register for the Amplify Deep Dive will also be given the opportunity to attend the final Balance Sheet, Deep Dive FREE OF CHARGE.
Topics will include: Marketing, Public Relations, Networking, Audience Development, Digital Strategy for websites and social media
Workshop Facilitator: James Curtis (aka Cash Hollistah)
Recommended Reading: "The Art of Asking", Amanda Palmer
Tickets must be purchased in advance through Eventbrite. Enrollment ends at 11:30pm on October 15, 2019 and cannot be extended. No refunds will be given after registration ends.
---
Workbooks are included in the cost of the workshop
*There will be a lunch break from 12pm-1: 30 pm. Lunch will be on your own and will resume promptly at 1:30 pm.
---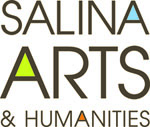 A.S.K Artist Sharing Knowledge is a professional development program for Salina are artists of all disciplines brought to you by Salina Arts & Humanities in partnership with Kansas Creative Industries.
For more information on this and other A.S.K. workshops please contact Grace Peterson at grace.peterson@salina.org