About this Event
The kick-off to a year-long immersive learning experience for new and novice coaches
What to Expect:
This Boot Camp will do two things: 1) It will provide new and novice coaches with a deep tool set of strategies for working with adult learners 2) It will launch a year-long new-coach Professional Learning Community (PLC) that will meet monthly with a Bright Morning teammate. During the August Boot Camp, coaches will be immersed in transformational coaching and will practice many key skills including a variety of listening strategies, using a range of coaching prompts, planning for a coaching conversation, and organizing coaching materials. Coaches will be able to guide their clients through a coaching cycle, and will feel confident that they can support a client to reflect on their practice and make changes. Coaches will also have opportunities to reflect on their own skills and dispositions, to create a vision for themselves as coaches, and to cultivate their resilience so that they feel confident and competent as they embark on their new career path. Throughout the 2020-21 school year, this cohort will meet monthly via Zoom with a Bright Morning teammate to problem solve, share success stories and support each other. This Boot Camp is facilitated by Elena along with other Bright Morning teammates.
Workshop Outcomes:
Acquire powerful methods to facilitate the learning of adults
Expand their definition of coaching
Identify the three components of a Transformational Coaching conversation and learn to use multiple strategies for each component
Explore the impact of Transformational Coaching strategies
Develop self-awareness and gain confidence as coaches and leaders
Activities Include:
Observing and deconstructing masterful coaching
Identifying core values
Refining listening strategies
Learning new analytical frameworks and applying them to real scenarios
Practicing coaching conversations
Crafting a coaching vision
Determining organizational structures
Identifying solutions to common challenges
Understanding a coaching cycle
Writing a work plan and goals
The Details:
Duration: Five days
Who Should Attend: Coaches entering the role, or in their first 1-5 years of coaching
Prerequisites: None
What Participants are Saying:
"This was a life changing training." - Ari, coach, Oakland
"I love the passion and thought provoking questions Elena provided. It made me step back and really evaluate my job and how important it is to see each teacher as a human and express compassion and grace. If this is what we expect to happen for our students it's equally important to nurture and encourage and build up the teachers who we serve." - Sarah, coach, Austin
"I've ready Elena's book (The Art of Coaching), but it was more meaningful to have the face-to-face instruction. Now I know what transformational coaching LOOKS like and have developed the foundational skills to continue growing as a transformational coach. Now the book can guide my practice ongoing." - Sherri, coach, Baltimore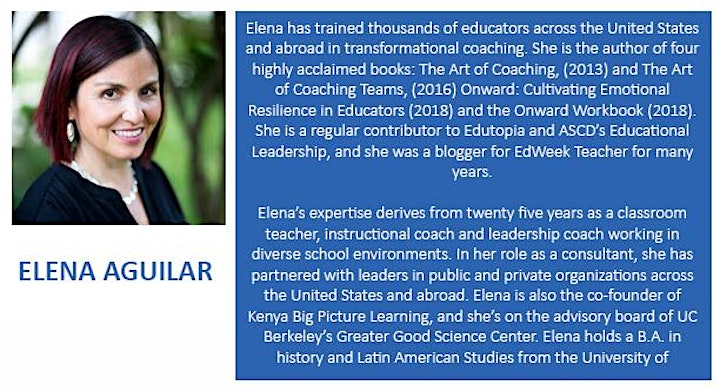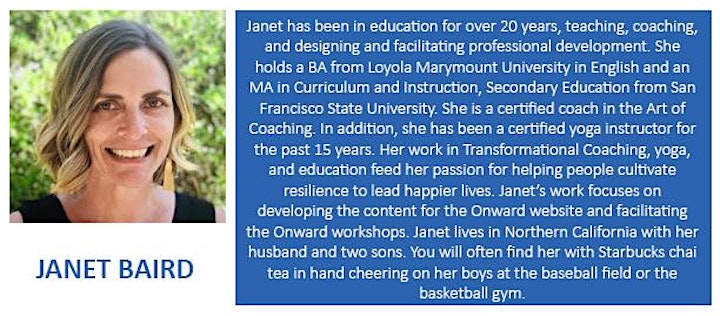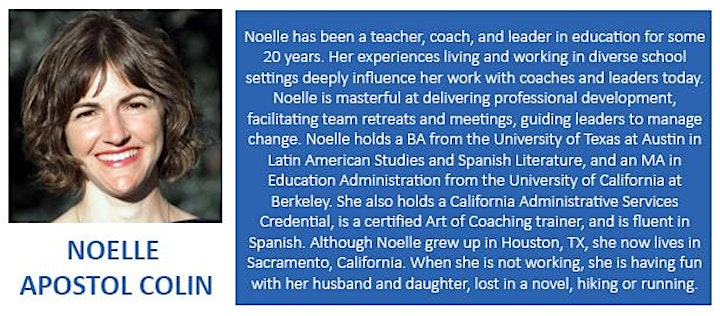 Ticket Types:
Individuals:
Individual: $2100
Fee includes Elena's best-selling book, The Art of Coaching, program materials, a light breakfast and lunch. Lodging or dinner are not included.
Frequently Asked Questions
Do you have suggestions for lodging? Due to the wide range of personal preferences for lodging accommodations, we do not provide recommendations.
Is food included? Lunch is provided and there will be vegetarian options for those who have indicated a vegetarian diet. We are very sorry but specific food allergies or sensitivities can't be accommodated at this time. Please bring your own lunch if you believe your dietary needs may not be met. There will also be coffee, tea, and morning snacks.
Is there pre-work? There is a small amount of pre-work that will take 1-2 hours to complete. This will be sent to you three weeks prior to the workshop.
What should I bring? A pen, a notebook (optional) and your pre-work.
What is the attire? Dress comfortably and in layers so you can adjust if room temperature changes. We want to respect that some people are sensitive to strong scents or have environmental allergies, so please refrain from wearing products with strong scents.
Am I able to transfer my registration? Yes, you may transfer your workshop registration up to one week prior to the workshop start date. There is a $50 processing fee for all transfers. Within one week of the workshop registrations are non-refundable and non-transferable as we are unable to adjust catering, materials and space requirements at that point.
What happens if I can't attend?
Refunds requested more than 30 days before the workshop start date will be honored minus a $150 cancellation fee.
Within 30 days, and up to 1 week in advance of the workshop start date, a one-time registration transfer can be made to an alternate participant or another workshop. There is a $50 processing fee for all transfers.
Within one week of the workshop registrations are non-refundable and non-transferable as we are unable to adjust catering, materials and space requirements at that point.
A missed workshop is non-refundable and non-transferrable.
I have questions that are not answered here. Who should I reach out to? We're happy to help! Email info@brightmorningteam.com
Please note: Participants at our workshops are strongly encouraged to go low- or no-tech. We encourage participants to write by hand and ask that cell phones are tucked away except during breaks and lunch. We strive to create a focused and safe learning space and ask participants to be fully present.