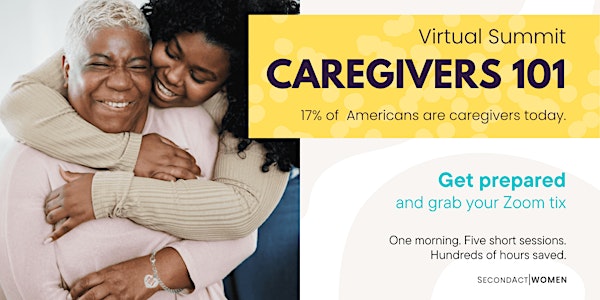 New Caregivers Summit: Tips, Info and More to Prepare You
Join us on June 23, 2023, for the New Caregivers Summit, where we'll provide you with tips, info, and more to help you prepare
Date and time
Friday, August 18 · 7:30 - 10:30am PDT
Refund Policy
Contact the organizer to request a refund.
Eventbrite's fee is nonrefundable.
About this event
Welcome to the Caregivers Summit: Tips, Info, and More to Prepare You! This virtual event is perfect for the "one day/someday" and new caregivers to gain valuable insights and important tips from experienced professionals and current caregivers. Join us on Zoom Friday, Jun 23, 2023, to discover the latest caregiving strategies and techniques. Our expert speakers will share their knowledge and experience to help you become a confident and effective caregiver. Don't miss out on this exciting opportunity to connect with other caregivers and learn from the best.
Register now and get ready. It's just 1 morning, 5 short sessions, and prepare your own caregiving brainstorming. That's all you need to fill your Next of Kin, caregiving, and family planning toolbox to the brim.
Whether you're caring for an aging parent, a spouse, or a loved one – or may one day, this workshop is for you.
Register today. This event is open to everyone - women, men, and they.
Presented by Barbara Brooks, founder of SecondActWomen
About Barbara Brooks
New to her caregiving journey as of March 2023, Barbara Brooks, 56, is your host and founder of SecondActWomen. Her mother suffered from a stroke on March 16th, and because of the high learning curve, she created this event to help others.
As the founder of an organization helping women over 40, she's been featured in Forbes, MarketWatch, and PBS's Next Avenue, presented workshops for Microsoft Denver, Western Union global ERG, and four times at Denver Startup Week, to name a few. Connect with her on LinkedIn or socials @heybarbarabrooks.
About SecondActWomen
Founded in 2018 in Denver, Colo. by Barbara Brooks (56), SecondActWomen spurs the businesses, encore careers, and lives of women over 40. The pro-age membership community delivers high-level peer-to-peer professional and personal development programs, events, and tools to move dynamic women in their 40s, 50s, and 60+ forward to grow businesses, land jobs, and cultivate meaningful relationships. Check us out at secondactwomen.com and at @secondactwomen on Instagram and LinkedIn.
About the organizer
We're ReDefining Women 40 & 50+ 
We're a new type of membership community.
SecondActWomen is a social enterprise providing live and virtual development programs, online tools, and monthly meetups to help women 40 & 50+ reimagine what's possible in businesses, career, and life...and do it!
We host hands-on workshops, intensive boot camps, signature events, digital resources, and done-for-you tools for GENXBOOMER women to thrive in their second act.