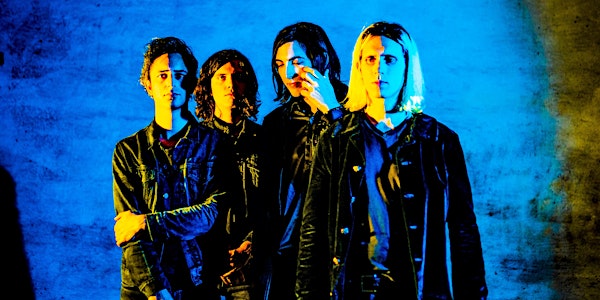 New Candys / Mint Field / Wave Decay
Performers
New Candys
MINT FIELD, wave decay
Location
Hi-Dive
7 South Broadway
Denver, CO 80209
New Candys / Mint Field / Wave Decay Tue, Mar 22, 2022 21+ Doors at 7 PM
About this event
New Candys
Hailing from Venice, Italy, New Candys formed in 2008. Described as dark modern rock'n'roll, the band combines noisy, brooding sounds with distinct melodies while displaying a dynamic and symbiotic connection between their music and meticulously crafted visual imagery. The band consists of Fernando Nuti, Andrea Volpato, Alessandro Boschiero and Dario Lucchesi.
Released in 2012, the first studio album "Stars Reach The Abyss", mastered by Jon Astley, brought the band on tour in England and Italy. The song "Meltdown Corp." was included in the annual compilation "The Reverb Conspiracy", co-released by Fuzz Club and The Reverberation Appreciation Society (Levitation Austin). In 2015 their second studio album "As Medicine", mixed by John Wills of Loop, was released through Picture In My Ear and Fuzz Club and distributed by Cargo Records and The Committee To Keep Music Evil. In the next two years the band toured Europe three times, also performing at the Secret Garden Party and Liverpool Psych Fest.
New Candys' third and latest album "Bleeding Magenta" was released in 2017 by Fuzz Club / Cargo Records and repressed in the US by Little Cloud Records, followed by its European promotional tour and a performance at SpaceFest in Gdańsk. In 2018 they toured Australia, headlining both Sydney and Melbourne Psych Fest and performing at the Adelaide Fringe. Next the band went on a US-Mexico tour and recorded a KEXP live session. In 2019 they completed a back to back tour of 50 shows in Europe, the US and Canada including Desert Stars Festival in Joshua Tree, Milwaukee Psych Fest, The Echo in LA, Hotel Vegas in Austin and Mercury Lounge in New York. A third European tour took place in September, including Levitation France and shows with The Warlocks and The Dandy Warhols and in January 2020 they played the Balkans for the first time. Some of their songs are featured on episodes of Showtime Networks original TV series "Shameless".
Mint Field
Originally from Tijuana & now based in Mexico City (two of the most exciting places for emerging music & art in Mexico) Mint Field is one of the bands that helps make both cities shine. Mint Field is guided by Estrella del Sol on vocal & guitar duty, Sebastian Neyra on the bass, and Callum Brown on the drums. The band explores the nostalgia & melancholy of daily life with loud guitars and vocals; like a breath of life into a unique & supernatural style of shoegaze. The instrumentation and atmospheres are accompanied by delicate, harmonious, and ethereal vocals that are a fundamental part of the sound.
With releases such as their debut album Pasar de las Luces (2018), produced by Christopher Koltay, and the Mientras Esperas EP (2019)—both on Innovative Leisure—their sound has evolved with the influence of years touring the globe. Following the release of Pasar de las Luces, the band played over 100 shows across the United States, Mexico, and their first two headline tours in Europe. At the end of that year, they recorded Mientras Esperas in Long Beach, California—a 5-track EP that defines the live sound of the band. "Mientras Esperas was a combination of everything we had learned throughout the year and the sounds with which we wanted to experiment on our next LP." - Estrella del Sol
In Spring 2019, they toured the US and Canada with US before a summer tour through Mexico that wrapped with two sold-out shows in Mexico City.
In the Fall of 2019, the band entered Wilton Way Studios in London to record their follow-up album, Sentimiento Mundial. The recording sessions took place with the help of producer Syd Kemp & drummer Callum Brown—both members of Ulrika Spacek. This album has a cleaner, more distinct guitar sound that praises the influences of Helvetia and Thurston Moore; hypnotic bass lines that create a smooth yet complex bed; drums that gallop and ride to add a unique groove to the song; and, as always, breezy, romantic vocals from Estrella.
Sentimiento Mundial released in 2020 and was Mint Field's first album to feature guest musicians, including members of Vanishing Twin and Ha Ha Sounds Collective.
Mint Field recorded another album in Mexico City in 2021, which is set to release early 2022.
Always praised by the press, Mint Field is considered one of the most comprehensive bands in Mexico—a truly unique sound with passion & energy that takes you to unimaginable places.