Description
THIS EVENT IS SOLD OUT!
There may be tickets available at the door, depending on no-shows.

3rd Annual New California Writing Launch Party:
SHIFTS AND RIFTS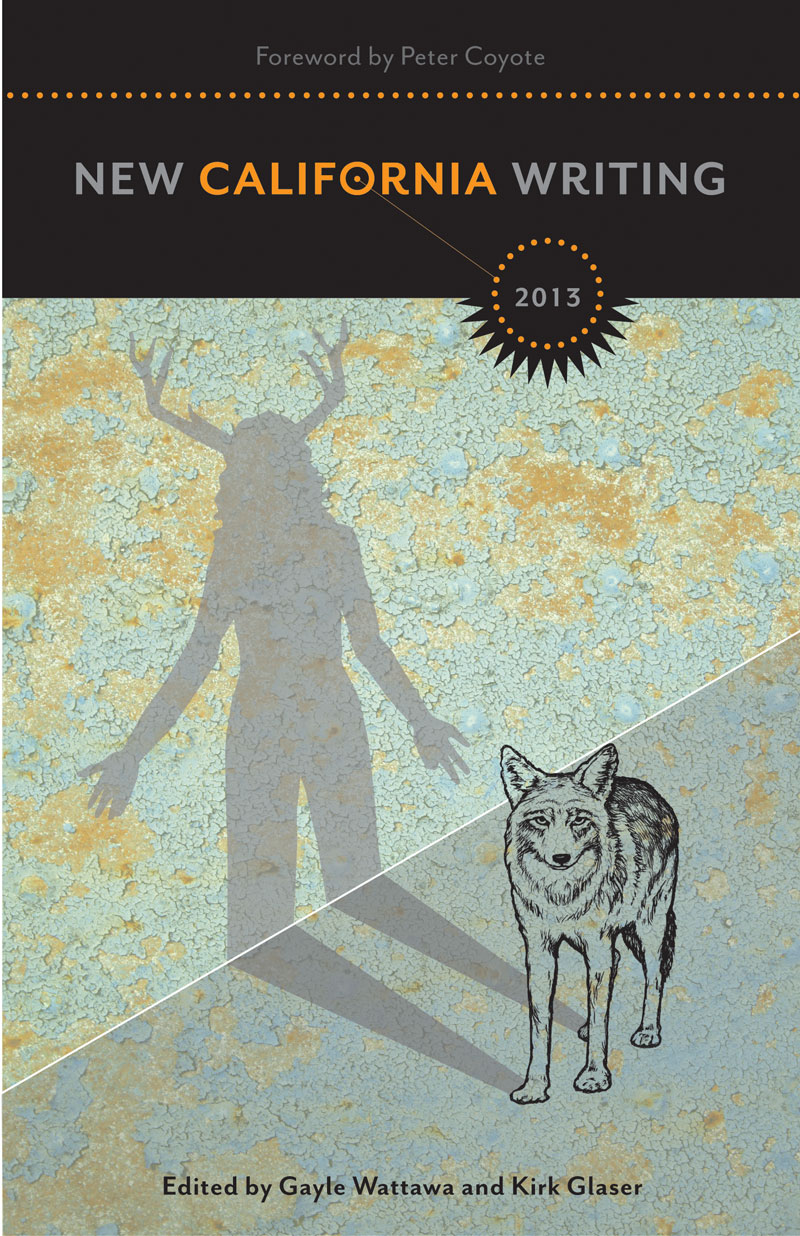 Hand-plucked from literary journals, novels, magazines, and newspapers, New California Writing 2013 insists that we see our state for what it truly is: a vibrant culture, hopeful yet disappointed, hungry for knowledge, for art, for the aroma of freshly picked strawberry fields, and for city streets heady with possibility.
Join emcee Peter Coyote, publisher Malcolm Margolin, series editors Gayle Wattawa and Kirk Glaser, and 12 of the contributors to celebrate this outstanding collection with food, drink, and rapid-fire readings.
Thursday, April 11 from 6:00 to 8:30 p.m.
California Historical Society, 678 Mission St., SF (map)
$5 General Admission, $20 Book + Admission
Get your tickets now—this event sells out quickly!
SCHEDULE OF EVENTS
6:00 Get to the party early for free food, beer, and wine. (There will be sparkling water with lemon for those who brave literary events without consuming alcohol.)
6:30 - SHIFTS: 5-minute snapshots of loss and renewal*

Jodi Angel - "A Good Deuce" - I was on my second bag of Doritos and my lips were stained emergency orange when my best friend, Phillip, said he knew of a bar in Hallelujah Junction that didn't card.
Michael Jaime-Becerra - "Losing Don Pío's Place" - The one-time home of Pío de Jesus Pico IV, last governor of California during Mexican rule, is wedged between the 605 Freeway and train tracks...
Elizabeth Creely - "Daire Nua: The New Oak Grove" - There is a kind of acquired memory that gets formed from family artifacts...
Linda Norton - "Stanzas in the Form of a Dove" - One woman has flags painted on her cheeks—we're boxed in by patriots and warriors.
Zara Raab - "Artemis in the Barnyard" - She didn't hear the gate in the flurry of hens...
Greg Sarris

- "Maria Evangeliste" -

Her name was Maria, which is what the priest at St. Rose Church called all the Indian girls...
7:00 - Intermission: Just enough time to refill your glass for the second half!
7:15 - RIFTS: 5-minute snapshots of conflict and captivity*

Stephen Gutierrez - "The River in My City" - The river runs through my city, the City of Commerce in L.A., and makes itself felt day and night with its turbulent roar.
Kevin Hearle - "In the Long Run: How the Battle of the Sexes Changed Portola Junior High School" - Most of the girls were cheering for her now. Aside from a few muttered curses, most of the guys in the crowd had fallen silent.
Sylvia Linsteadt - "The Mythscapes of Point Reyes" - Egret women snuggled under down comforters with the long-piped men, and left smudges of forest on the sheets.
Donna Miscolta - "Home is Where the Wart Is" - I rode out of National City in a Cadillac.
Juan Velasco Moreno

-

"Custodio y Los Dardos del Sueño"

-

The California months shoot me with dream darts...
Keenan Norris - "Brother and the Dancer" - Erycha was a poor little six-year-old black girl living in a poor, cramped under-lit town called Highland. And she was learning.
7:45 - Stay to mingle with our guests, get your book signed, and enjoy another drink or two.
*Contributor list and order are subject to change.