Description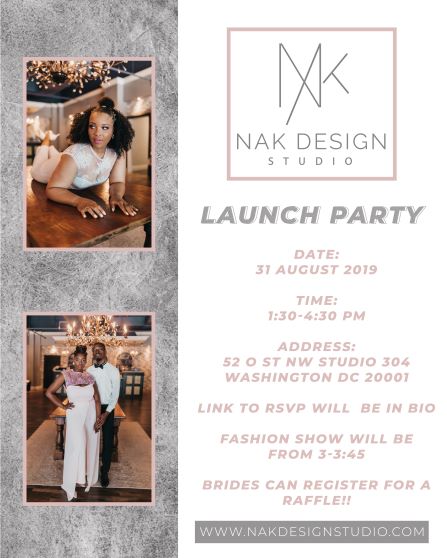 ---
CONGRATULATIONS! YOU ARE INVITED
Hi Darlings! Come experience a brand-new way to think about bridal. NAK Design Studio is opening its very first location in Northwest DC and we could not be any more excited to share this moment with you.
Gone are the days that brides only dream about their wedding one way. Today's bride comes in many different shapes, sizes, and colors and so should their wedding attire. NAK Design Studio is here to show you a completely different way to walk down the aisle. YOU, yes you, bride-to-be grab your favorite bride tribe member and come join us in all the fun.
P.S. The first hour you are able to tour the studio, see our newest collection before anybody else, and have first dibs on appointment times.
---
What is in it for you?
Welcome Information Packet: sponsor's contact info to help with wedding planning and our Wedding Planning Tip Sheet

Enjoy food, drinks, photobooth, and music

A chance to win a pair of our shoes from our bridal brand SanyahRose

Lastly, we are having a BRIDAL FASHION SHOW!!! Be the first sets of eyes to see bridal done our way.
If nothing else, come for the food and drinks. Lol! Can't wait to see you there