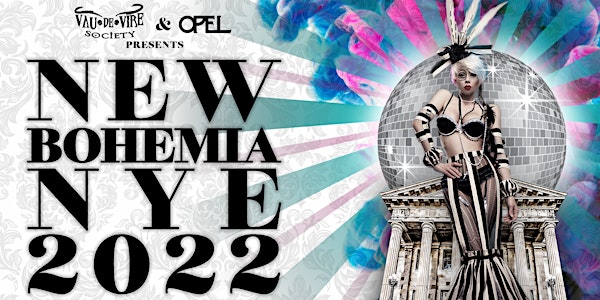 New Bohemia NYE 2022 at the Mint
Presented by Vau de Vire & Opel
Location
The San Francisco Mint
88 5th Street
San Francisco, CA 94103
The party that makes it worth it to go out on NYE, New Bohemia at the Mint, for people looking for something (truly) special on NYE
About this event
Friday, December 31st - NYE 2022!
What happens on NYE when the world had to skip the last one? Let's find out together shall we?
Co-created by the Vau de Vire Society & Opel Productions now in our 8th incarnation, what we do inside the Mint - there's nothing like it anywhere! 23 Areas to explore over 6.5 hours. ~23+ Music Acts. Dozens of performers, dancers and characters.
For our safety plan and considerations - please see at the bottom.
See a sneak peek HERE
Performance and Spectacle from the Vau de Vire Society
Music and Performance - (In ABC order) - more to come!
:: Alex Sibley
Intec / Stereo
:: ArtisMobilUs
:: AZZECCA
Dirty Disco, Chicago
:: Brian Peek
Opulent Temple
soundcloud.com/brianpeek
:: Catalyst Arts
:: Charles Darius
:: Conandrum
Vau de Vire
:: Damienn
Mioli Music
soundcloud.com/damienn_music
:: Discordia
:: Displayed Labors
facebook.com/thedisplayedlaborssideshow
youtube.com/user/TheDisplayedLabors
:: DJ Hil
Yerba Buena Disco
mixcloud.com/discover/dj-hil-huerta
:: DJ RaNdOm InTeNt
Dustfish
:: Doug Rhodes (Live paint)
:: Dual Demons
:: Elsa
Opulent Chill
:: Eric McFadden, Kate Vargas & Friends
:: Extra Action Marching Band
:: Flux Vertical Theatre
facebook.com/fluxverticaltheatre
:: Haute Mess
Brass Tax / Angels of Bass
:: J-Kind
Airpusher
:: Just B
Opulent Chill
:: Major Trouble
Airpusher
soundcloud.com/majortroublemusic
facebook.com/majortroublemusic
:: Mr. Bounceman
Bounce Car
Nerd Nate
:: Raydeus
STiRTy / Duck Pond
soundcloud.com/raydeus
:: Richard Mixon
:: Sage Ferris
Gold Bloc The Bounce Car | Deep House Yoga
:: SatineAngelic
:: Siren and Shugga Bear
Folsom Street Fair
:: Sokyo
Gold Bloc
soundcloud.com/hannah-a-815122360
:: Syd Gris
Opel / Opulent Temple
:: SyZyGy
:: Twisted Windows
:: Zaria
Mioli Music, Occultech Recordings
Us & Them Records
:: More tba
Micro Parties & Performances with:
:: VAU DE VIRE SOCIETY
: : OPULENT CHILL
: : LIVE MUSIC ROOM
:: KINK LOUNGE / SHIBARI / VdV Side Shows
:: PSYCHICS / DIVINATION / WITCHCRAFT VAULT
:: BLACKLIGHT ART GALLERY
:: SHOOTING GALLERY
:: MAKE OUT ROOM
:: ART CAVERNS
:: PHOTO 'BOOF'
::VISUAL / INSTALLATION ARTISTS
Mapping & Visuals by Viberation
Plenty of cash bars and ATM's throughout the venue. Yes - we'll have a coat check. Ample safe parking right across the street at the 5th & Mission Garage.
What's the Covid related policies for entrance and safety?
The Mint follows all local health guidelines for event attendance. You must show proof of vax by photo or card, app etc to enter. (Negative test is not a substitute). The SF city mandate is that masks are worn when not actively drinking or eating. If you're concerned about Omicron, of course we suggest you wear your mask at all times while in crowds. N and K 95's are showing better results than cloth masks vs this new more contagious variant. Live life, party safe!
That said - We know safety is a concern in these party landscape Omicron realities! Since we have 23 places to hang out over 2 floors, we want you to know we have plenty of room to spread out. We also have a reduced capacity so getting away from crowded areas of the party will be all the easier if that's important to you.
We also have a great tented outdoor area in the courtyard, where for the first time we'll have a bar so when you get a drink, you can enjoy it (sort of) outside. 🥂 (This is also where the silent disco line up will be rocking it).
Questions? - ASK US - info@newbohemianye.com
The Mint -
88 5th st@ Mission, SF. 94103
9:00pm-3:15am, 21+