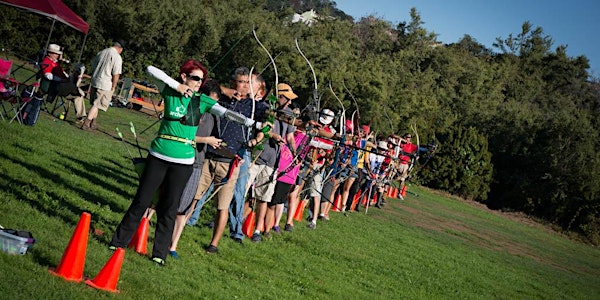 New archer lessons: 11am June 18, 2022
New archers You must be on time (10:50AM) or you may not be allowed to take the class. All first time shooters require a lesson which incl
By Golden Gate Junior Olympic Archery Development Club
Date and time
Saturday, June 18, 2022 · 11am - 1pm PDT
Location
Golden Gate Park Archery Range 904 47th Ave San Francisco, CA 94121
About this event
New archers
You must be on time (10:50AM) or you may not be allowed to take the class.
Refund policy: No refunds will be given if you arrive after 11am for the class. Additionally, if you have booked a lesson and cancel less than 48 hours before the lesson (Thursday at 11am) we will not issue any refunds.
All first time shooters require a lesson which includes a safety orientation.  If the lesson is full, please sign up for the waitlist.  If we have any free slots we will release all the tickets before Friday at 3:00PM before the Saturday lesson. This is a two hour archery class from 11am-1pm that costs $30. We provide expert instruction and all the equipment you need.  You'll have training in archery safety and get close to 1.5 hours of shooting in.
Please be aware that there is a fair chance of rain on Saturday so we may have to cancel this event. We will reach out to you after you register, to get a phone contact number that we can text with updates on Saturday morning if this happens. You will be rescheduled for another weekend at no charge.
Covid Protocols. For the safety of our coaches as well as participants. As of now, ALL first time lesson participants MUST show proof of full Vaccination (Electronic issued QR code or physical Vaccine card, physical photo or digital photo on phone, no photocopies) There are NO religious exemptions. Medical exemptions will be on a case by case basis with other additional mitigation requirements if accepted (will require negative covid test within 48 hrs of event. Space will be limited to 8 students (based on available instructors), and social distancing/masking will be enforced when in close proximity to others.
This lesson is not transferrable.  The name on your id must match the name on the registration for the event.  If you show up and your name on your id does not match the name on your registration, you will not be allowed to take the class.
Every participant must sign a code of conduct and a liability waiver.  You can bring it with you, or you can sign one on the spot.  Note that a minor requires a parent's or guardian's signature om their waiver. 
* Adult waiver of liability [PDF] http://bit.ly/adultrelease* Minor waiver of liability [PDF] http://bit.ly/minorwaiver* Code of Conduct [PDF] http://bit.ly/ggjoad-code
Where does my money go?  The Golden Gate JOAD club is an all volunteer organization.  The funds from your lessons go to pay to replace the bales at the range (the city of SF does not replace them) and to purchase new equipment for club students.  This is equipment you will be using when you take a lesson!