Description

With the new 2018 federal tax code in place and major changes affecting filmmakers, this webinar is a must. The new laws not only affect filmmakers individually, but their projects, production companies, and investors as well. The end of the year is rapidly approaching, and tax filing season is right around the corner. The sooner we are all aware of how the new law affects us, the sooner we can plan for the effects, make informed decisions and be prepared.
Join us as Women Make Movies welcomes indie film, tax and business consultant Fred Siegel (CPA) and Entertainment Lawyer Stephen D. Holmgren in a live webinar.
This lively conversation will cover the 2018 new tax code and key tax and business considerations for independent film producers seeking a prudent path to sustainability. Among priority topics to be addressed, this program will highlight the new federal tax law and changes that may affect you, your company, your projects, your budget, your investors, and your ability to finance and complete your films.
**A copy of this webinar will be available to all registrants for three months after the recording is posted.
Please note: If you have any difficulties registering online, please contact us at 212-925-0606, ext.3030.
Presenter Bios –

Fred Siegel is an indie film, tax, and business consultant and founder of Fred Siegel, Cpa (NYC), specializing in key tax and business issues for producers and dealing with the business of film. Specializing in working with indie producers and their development and production companies and film financiers, the firm provides a comprehensive set of Consulting, Financing, Film Tax Credit, Taxation, and Accounting services throughout the life of a film, from development, financing, and deal structure through production, post, and distribution. A former jazz musician and entrepreneur, Fred has worked with indie producers since the early 1990's, working with acclaimed filmmakers such as Christine Vachon ("Boys Don't Cry," "Still Alice"), and many others, as well as filmmakers in the earlier stages of their careers.
Stephen D. Holmgren is an Entertainment Attorney and film producer licensed to practice law in CA and NY. Holmgren's legal practice focuses on supporting filmmakers from financing to distribution and includes fair use and clearance work. As a Producer he has worked with filmmakers such as Matt Porterfield (Putty Hill), Marie Losier (The Ballad of Genesis and Lady Jaye) and Adam and Zack Khalil, and he was the Programmer at UnionDocs from 2009-2014.
Women Make Movies gratefully acknowledges the support of our funders: The National Endowment for the Arts, the New York State Council on the Arts with the support Governor Andrew Cuomo and the New York State Legislature and the New York City Department of Cultural Affairs in partnership with the City Council. The Nathan Cummings Foundation, with the support and encouragement of Rebecca Gregg, the Academy of Motion Picture Arts & Sciences, and the Hollywood Foreign Press Association.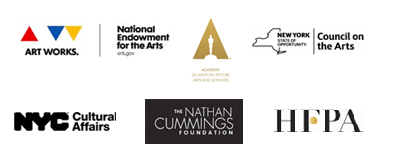 Date and Time
Refund Policy