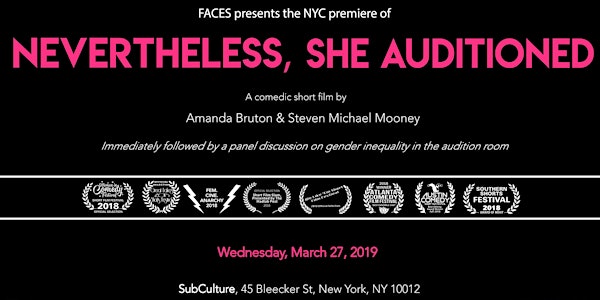 Nevertheless, She Auditioned - Short Film Premiere & Industry Panel
When and where
Location
SubCulture 45 Bleecker Street New York, NY 10012
Description
---
---
Wednesday, March 27, 2019
Doors at 8pm, Screening at 8:30pm
SubCulture, 45 Bleecker St, New York, NY 10012
Admission is FREE.
---
---
Join comedic writing/producing team, Amanda Bruton & Steven Michael Mooney, and their producing partner FACES (Female Artistic Commercial & Entrepreneur Support, Inc.), for the NYC premiere of their award-winning short comedy, Nevertheless, She Auditioned.
Stick around after the screening for a standup comedy set, courtesy of Anna Suzuki. Besides her hilarious turn as NSA's dejected heroine, she has recently appeared in Second Act with Jennifer Lopez, Spike Lee's Netflix TV series She's Gotta Have It, and HBO's High Maintenance.
And what's a night of comedy without an insightful reality check? To round out the evening, a diverse panel of fierce women, including Amanda Bruton (Actor & Filmmaker), Erica Jensen (Casting Director & Co-Founder of She-Collective), Sheri Sanders (Actor & Creator of Rock the Audition), Elaine Del Valle (Actor, Filmmaker, Casting Director), and X Mayo (Actor, Producer, Writer) will take a deeper dive into the real-world challenges that served as inspiration for the film.
ABOUT THE PANELISTS
Erica Jensen (Casting Director & Co-Founder of She-Collective) As one third of Calleri Casting, Erica's theater casting credits include shows that span from regional to off-Broadway to Broadway. As a teacher, Erica taught screenwriting and playwriting at RISD, and she is a regular guest at Brown / Trinity Rep. Website: www.she-collective.com
X Mayo (Actor, Producer, & Writer of the The Daily Show) X is currently a writer for The Daily Show with Trevor Noah and recently toured with her hip-hop improv team Take It Personal led by Cipha Soundz. She is the creator and host of sketch comedy show Who Made the Potato Salad? X was named top 10 upcoming comedians in Time Out and is a comedian at UCB. Instagram: @80dollarsandasuitcase @whomadethepotatosaladshow
Sheri Sanders (Actor & Creator of Rock the Audition) Sheri created an audition class in NYC called Rock the Audition: A Masterclass in Auditioning for Rock Musicals. Since then, Sheri has become a Hal Leonard published author, and her prorgam is being taught at more than 70 musical theater programs all over the country. Websites: www.sheri-sanders.com, www.rock-the-audition.com Instagram and Twitter: @RockTheAudition
Elaine Del Valle (Actor, Filmmaker, Casting Director, & Founder of Del Valle Productions, Inc.) Elaine founded Del Valle Productions, Inc., a full-service, bilingual film production and casting company with a mission: to infuse entertainment with original programming using diverse talent in front of and behind the camera. Websites: www.delvalleproductions.com, www.delvallecasting.com, www.elainedelvalle.com Instagram: @elainedelvalleproductions @DelValleCasting Twitter: @BrownsvilleBred
Moderated by Brittany Rostron (FACES Founder & Executive Director), the interactive Q&A will cultivate an honest discussion about the various obstacles still facing women, especially women of color, when it comes to both casting and auditioning within the confines of an often unyielding and antiquated industry.
It promises to be an evening filled with laughter and empowerment, mixed with a tinge of frustration and anger… a truly perfect third act for this year's Women's History Month.

The event will take place ahead of NSA's official online release on Friday, March 29th in anticipation of the 12th Annual International SWAN Day (Support Women Artists Now).
ABOUT THE TEAM
Amanda Bruton (Writer, Executive Producer, Director) Amanda is an NYC-based actor/writer/comedian. She has appeared on The Marvelous Mrs. Maisel (Amazon), Billions (Showtime) and recently shot roles on Orange is the New Black (Netflix) and Younger (TV Land). She is the creator and star of the YouTube series Confessions by Connie which was an Official Selection of the NYC Indie Film Festival and earned her a Best Actress Nomination. Amanda's solo show Still UnCastable recently premiered at NYC's Duplex to sold out crowds. The show mixes parody, sketch comedy, and song, to comment on the concept of uncastability in Hollywood and society at large. In the era of #timesup, it sounds the call for women to own their power and embrace their uncastability. Nevertheless, She Auditioned marks her directorial debut. www.amandabruton.com or @amanda_bruton.
Steven Michael Mooney (Writer, Executive Producer, Actor)
Steven Mooney (Writer, Executive Producer, Man 3) is an actor/singer living in New York City. He has been seen in the national tours of The Addams Family and Fiddler on the Roof, and at theaters all over the country as William Barfee in the 25th Annual Putnam County Spelling Bee. Currently you can find him on Youtube as the co-host of the talk show Yarn Buzz. Other regional theater credits include Little Shop of Horrors, You're a Good Man Charlie Brown, South Pacific, Assassins, First Date, Ragtime, Kiss me Kate, Shrek, FringeNYC. www.stevenmooney.com or @stevenmmooney
FACES / Brittany Rostron (Co-Producing Partner)
Female Artistic & Commercial Entrepreneur Support, Inc. (FACES) is a nonprofit that helps women break into and develop careers in the entertainment industry by providing them with the confidence and entrepreneurial skills necessary to approach their careers like small businesses. They do this most directly by offering opportunities for real-world onset experience, job placement assistance, and a healthy dose of tough-love mentorship. Check out USA Today's frontpage article "Death by a Thousand Cuts" to learn about FACES Founder/Executive Director, Brittany Rostron, and how her experiences navigating the pitfalls of sexism throughout a 15+ year career in the entertainment industry inspired her to create this organization aimed at empowering the next generation. www.FemaleACES.org or @femaleaces