Neversink Road Race

Saturday, August 11, 2018 from 11:00 AM to 4:00 PM (EDT)
Event Details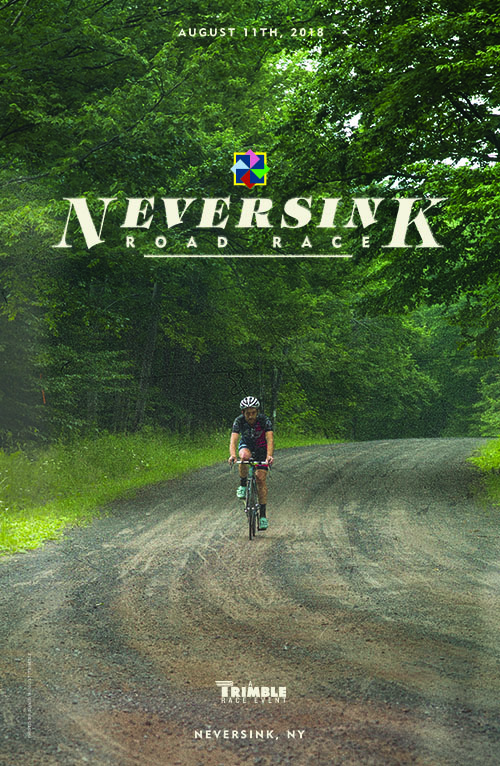 Trimble Racing is proud to announce the Neversink Road Race

This is a 75 mile unsanctioned road race through the beautiful Catskill Mountains in New York State. The course is relatively gentle for the first 40 miles then becomes famously difficult with a relentless sequence of steep climbs, technical descents, and gravel roads. 
Neversink is a grassroots event with the atmosphere of a bygone era. While the race will be intense the roads are quiet, the swimming holes cold, the post race bbq friendly, and the after-party wild. There are no categories, sponsors, prize money, or swag. What is on the line is homemade trophies and an opportunity to suffer with simpatico souls.

2018 will mark the 5th edition of the race. The first event was organized in 2011 and the last in 2014.
New route! (subject to change)

Date: Saturday, August 11th
Start Time: 11:30 am
Field Limit: 50 men / 50 women*  
After Party: Swimming holes, live music, booze: hosted by Cabernet Frank's 
Entry Fee: $75
BBQ: Lovingly prepared by Cabernet Frank's. $25 (purchased seperately from entry fee, great vegetarian options will be available)
Follow the Facebook Event Page  for more information and at @trimble_racing on Instagram 
*Men and Women will start and be scored seperately 
Race HQ
Cabernet Frank's
38 Main St,
Parksville, New York 12768
directions
Only 2.5 hours from New York City by car.

There is a new bus service that leaves Friday night from Manhattan to nearby Livingston Manor with a return on Sunday. More info here

Trophies: Top three men and women receive hand-made trophies from local Catskills artists

KOM/QOM: Points will be awarded ontop the hardest climbs with the highest accumulative points total taking the prize.

1st: 8 points
2nd: 6 points
3rd: 4 points

DISCLAIMER: This race is unsanctioned and supported as best as possible but nothing is guaranteed. All riders must sign a waiver and ride at their own risk. There is little cell phone reception and a few fast dangerous descents so please be prepared to ride within your ability levels. We have no sponsors and the only prizes are glory and trophies.
When & Where

Cabernet Frank's
38 Main St
Parksville, NY 12768


Saturday, August 11, 2018 from 11:00 AM to 4:00 PM (EDT)
Add to my calendar