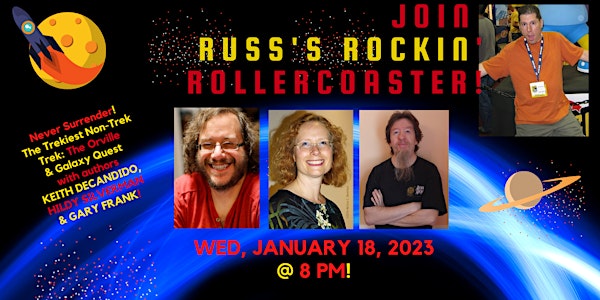 Never Surrender! Trekiest Non-Trek Trek: The Orville & Galaxy Quest
Host Russ Colchamiro leads an hour-long discussion w authors Keith DeCandido, Hildy Silverman & Gary Frank about The Orville & Galaxy Quest
About this event
KEITH R.A. DECANDIDO has been writing professionally for thirty years now, with more than 50 novels, around a hundred short stories, dozens of comic books, and more nonfiction than he's willing to count. He's written in more than 30 different licensed universes from Alien to Zorro, and also in worlds of his own creation, taking place in the fictional cities of Cliff's End and Super City, as well as the somewhat real locales of Key West and New York City. He's also an editor, a martial artist, a teacher, a podcaster, a baseball fan, and possibly some other stuff he can't recall due to a lack of sleep.
HILDY SILVERMAN was the Editor-in-Chief of Space and Time Magazine for 12 years. She is a short fiction author whose recent publications include, "My Dear Wa'ats" (2018, Baker Street Irregulars II: The Game's Afoot, Ventrella & Maberry, eds.), "The Lady of the Lakes" (2018, Camelot 13, French and Thomas, eds.), "Sidekicked" (2019, Release the Virgins, Ventrella, ed.), and "Divided We Fell" (2020, The Divided States of America, Bechtel, ed.). Her nonfiction articles have appeared in numerous legal and medical professional journals and blogs. In the mundane world, she is the Digital Marketing Manager for Oticon Medical US.
GARY FRANK is the author of Forever Will You Suffer, a supernatural, time-shifting tale of unrequited love gone horribly wrong, Institutional Memory, a story of cosmic terrors in the corporate workplace, and The Thing in the Woods, a cryptid tale of the hazards of camping in the woods. He's the co-editor of Dark Territories, the anthology from the Garden State Horror Writers. He's also written a number of short stories, including Stay Here, which was published in the 2005 Garden State Horror Writers anthology, Dark Notes From New Jersey. He is also one of the associate editors of Space & Time Magazine.
A member of the Horror Writers Association since 2005, Gary has also been a member of the Garden State Horror Writers since 2003, where he spent two years as president. He's also a member of the International Thriller Writers and the Liberty States Fiction Writers.
RUSS COLCHAMIRO is the author of Crackle and Fire, Fractured Lives, and Hot Ash, the first three novels in his ongoing Sci-Fi noir series featuring hardboiled private eye Angela Hardwicke. He is currently working on the fourth Hardwicke novel.
A member of Crazy 8 Press, Mystery Writers of America, and Private Eye Writers of America, Russ is also the co-author and editor of the noir novella collection Murder in Montague Falls, editor of the Sci-Fi mystery anthology Love, Murder & Mayhem, has contributed short stories to more than fifteen anthologies, including various Hardwicke mysteries, and is the author of the Sci-Fi adventure novels Crossline, Finders Keepers, Genius de Milo, and Astropalooza.
Russ also hosts his popular Russ's Rockin' Rollercoaster podcast, interviewing a who's who of science fiction, crime, mystery, and horror authors.
He lives in Northern New Jersey with his wife, two ninjas, and black lab, Jinx, who may be an alien herself.